New trends are born in the city. The expression of a certain way of life and the link between sport and fashion is more important than ever. ISPO Munich is developing its new Urban exhibition area.
Sport is fashion in hall A5. And sportswear is so much more than a simple fashion statement. It is the expression of an attitude toward life. Wearing sneakers in the boardroom ceased being taboo some time ago. And now urban fashion is heading in an ever-more sporty direction, representing huge market potential for all of the designers and companies that are pushing this trend forward at an incredible pace.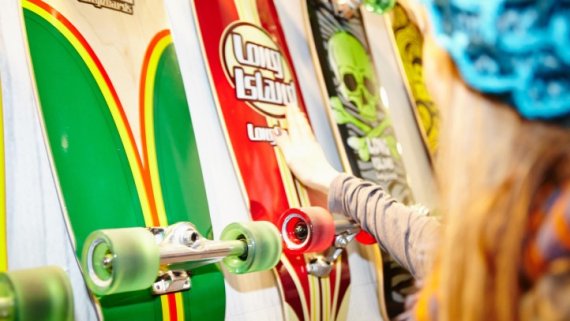 The fashion trends of the future are born in big towns and cities. But for some time now, new styles have been coming from public sports fields, basketball courts, and skate parks as well as the runways at fashion shows. The modern way of living is centered around health and fitness and yet another important aspect of this lifestyle is comfortable, lightweight, functional clothing.
The potential offered by this new trend in sports fashion hasn't gone unnoticed by retailers. For some time now, sports retailers have been aware that their target market for clothing, shoes, and accessories extends beyond the traditional active sporty types. In fact, their products are now aimed at anyone who wants to show off that they maintain a lifestyle based on health and fitness – at work, at home, and, most importantly of all, when they are out and about. And that can include donning comfy gear to hang out with friends or dressing up in style for a night on the town.
Using skateboards, longboards, inline skates, scooters, and wheelers as a mode of transport also has close ties with urban sportswear. And urban cycling is also on trend right now.
In addition the Longboard Embassy in hall A5 is the one and only stomping ground for the longboard scene for years. We see this focus area as centerpiece of the Urban Street development, which is growing massively again.
"The Longboard Embassy will be the biggest event of the Longboard Industry ever! We will set a new record and more exhibitors and thanks to ISPO Munich a fantastic playground for all brands that are involved. Guys like Abraham Paskowitz and Conner Sullivan are the faces of the embassy and will run a social media storm.There is a lot of talking about another exhibition that will be setup at the same time. But if you want to run your business seriously ISPO Munich is the right place to perform! We have some incredible deals. You can use Evolve skateboards during ISPO Munich as "taxi" for the smaller and longer ways. We give away free tickets to the German shops. We will be running a founding for Esther Suave and Philippe Roose. These fantastic surfers have cancer and fight against it. We want to make public that healthy food and lifestyle can fight cancer more than traditional medication. We do cinema in the evening. Be prepared. 2018 will be fantastic!"
Lifestyle-brand fashion and sports retailers 
Fashion-focused retailers and manufacturers of outdoor clothing