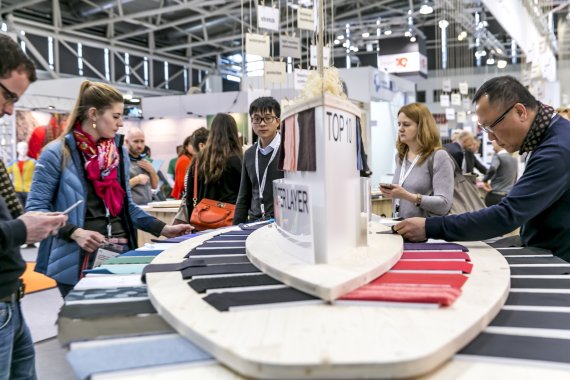 Whilst the forum is a favored port of call in Hall C3, for initiating sourcing for the season, the accompanying ISPO Textrends conferences also pull in the industry. A wide range of topics feature, with the trend presentation from ISPO Textrends held daily at 10am, highlighting the key directions for Fall/Winter 19/20 plus a preview of colors, textures and mega trends for Spring/Summer 2020.
Two key themes form the topics at ISPO Textrends conferences - Use, Reuse, Recycle, Renew and Thinking Ahead. The former focuses on all aspects of the textile sector that are noted for a strong sense of sustainability. The latter, Thinking Ahead really displays just how sophisticated the textile and garment industry is getting, with Artificial Intelligence and how to develop through design as well as understanding the design implications of the latest reflective technology.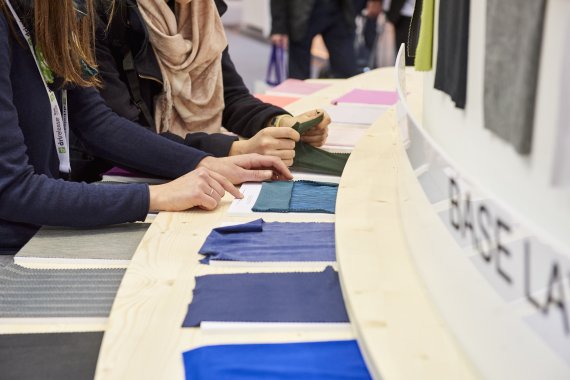 Sustainability is continuing its future path as conferences featuring all elements of the textile industry feature, highlighting what we are doing in cleaning up our act for a brighter future. Gussy Bettoni, CEO of C.L.A.S.S, will present 'What is smart innovation in textiles?', a leading conference that will cover the innovative aspects of the fast paced development, from recycled fibers through to full circle production.
With efficiency a key mood being pushed, We are Spin Dye will highlight how to work with yarns to designers and brand developers. This is an interesting concept in that a much cleaner textile processing is achieved. In the case of We are Spin Dye, the chip dyed polyester is extruded, eliminating the need for any dyeing process, thus saving water. For designers to step down the textile chain to an early source, rather than just at the textile stage, it is an innovative approach.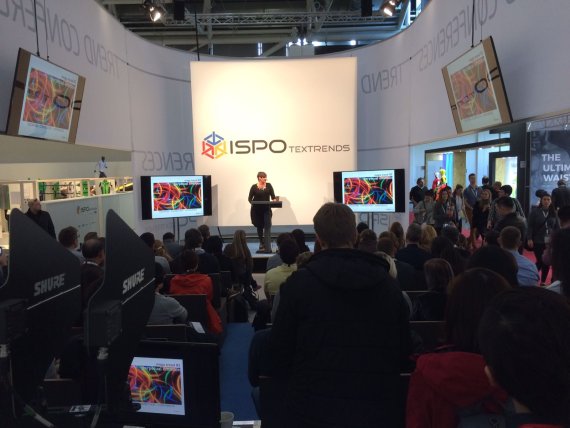 Patrick Silva Szatkowski  from Santoni Spa, a leading seamless knitting machine brand, will highlight environmental aspects from the class-leading manmade cellulosic fiber in TENCEL to the low-impact finishes developed by Tonello, such as laser and ozone. A focus on footwear will also feature, including seamless knit uppers using the new Mec-Mor open machine for the footwear market. An interesting topic, again as we pursue this efficient processing and production. The seamless market is becoming incredibly sophisticated, able to mimic in fit and appearance classic cut-and-sew garments, but without the seams. Faster production, reduced waste and a comfort factor to the consumer, seamless is also a perfect way of body mapping performance into precise ares through intelligent yarns.
A technology develops, and we adapt to new developments, AI (artificial intelligence) is an interesting area that can be seen as creating a more efficient process from the design side through to production. A wide range of conferences looks at the technology we have available and how we can use it to become more efficient, not just in production or design time but by also having sustainable benefits.
Christian Kaiser, Project Management & Senior Researcher, Management Research - Deutsche Institute für Textil- und Faserforschung Denkendorf - DITF, will present the MICROFACTORY, a fully integrated and practical technology workflow model. Developed by DITF, it was created to overcome the fashion industry's  slow and rigid supply chain. For brands and retailers this is a must, especially with clicks vs. bricks adding to the change in consumer behavior, which is much more flexible than the supply chain.
Everything from designing with the latest reflective technology through to a cohesive approach to design and AI will be interesting to attend. One, that should be marked as essential is DIGI' TALE - Stories and processes behind the apparels that fill our world. Presented by  Mirella Becucci - C.I.A., she will discuss the traditional to the cutting edge a rare combination of design combined with engineering and science.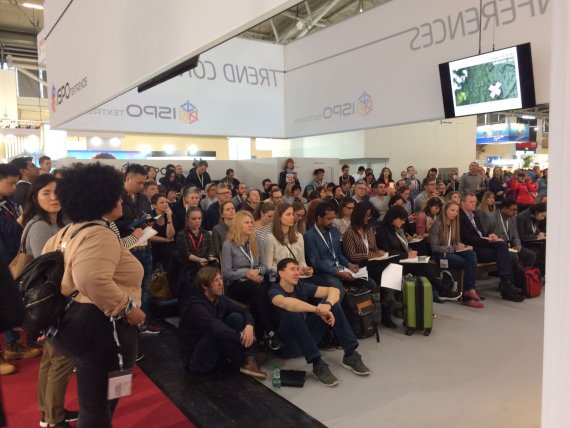 Don't forget to visit ISPO Textrends forum, the platform for the latest innovation in textile products for the sports and outdoors markets, for all sectors. Get a head start on sourcing for Fall/Winter 19/20, by starting at the forum located in Hall C3 Booth 10-20. For the complete conference program featured daily, this is located in Hall C4 Booth 10.