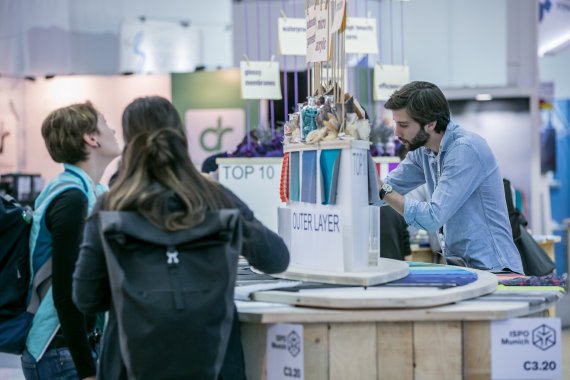 With an increase in visitors registered at Munich's ISPO Textrends in January, almost 3000 designers and brand developers, an increase of 7 per cent compared to the previous year, confirmed the importance of the textile trend forum in connecting the industry to the new developments available on the market.
On display, split into 10 sectors including membranes, outer layers, base layers, insulation, trims and accessories, visitors had the opportunity to touch and handle the fabrics and trims teamed with the company details and information to direct them to the right source.
Whilst the ISPO Textrends forum is becoming a staple part of their schedule for visitors to ISPO Munich, getting an overview of the selected products available, it doesn't just stop there. If you missed the experience at the show, or didn't have enough time to take it all in, the ISPO Textrends trend book contains all the information.
"Shows can become so overwhelming, being able to see all the products in one spot is valuable," said Tiffany Yerby Dillon, director of design, 5.11 Tactical, with reference to visiting the ISPO Textrends forum at ISPO Munich. As well as visiting the forum, Yerby Dillon regularly purchases the trend book annually,  allowing her the opportunity to have all the fabric and supplier contact information from her base in the US as well as sharing with her team.
Not being biased, the trend book is a fully illustrated version of the contents of the forum, and is an invaluable sourcing tool to have at your fingertips. In addition, even after the season has passed, each trend book continues as source of inspiration through the products, inspiring and engaging designers and brand developers with specific companies that offer the function, performance and type of fabric or trim they are looking to source.
Each product that featured in the forum is photographed in high resolution, the next best thing to the actual physical product, highlighting the structure, composition and most importantly of all, the contact details to order those samples
"I buy the trend book as both myself and our brand manager, the designers and fabric technologists we work with use it to guide our fabric, product and color selections for future seasons," said Stephanie Jones of Spotty Otter, a repeat purchaser of the trend book each year.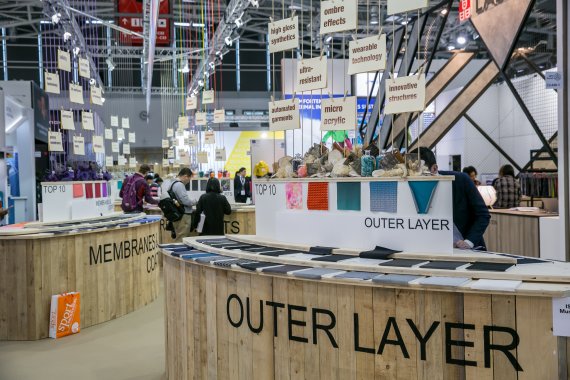 The sixth edition of the Fall/Winter 19/20 Trend Book allows for the entire forum, all the information and to be with you all year. In addition to the trends and color palettes for Fall/Winter 19/20 there is a preview of colors and trends for Fall/Winter 20/21. The latest Trendbook is available to buy at ISPO.com guaranteeing unlimited access to the best innovation and creativity that will define future collections.