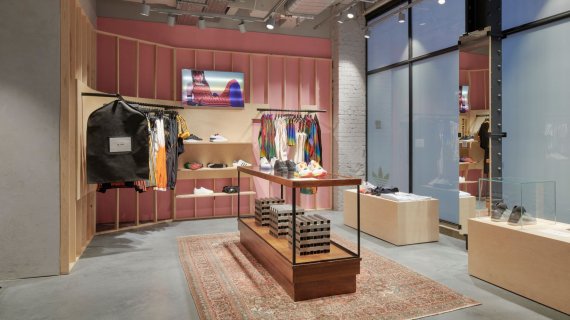 In recent years, many yoga studios, climbing walls, or football goals have been installed in sports shops. Retailers want to become a regular meeting place for the community and encourage customers to exercise. Nike has also tried this in its stores, but not with the desired success, says Adrian Nyman, VP Global Creative Director Retail at Nike: "Not all people are super athletes, they have inhibitions about taking action." If you want to activate them, you have to break down these inhibitions, and playful, digital concepts are particularly good at doing this. "Gamification helps people enter our world," says Nyman.
The new Nike retail concept 'House of Innovation', whose first European branch opened in Paris in July 2020, includes interactive games and test stations for children. In Shanghai, where the very first House of Innovation opened, a multi-story digital wall installation with a digital floor was realized, on whose screens specially developed movement games run. They are designed to encourage people to participate spontaneously - from grandfather to grandchild. "But it is important that they tell a story, that their narrative is embedded in the environment," Nyman adds. In the stores, specially developed movement games support product launches, for example, which help explain specific product features or reflect the product design: Technical innovations tend to be accompanied by performance-driven games, while the fun character predominates in game concepts for leisure shoes.
Puma also uses gamification elements in the Skill Cube in the New York store, where customers receive training tips from Puma's brand ambassadors in a cube fully equipped with multi-sensory screens, or the Chinese streetwear brand Hipanda, which has installed an interactive ghost world - sometimes analog, sometimes digital with augmented reality - in its Tokyo flagship store.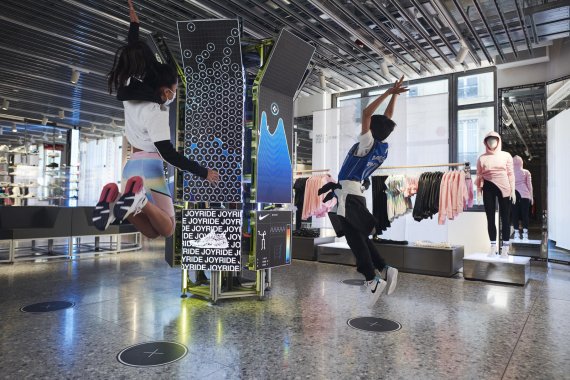 Many brands and retailers have started to integrate second-hand goods on their premises during the last years. From brands such as Houdini, Vaude and Haglöfs to retailers such as Globetrotter, which started testing used products this summer. Now the first second-hand store has been created in Zurich under the name "2nd Peak", which focuses solely on the outdoor market. The store was already opened in May this year as a pop-up store. After the success of the last few months, it will move to a permanent location in December and also expand. There is also to be growth in services. There are plans to start a rental service, a repair service and an upcycling studio. Soon there will also be an online shop.
Numerous new studies show that the view on second-hand goods has changed significantly: In the past, used clothing was bought mainly because of the lower price, but today the sustainability aspect is clearly in the foreground for customers. This is also the motivation of Globetrotter: "The aim of the new offer is not primarily economic profit, but the promotion of sustainable and long-term use of existing resources," says Aiko Rode, Chief Sustainability Officer of Globetrotter.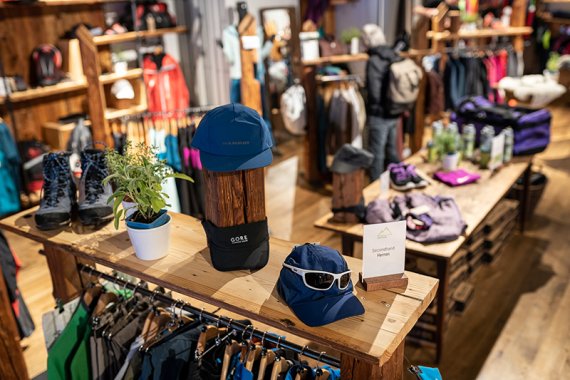 Retail-as-a-Service (RaaS) is about monetizing the direct customer contact. This means that RaaS providers offer manufacturers digital and stationary retail space and market it. Their business model is based on renting space, not selling products. The products can usually only be tried out, the purchase is done online. What is new about Retail-as-a-Service is the professionalism with which the most diverse industries, locations and services are combined with one another. The best-known examples are the US RaaS-pioneer b8ta or the Showfields Mall in New York, which is operated as a start-up and, as a business idea, not only rents space temporarily as pop-ups, but also covers extensive media campaigns across all channels. RaaS systematizes the principle of surprise, namely the permanent change of assortments and brands.
Of course, retailers can also take advantage of this. In Germany, the RaaS company Vaund started with its own store and has just opened an area at Engelhorn in Mannheim. SportScheck also launched a similar concept last year under the heading of Retail Media, and Intersport has just announced that it is also starting to do so in Germany. Around 300 Intersport retailers intend to vitalize their sales areas and online presences via the newly founded marketing agency Intersport Marketing Services and to open up new sales channels. Richy Ugwu, CEO of Intersport Marketing Services is convinced: "As a dealer, you also have to monetize your customer contact".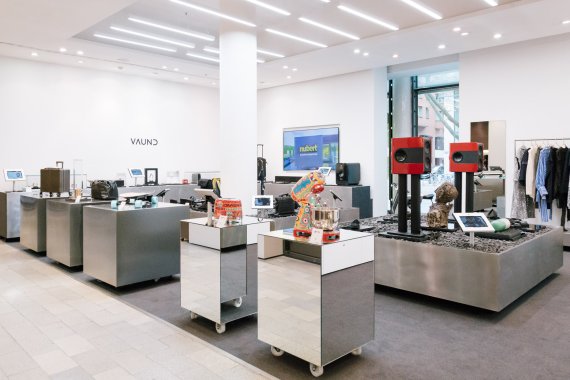 In October Adidas Originals opened its first gender-neutral store in London's Soho district. Inclusion and gender neutrality have long played an important role for fashion brands and are demanded especially by the young target group. According to studies, the number of young people who describe themselves as gender-neutral is constantly increasing. In terms of buying habits, this means that these consumers do not want to be told by their gender which products, colours or sizes to buy. Cross-buying, i.e. buying fashion of the opposite sex, is a trend.
Accordingly, the London Adidas Originals Store has no men's or women's areas, but instead offers a wide range of sizes for all products. This means that the brand also meets the inclusion requirement, because in this way larger or smaller body types of men and women are better taken into account.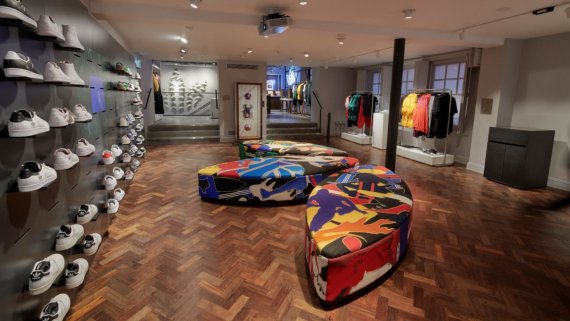 The focus on the customer is changing the function of local retail businesses. They are increasingly adapted to specific target groups. Arc'teryx, for example, has launched a new store concept with its Icon Stores, which presents only the brand's best-selling products, the 'icons', in a small space. The concept was developed for "guests who are not yet familiar with the brand", explains Debra Pangestu from Arc'teryx. The store is intended to provide a kind of introduction to the Arc'teryx product world, while the wide selection in the flagship stores "can sometimes be confusing and perhaps even intimidating for new guests," Pangestu continues.
The flexibility goes even further: a virtual 3D store design allows a much faster roll-out and makes many trips by the retail teams unnecessary. The smaller square meter size and modular store design also minimizes costs and allows the opening of additional locations, which increases the touch points to the customer. For the shopping conditions during the pandemic, online services such as virtual waiting lists and virtual consulting tools were also launched. Five Icons Stores were opened this year in the USA, three in New York alone. The first European store is scheduled to open in London in 2021.
Nike also announced in summer the opening of around 200 new, small-format stores in the style of the Nike Live and Nike Rise concepts, which are currently being tested in California and Guangzhou, China.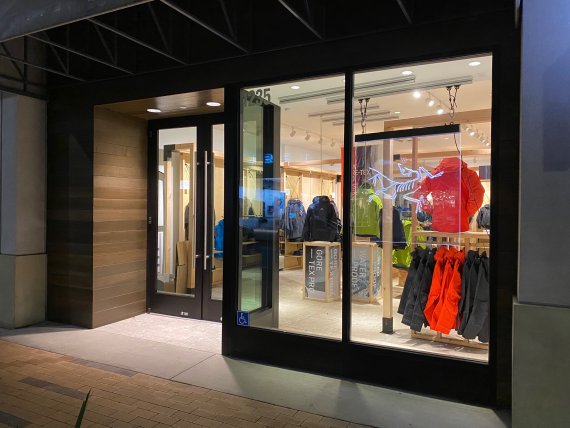 On Running has opened a flagship store in New York. This offers a range of digital services such as individual analyses, a "Magic Wall" that shows the entire range, and extended product information thanks to an NFC device. 
On's goal is to focus on design and technology, but always in the service of the customer. As David Allemann, co-founder of On writes on On's website about the New York store, "With design and technology at the forefront, On NYC will empower shoppers to engage with our products in an entirely new way." To find the perfect shoe, individual running characteristics are compared with a database from around 52,000 runs and combined with data from a custom-built invisible shoe scanner.
The store looks extremely futuristic and is also intended to become a local meeting place for the runner scene in NoHo in NYC.