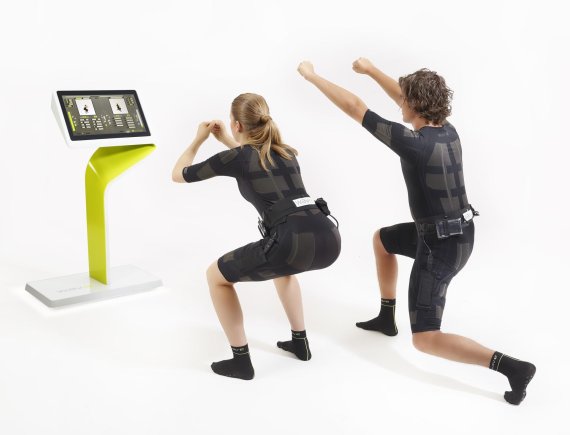 Generally, EMS-Training works with electrodes attached to different regions of the users body. The electrodes then send electrical impulses to influence the natural muscle contraction in order to improve the muscle growth. Today, companies even developed special suits, fitted out with electrodes, which enable both active and passive training. Professional athletes like Usain Bolt and even people who don't exercise frequently benefit from it. The manufacturers promise that its effectiveness is much higher during a normal training routine because even the deeply located muscles are activated.
How does it work? 
EMS has been used in physical therapy labs and professional training since the 1960s. The electronic pulses reach into your neural and muscular adaptations. Through the electrical impulses, the natural muscle contraction gets influenced from outside so that every move gets harder. Therefore the electricity reaches deeper muscle groups. Studies have shown, that EMS-Training is much more effective for fast muscle gain. This makes it ideal for those recovering from injury or in need of rapidly growing strength. 

The electrical impulses are in a low frequency zone. They only activate the striated musculature (not the heart) and smooth musculature. Today, electric muscle stimulators have a big variety of applications. They can be used to improve our health or fitness level. Therefore we got muscle stimulators which work with single patches attached to the body and even whole suits fitted out with electrodes. Especially EMS-suits could be interesting for the fitness studio industry.
Antelope
Antelope, a German startup company, is one of the leading companies in the EMS-market. With integrated electrodes in premium compression garments, they've built a new device for EMS-Training. They provide five products – antelope suit, -wing, -tank top, -shorts and -calf guards which consist of special compression fabrics with integrated electrodes. With 16 integrated silicone-electrodes, Antelope.Suit can improve the strength, perseverance ability, coordination and even high-speed strength.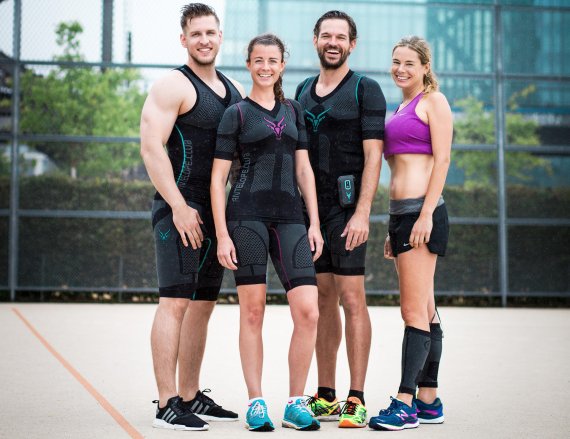 The electrical impulses, which are triggered by the electronic unit, called Antelope Booster claim the main muscle groups. All their systems can also be steered with the smartphone or tablet through Antelope App. Category winner of the Innovation World Cup 2016 in the category smart textiles initiated a new era of EMS-Training.
B-Body
Muscle building, metabolic activation and massage. Bodyficient makes it possible to unit all these three. The Germany Company for EMS-products provides individual suits for studio or costumers which contain up to 14 pairs of electrodes and stimulates up to 28 muscles at the same time. Usually the most important muscle groups get claimed but users can set additional electrodes for individual muscles. The B-Body is made by hand from high-quality carbon and its height-adjustable touchscreen enables simple and pleasant handling. Up to 6 people can use it simultaneously with wire or cables. Unbeaten female Box-champion, Regina Halmich, is one of the famous heads. 
Wav-e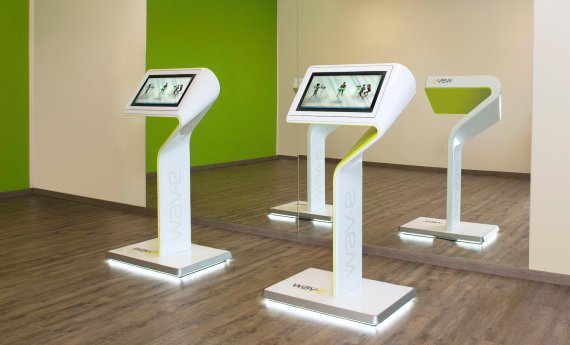 Wav-e is a revolutionary, dynamic and quick EMS-training system which doesn't need wires or a wet suit. It guarantees the benefits of High Intensity Interval Training in only 15 minutes. Wav-e provides a whole package for EMS-Training consisting of a modern console with touchscreen technology and a huge number of training possibilities, a wireless high tech stimulator belt, equipped with integrated electric stimulation module and a patented wav-e tracksuit in one single piece. The electricity gets escorted to the different electrodes based on a unique, patented draught and production procedure which solves several technical challenges of the stream transport. Therefore a different stimulation methodology can be used in dependence of the muscles. The suit is connected with the EMS module over external connections specific for system.
Visonbody
Swiss medical technology company C.H. Medical Systems also provides a complete EMS-Training suit, called VisionBody. In different way from other EMS-devices it was designed by experienced athletes, fitness trainers and evaluated by orthopedic specialists, physiotherapists and medical technicians. The Powersuit consists of a special material called Silverflex 7 that combines maximum flexibility and skin-friendliness with high energy conductivity. It delivers the full potential for intense full-body muscle training with complete freedom of movement. The 20 high-tech pulse patches, which have been fabricated from the patent-pending material, stimulate the main muscle groups in the human musculoskeletal system, while the other muscles get trained automatically.

A proportioned employment of EMS in combination with a dynamic movement execution is a promising training routine for strength and speed training and the improvement of overall health. The future will show if the trend of EMS-Training will become more established in the fitness-studio industry
Christian Stammel is CEO at WT | Wearable Technologies, a leading innovation and business development platform for wearables, and updating ISPO.com readers about latest trends on digitalization, wearable tech and IoT in sports, fitness and well-being. More information about WT at www.wearable-technologies.comhttp://www.wearable-technologies.com