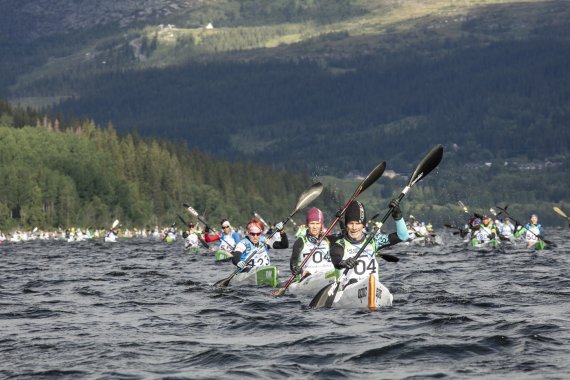 The way is long for the participants of the Are Extreme Challenge. In the toughest class you first have to paddle 25 kilometres in white water and over an often very windy lake. Afterwards you have to quickly put on your trail running shoes and walk 17 kilometres over the 1,420 metre high Areskutan peak, parts of it are still snow-covered. On the other side of the mountain, the 30 kilometre long and technically demanding mountain bike trail awaits the participants, before they hopefully reach the finish line on the market square in the winter sports resort of Are after five to ten hours.
Multisport events are regarded as a near-natural alternative to classic triathlons. The Are Extreme Challenge in Sweden is one of the toughest and perhaps most beautiful races with an outdoor feeling. Although the event exists 20 years, it is hardly known internationally and is still something of an insider tip.
ISPO.com spoke to co-race director and environmental economist Scott Cole about the fascination of the event, which lies in more than pure physical performance. The 42-year-old Californian came to Sweden in 2007 to take part in the Are Extreme Challenge for the first time. He fell in love with the country and stayed. Five years later he won the race and became race director in 2016 alongside Henrik Weile from Denmark.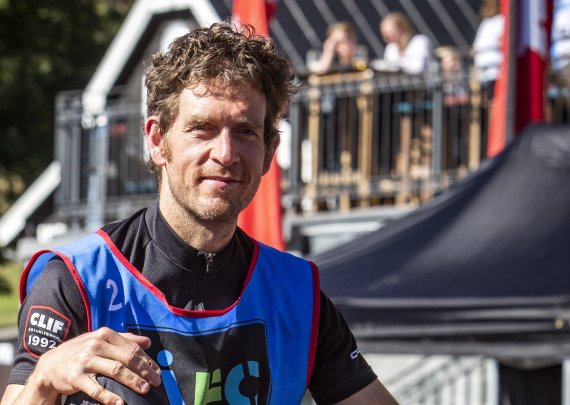 ISPO.com: Mr. Cole, the Are Extreme Challenge is a multisport event. What does your body say about the extreme strain?
The legs are already subjected to the most intensive strain, but also the shoulders from paddling - especially on the way to the first changing station when approaching against the wind. There's a big misunderstanding about paddling: Many people believe that you don't strain your legs when paddling, but if you have a good technique, your legs work very intensively when paddling. I suspect that 90 percent of the participants use only the arm and shoulder muscles and lose so much time.
I think I'm one of the 90 percent.
Well possible [laughs].
What is actually harder: to organise such a competition or to take part in it?
In fact, for me the organisation of the Are Extreme Challenge is ten times more strenuous than finishing it. As a participant it is quite clear what to do and you can focus on exactly what you want to do. But as race director you have 18 balls in the air at the same time and it is demanding to always meet all these requirements.
Being a race director forces you to trust others not only to do their job, but to do it well. As a participant, on the other hand, you are only dependent on yourself. It's you who has to perform. It's you who has to train. There's no one else to blame for anything.
What is so special about the Are Extreme Challenge?
What is special for me every year is the multi-facetted nature of the participants of the Are Extreme Challenge. On the one hand, there are the top athletes. For example, two Olympic gold medallists from Sweden have already taken part, as well as one of the best trail runners from Scandinavia and some top kayakers from Stockholm.
On the other hand - and this is the vast majority - there are the participants we lovingly and respectfully call "Weekend Warriors". People who are tired from the Monday to Friday routine and are looking for more adventures in their lives. They see the Are Extreme Challenge as an option to force themselves out of their comfort zone - for example, to paddle through rapids that would normally frighten them. After all, the Are Extreme Challenge is such a great event because it appeals to both: top athletes who reach the finish line in less than five hours and participants who need twice as much time.
Can you tell us more about the participants?
Of course. Classically, in recent years it has been mainly male mid-forties who have often been very successful in their jobs and are looking for new challenges or new inspiration. But the escape from urban space into nature - at least for a few days - is also an important motif. In addition, the number of female participants and female finishers has increased in the last two years, which of course makes us very happy.
Why should non-Scandinavians start the long journey to Are at least once in their lives?
It is worth it for the beautiful Swedish midsummer nights alone. I have been living here for more than ten years now and am still fascinated by the bright nights. But there is also a lot to do besides the race and the possibilities for subsequent outdoor activities are various - camping, hiking or fishing.
In recent years a lot of money has been invested in beautiful trails. So mountain bikers in and around Are should have a lot of fun. In addition, there is so much pure nature to discover. And indeed we are happy about every international participant, because the long journey is proof of a great passion for the sport and the region in which we live.
What will be new at the Are Extreme Challenge 2019?
We now have offers for companies that see competition as the basis for a joint company or departmental event. In addition, with Run 'n' Bike we have created a new category for those who cannot or do not want to kayak. In addition, our Kids Race will continue to grow.
It is important to us that we don't just address the overathletes who participate in the Are Extreme Challenge as individual starters. Therefore, we also have a relay category in which three participants divide the individual track elements among themselves. Or the duo class, in which you complete the race in pairs. And our participants are always happy to provide surprises or inspiring stories.
What do you mean?
Such beautiful things as wedding proposals on the finish line or a young mother who wanted to show with her participation that you don't have to bury all your sporting dreams and goals after a pregnancy. In the end, everyone comes and goes with their own personal story - that's the beauty of the Are Extreme Challenge.