Madeleine rose to fame as dariadaria with her fair fashion blog, where she offered tips for more sustainable alternatives. The blog has long been dormant, but the 34-year-old activist is still angry at the fast-fashion industry. And that's why she founded her own label, dariadéh - for fairer, more sustainable textile production.
A report on tanneries in Bangladesh changed everything for me in 2013. When I saw the daily work of the workers, learned about their subterranean wages, the health risks and violations of environmental standards, I suddenly stopped buying fast fashion brands. My name is Madeleine Alizadeh and I never want to support the exploitation of people, animals and nature again. I became known with my blog dariadaria, which I started back then to educate about the abuses of the clothing industry and to show better alternatives.
To get a little closer to my dream of a more sustainable fashion world, I stopped blogging in 2017 and started my own fair fashion label dariadéh. We strive to create the best possible ethical and environmental conditions to bring timeless, more sustainable collections to the market. Since its inception, we have been in an exciting process with the brand, evolving just like me as an entrepreneur with each new endeavor.
The fast fashion business model is so problematic because it attacks so many levels: the past, the present, the future. People, animals and the environment. I'm angry about the supply chains and the politics because they don't intervene. I'm angry about the conditions in manufacturing, what the seamstresses are exposed to, what fibers are used and how they are obtained. Also the distribution policy, the marketing and what happens to the clothes when they are worn out.
With my label dariadéh, I want to do better. I am aware that newly manufactured fashion always consumes resources and can therefore never be truly sustainable. That's why we don't use that word. But clothing can become more sustainable in many ways. There is not just one way, but there are endless challenges. If you think about how long it takes from planting the cotton to the finished garment in the customer's closet - that's umpteen steps that could be improved.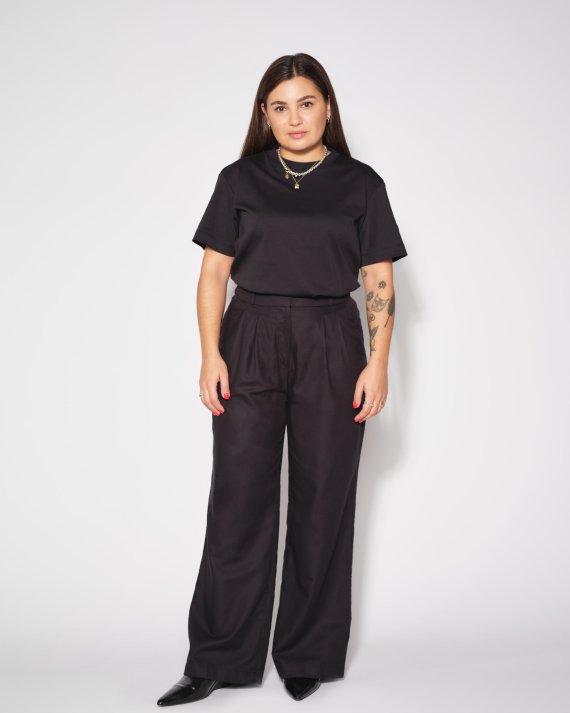 I am convinced that a lot can be changed entrepreneurially. To find out whether everything I had set my mind to was actually possible, I founded dariadéh in 2017. My enthusiasm and curiosity drove me: I just wanted to do better.
My team and I are proud to say that our collections contain zero percent polyester, nylon or other conventional synthetics, protecting the environment from further pollution from the garment industry and making it attractive for recycling. We also offer sizes from XXS to XXXL, which is unfortunately still a rarity among fair fashion brands. With every order we donate 50 cents to social and environmental projects, currently we support so the earthquake relief in Turkey, before that the sea bridge. And we display price transparency in the online store, which breaks down how the sales price of each individual product is made up.
As CEO, I rely on the personal responsibility and flexibility of my employees. When I hire someone, I let that person do what he or she wants to do. I have complete trust in my team and am convinced that brands are like the people who work there: not perfect. Mistakes happen, and they can usually be easily overcome if they are dealt with openly.
For example, we once had a total fail with a fabric that showed qualitative defects after a short time. That's annoying, of course, but we communicated it openly on social media and of course offered to take the products back. Even years later.
Although I have founded two companies and employ almost ten people, I am very often not taken seriously. Most media refuse to call me an entrepreneur or CEO. Some merely call me an influencer or even a fashion blogger. That's minimizing my accomplishments.
When I once wanted to rent an office and brought a male employee to the viewing, the landlord automatically turned to him, "You're the boss, right?" To me and my female co-worker, who was also there, he asked in a passing sentence, "And what do you two do?" I experience situations like this almost every day.
Nevertheless, I am very grateful for my high reach in the social networks. It is certainly one reason why we are so successful with dariadéh today. We have a really great community that supports us loyally and are therefore super close to the customer.
Through the constant exchange, we get a lot of feedback that flows into the collections. And when we receive messages from customers who have found suitable clothing at dariadéh, even though they are left alone by the majority of the fashion industry, I know that we have done everything right. Those are the moments when I really feel like I'm doing the right thing.