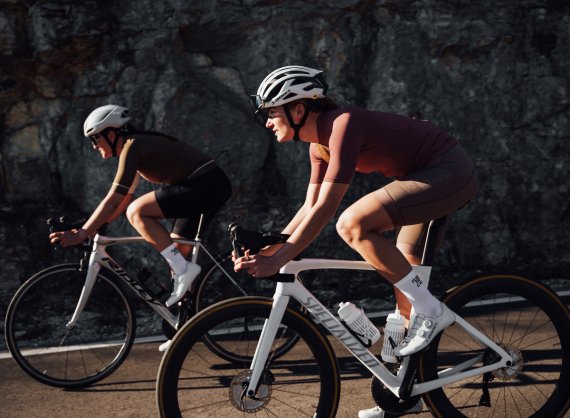 I am Sandra Waschnewski, passionate cyclist, mother and entrepreneur. In 2019, together with my business partner, I founded the label Veloine because I was disappointed with cycling apparel from other brands and the industry as a whole. The typical cycling jerseys for women were pink or printed with floral patterns. Women like me, who are in the middle of life, somehow didn't feature as a target group at all. We saw potential in that. We made a virtue out of this need and created Veloine out of my need, so to speak. With our cycling clothing specifically for women, we wanted to make a contribution to making the sport more female.
The numbers were promising even then, and positioning ourselves in a niche was a very conscious decision. We also benefited from the fact that the entire industry experienced a push through Corona. Women formed the fast-growing segment in cycling. A lot has happened, and the percentage of women has risen to over 25 percent. Yet female cyclists are still significantly underrepresented. It's a vicious circle: If you hardly see any women on bikes, you don't want to try it yourself. There is a lack of strong role models among the general public. We want that to change, want to give women more space and better address their needs with our products.
Of course, profitability and margin are important. But it should not be the only premise of entrepreneurial action. Especially in our world, where we live in absolute abundance, a brand needs a raison d'être. Purchasing decisions are made much more consciously today. Not only for reasons of sustainability, but also because of the crises of our time, inflation, the poor consumer climate. This results in a new demand on the brand promise: What is the actual value of my product for my customers?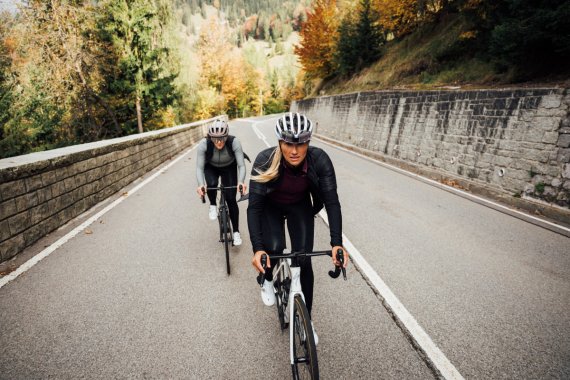 As a start-up, we have a very lean structure. We currently have three shareholders and permanent employees. In addition, we have many freelancers, and this flexibility has proven very successful for us. Veloine is completely self-financed, so we have to operate extremely economically. Depending on the situation, we can quickly adjust our resources up or down and focus on the most important areas.
To strengthen the relevance of our brand, we also have products in our range that may not make such a large contribution to coverage. Our Pregnancy Kit for example. If our range were limited exclusively to cycling apparel for pregnant women, it would probably not be economically viable. Nevertheless, we spent two years developing it. Until then, there was simply no special cycling clothing for pregnant women. Again, a sign of how much the female target group is neglected in cycling. The Pregnancy Kit closes this gap. It illustrates our approach and has Veloine with the award of the ISPO Brandnew Award 2021 a lot of attention.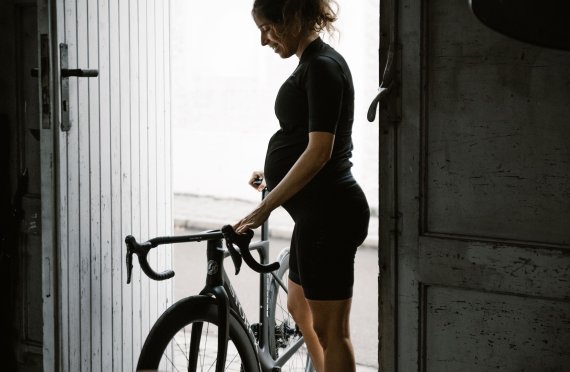 It is a similar story with our recycling program Veloine x renew, where new products are made from materials, that would otherwise end up in the trash. Crashed jerseys, press proofs or prototypes from development, for example. We recycle these textiles into caps or small bags, among other things, which go back on sale. This is not a business case for us, we do it out of conviction. It's important to us to take responsibility for ensuring that everything that has cost resources is reused by us wherever possible.
From the very beginning, it was out of the question for us to produce in South-East Asia, even though that would certainly be more economical. In terms of sales, we have a strong focus on Europe - we don't want our products to have to travel halfway around the world first and we have no control over the production conditions. That's why our manufacturing is located in Italy. Not only does it give us a better conscience, the geographical proximity has paid off so far because we have more control over the supply chain and things are easier to coordinate. Even though we are of course just as affected by supply bottlenecks as everyone else.
We are a company that pursues an economic purpose - nevertheless, a meaningful activity is at least as important to us three shareholders. We try to combine both in the best possible way. Social networks are the best way to reach our target group and we want to create a new awareness of our company with Veloine women who are enthusiastic about cycling - and not just online. To do this, we are in close contact with female cyclists throughout Europe - our Local Heros - and organize regular rides just for women. The desire for affiliation is especially strong among female beginners. They are looking for like-minded people and want to pursue their passion together, without any pressure to perform or macho posturing.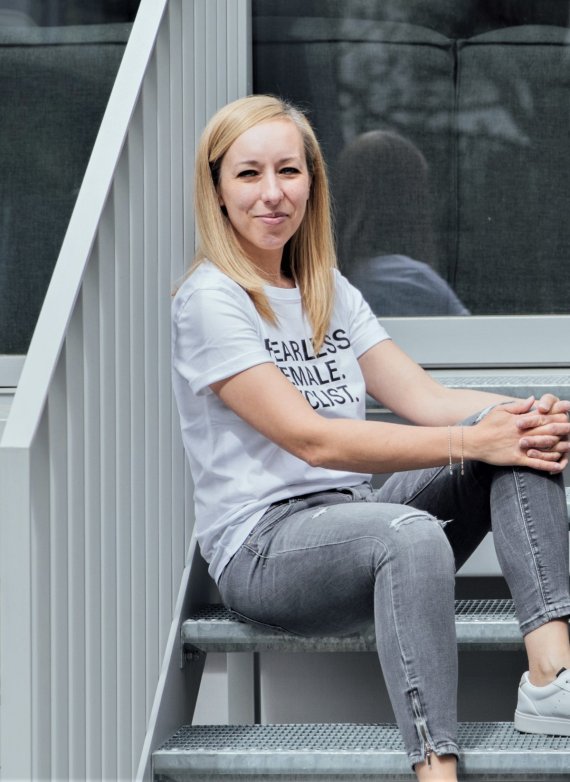 I think we all realize that the market is getting back to normal a bit after the two-year pandemic high. Companies need to adjust their sales plans and expectations to reality and ask themselves what makes a brand really relevant, why a customer should buy it even in these difficult times. I am convinced that this is a great opportunity for both brands and buyers.
I am basically optimistic because an important process has been started in our niche. And if we work with Veloine we can make a small contribution to making cycling more female, that makes us very happy.