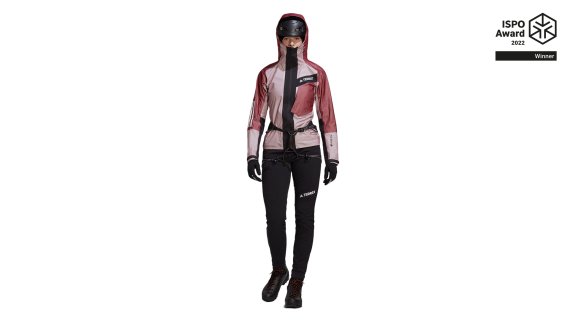 Many climbers know the problem: When looking down, the jacket bulges and blocks the view. You can't see the harness or the climbing footholds for the next move. Especially with waterproof jackets with front zipper, the problem occurs. But neither the zipper nor robust material can be dispensed with.
For this reason, Adidas TERREX sends a new solution into the race and uses a new, innovative zipper from YKK in the Techrock Light Gore-Tex jacket. With the YKK Integra, the zipper teeth have been attached directly to the waterproof fabric, eliminating the need for the usual webbing and seam sealing. This not only saves weight, but also reduces stiffness compared to classic zippers.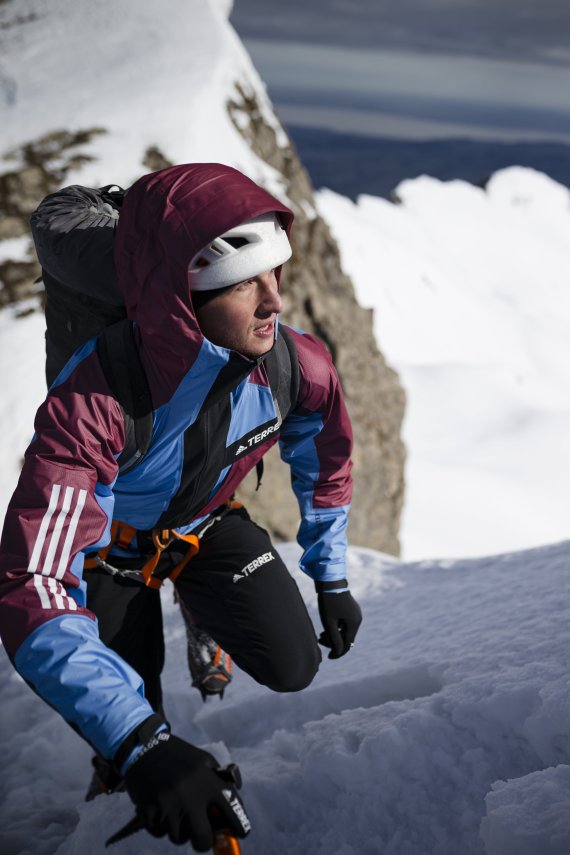 In addition to the zipper, Adidas TERREX uses an ultra-lightweight 3-layer Gore-Tex Active laminate (only 70g/sqm) and deliberately focuses on minimalist, specific equipment. Athletes of today are specifically looking for lightweight products to get to their goal quickly. Unlike in the past, ascents today are made more and more in a (short) day or very quickly in alpine style with a light bivouac. This requires lightweight constructions of the equipment.
Much attention has been paid to clever pocket placement, especially when climbers are carrying a backpack, a climbing harness, and possibly a rope or sling.
"The Techrock Light Gore-Tex Jacket is our lightest and softest 3L mountaineering jacket. It features a completely unique and innovative zipper, the YKK Integra Zip, which integrates the zipper teeth directly into the waterproof fabric, saving weight and rigidity over traditional zippers. Combined with an ultra-lightweight 3L Gore-Tex Active laminate and minimalist, specific features, this model is our athletes' new absolute favorite among Gore-Tex jackets."
Faustine Dandouau - Senior Product Manager for Adidas TERREX & Sarah Laxhuber - Materials Manager for Adidas TERREX
Since high-performance materials are often not yet the most sustainable materials, Adidas TERREX focuses on enhancing longer life of the product. Climbing jackets in particular are exposed to friction and are often subjected to a lot of wear and tear. That's why Adidas TERREX has teamed up with Gore-Tex to develop a repair patch made of Gore-Tex fabric. As a result, every Techrock Light Gore-Tex jacket, as well as other Terrex Gore-Tex jackets, starting Spring 2023, will be equipped with a repair patch and can be repaired by the wearer at any time. In order not to create an unnecessary ecological footprint, the development of the repair kit and packaging was done in one place.
All in all, perfect equipment for mountain sports enthusiasts.
"The Adidas TERREX Techrock Light Gore-Tex Jacket particularly impressed with features that were first thought of in the design for performance and the female target group, but should ultimately convince all alpinists. Particularly noteworthy: the zipper construction makes the jacket more mobile and you have a clearer view of difficult footholds or harness and knots."
Prof. Dr. Martina Wengenmeir, jury member ISPO Award 2022 and editor ISPO.com
Ultralight, highly functional and yet soft.

new type of zipper, the Integra from zipper specialist YKK

reduces the stiffness of the jacket

High-quality processing

reparability