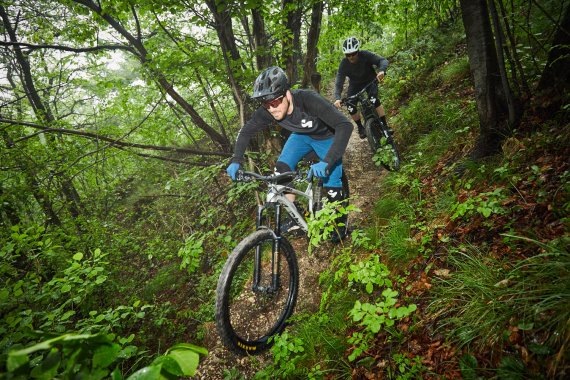 The Norwegians from Sweet Protection have been developing high-quality helmets, protectors and functional clothing for mountain bikers who want to get everything out of themselves and their bike. With the Arbitrator MIPS, a convertible full-face helmet, and the Enduro Race Vest, a protective vest for ambitious MTB riders, Sweet Protection meets the high safety demands of sporty bikers. In addition, the Hunter collection offers functional trail clothing with many well thought-out details. But what exactly is behind it? We took a closer look at some of the highlight products from the current Sweet bike collection. a closer look. One thing can be taken at this point in advance - at Sweet Protection is not only the function, but for Scandinavians typical, also the design.
The Arbitrator MIPS is a helmet that kills two birds with one stone. It meets the demands of difficult trails and is equally suitable for use in Enduro or Downhill Race. How? The full-face helmet certified for downhill racing can be easily converted into a trail helmet thanks to a removable chin bar. So downhill and trail riders no longer have to choose one helmet variant or buy two helmets at once. The Abitrator can do both: switch between normal trail and full-face mode without sacrificing safety and protection. The clever design ensures good ventilation in both setups.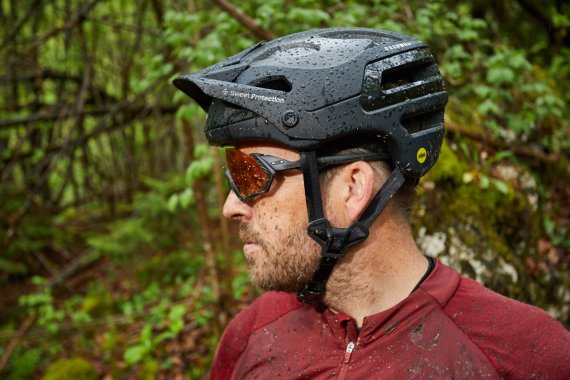 "Our objective from the outset was to develop an integral and trail helmet with as few compromises as possible," explains Ståle Møller, design and development manager at Sweet Protection. He emphasizes, "At the same time, the helmet should be lightweight and well ventilated, so ideal for enduro racing." This has been achieved by the Scandinavian noble manufacturer, which has been creating innovative helmets, protectors and functional clothing in the small town of Trysil, in the southeast of Norway, surrounded by mountains and wilderness, since 2000. The team consists of designers, technicians and athletes who also test all products themselves.
A special ZYTEL skeleton with incorporated anchors was developed for the Arbitrator. The main shell is directly attached to the skeleton, the entire construction is connected to the EPS shell. The removable chin guard is made of pre-preg carbon fiber. Here Sweet Protection has developed a solution with two different chin guards. And: like all bike helmets from the Norwegians, the Arbitrator also has STACC ventilation, which cools comfortably in the heat, as well as the innovative MIPS system (Multi-Directional Impact Protection System).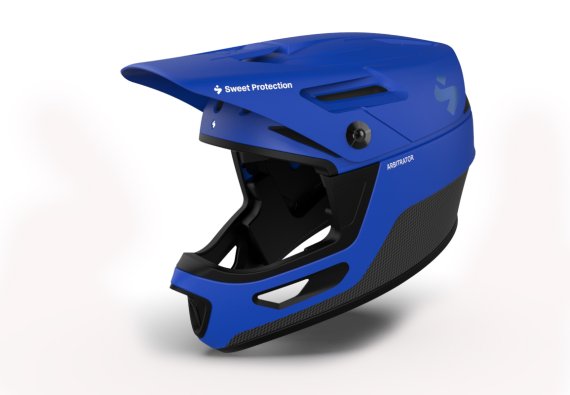 Matching the helmet, the Norwegians also set standards with their protector vest. The Enduro Race Vest is pleasantly light and adjustable. This means that it is suitable for sweaty uphills as well as rapid downhills. Front and rear are removable protective pads made of viscoelastic soft foam from SAS-TEC. These provide the best cushioning and ensure a pleasant wearing comfort. Due to the slim design, the vest can also be worn under a cycling jersey. Other benefits: a removable storage belt with hydration pocket and spacious pockets for tools or snacks. The back strap system also offers attachment points for the Arbitrator chin guard.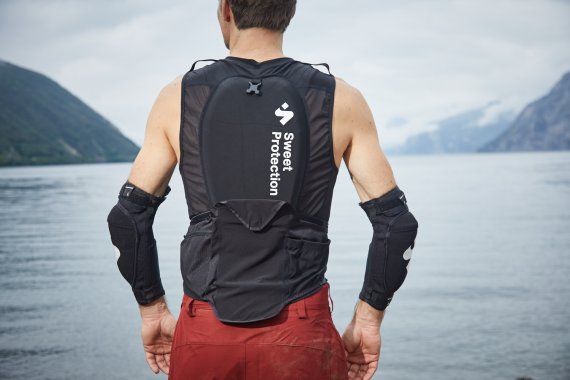 "All our choices are based on our core design philosophy: stronger, lighter, better," explains Møller. Of course, this applies just as much to Sweet Protection's trail clothing. Here, too, the Scandinavians make no concessions or compromises, as the Hunter collection makes clear. Whether pants or jersey, everything is precisely tailored to the needs and areas of use of mountain bikers. The cuts and materials of the individual functional textiles provide a cooling effect on the uphill. So too with the breathable and lightweight Hunter Light Short. It is made of water-repellent softshell material and equipped with mesh vents.
Matching the short there is the merino full zip jersey. It is made of 87 percent of the extremely reliable natural product: finest merino wool, which convinces with perfect temperature and moisture management. The rest (13 percent) is made of polyamide with a soft inside. Windblocker material on the front prevents cooling of the upper body during downhill. Thus, absolute riding fun is guaranteed even on colder days. Also a cooling on descents after sweaty climbs is thus prevented.