In fact, supply chains don't always have to be long: Ternua's SEAL L/S T-SHIRT M&W was made in its own factory in the Pyrenees using Seamless technology. But that alone would be nothing special for Ternua. More remarkable is that the raw material also comes from Spain. The baselayer is made from a functional, recycled nylon yarn that comes from discarded fishing nets collected in Spain. Thus, Ternua not only saves unnecessary transport across several national borders, but also actively does something for the environment by giving marine waste a second, valuable life.
The yarn was developed together with Spanish technology partner and yarn specialist Antex. All the yarns used are Oeko-Tex certified and therefore harmless to health.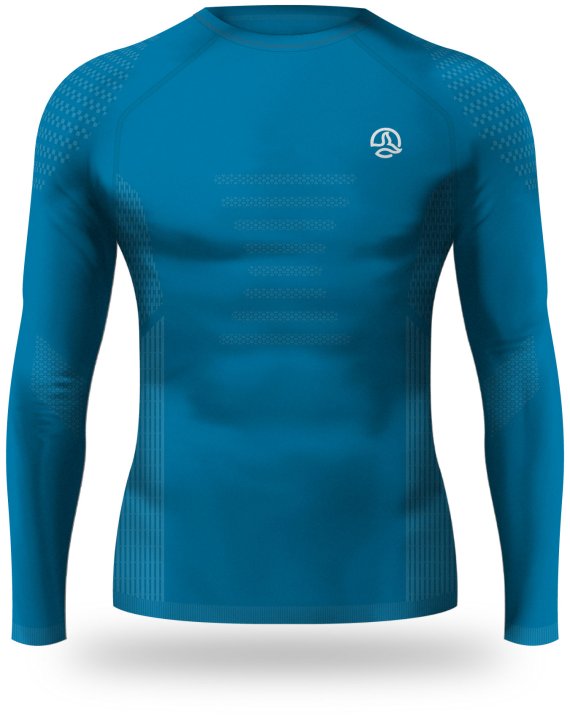 In addition, the baselayer has been given an odor-inhibiting finish by HeiQ. Instead of a metal-based antibacterial treatment, HeiQ Fresh MNT is based on mint oil and was developed in Switzerland. It fights body odor on textiles and regenerates with each wash. According to HeiQ, the finish remains active for up to 50 washes. Thanks to the HeiQ Fresh MNT finish, the baselayer also requires less frequent washing, which in turn saves water, detergent, energy and microfiber emissions, and extends the life of the garment.
This versatile and technical baselayer can be used all year round - for example, for activities in the mountains.
The T-shirt is available for both men and women, with the product specifically designed to fit both body shapes. The designs and colors were also developed separately for both sexes. The Ternua SEAL L/S T-SHIRT M&W will be launched in the fall of 2023.
Short supply chain

Recycled yarn from spanish fishing nets

Minty smell thanks to HeiQ Fresh MNT

Light weight

Moisture management

Quick drying

Heat regulating 
"This are great news for all at Ternua, to receive an ISPO Award with the Seal L/S M&W t-shirt, we are advancing in sustainability, without losing functionality, doing it in an innovative way and being internationally recognized it confirms that products can be built in a different way. In this case we can say, it´s a double award as the product has been developed and produced at our own facilities, using our well-known technicity developed in over 30 years making high functional socks. We have shown that we can build high performance products using trash, in this case discarded fishing nets. Again, is not only what we make, how we make it, means a lot for us."

Edu Uribesalgo, Ternua group innovation and sustainability director
"The special charm of this Ternua baselayer made from recycled yarn is that the yarn was collected, recycled and processed in Spain. The anti-odor treatment based on mint oil is also exciting."

Jury ISPO Award