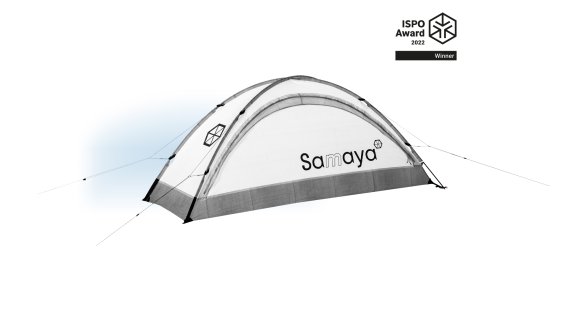 Weighing only 655 grams and being packed in a small 2-litre bag, the Samaya Radical1 tent impressed the ISPO Awards jury already in its packaged state. At their jury meeting for the fourth round of the ISPO Awards 2022, the judges were even more captivated when they unpacked and set up the tent. Easy to use, rigid and sustainable materials as well as an elaborate concept – that's why they rewarded French manufacturer Samaya with the popular award.
The Samaya Radical1 is a minimalist 4-season tent for one person that is suitable for all conditions, even the most extreme ones. Its light weight and small packing volume make it the go-to tent for mountaineers, mountain guides and alpinists who look for simple but functional equipment. Samaya designed the tent together with their mountain-sports athletes who asked for a light and small tent that they could use at their expeditions. So, the Samaya designers and engineers aimed to reach the best ratio between performance and light weight.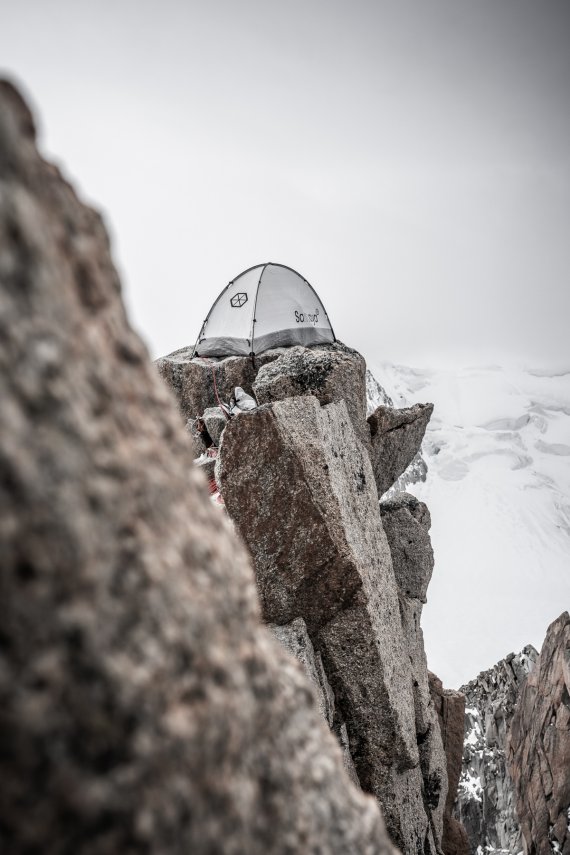 The result is a refined version of the Samaya Assaut2 Ultra, which won an ISPO Gold Award in 2021. With its cutting-edge materials, the Radical1 provides safety even in challenging high-mountain routes. The bio-based 2-layer Dyneema fabric with ePTFE membrane provides a great lightness/performance ratio, reduces moisture inside the tent and offers high-level waterproofness of 20,000 mm, which is supported by the seamless design. The walls have a high breathability of 40,000 g/m2/24h. The welded joint between floor and walls improves robustness and waterproofness, while the extremely narrow shape allows the tent to be set up even on small high-alpine ridges. The carbon poles reduce weight while keeping high-resistance properties.
With its length of 200cm, width of 70cm and height of 90cm, the Samaya Radical1 is designed as a 1-person tent though it may give refuge to 2 people if needed. According to tests in Samaya's in-house cold chamber, the inner temperature warms up by 20 °C within 5 minutes with 2 people inside, creating a protective cocoon.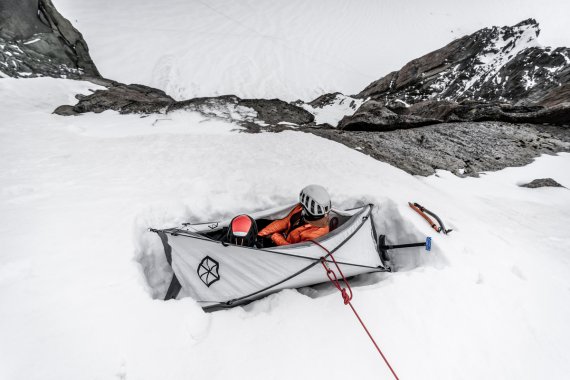 Another advantage of the tent is its eco-friendly material. Walls and floor are made from bio-based Dyneema Composite Fabric (DCF). DCF is tearproof and considered the strongest fabric in the world, being 15 times stronger than steel, according to the manufacturer. It is also naturally water repellent, hydrophobic and protects the user from strong winds. The Samaya Radical1 is also equipped with very light pegs by SwissPiranha providing mooring strength and durability. They are fully recyclable and require 13 times less energy to produce than aluminium. 
Regarding the design, the Samaya Radical1 has an aerodynamic dome structure with carbon hoops to cope with the strongest winds at high altitudes and snowfall. Available in discreet white colour, its wide entrance door is equipped with a water-repellent Aquaguard YKK zip protected by a Dyneema return.  
"We want to contribute to a world where 'sleeping outdoors' is an art, a source of wonder and serenity that opens the door to a collective awareness that human's well-being and planet's health are one", Ghislain Pipers, Arthur Jallas, and Victoire Poinsier, the co-founders and directors of Samaya, explain their vision. With the Samaya Radical1 meeting the needs of mountaineers, trail runners, ski tourers, cyclists, paragliders, trekkers, and water sports enthusiasts alike, they have certainly accomplished this mission. 
Built for use in high-alpine conditions: The Samaya RADICAL1 is designed to be erected on even the tightest alpine needles, as the video shows.
"For Mountain sports enthusiasts who are on tour with light luggage and attach importance to low weight and small pack size in their equipment, this tent is the perfect fit."  
ISPO Award Jury
"We wanted to create an eco-designed and ultra-minimalist 4-season tent for high altitude. We started working on the project with our athletes and our R&D team. And we realized that this tent would actually meet the needs not only of mountaineers, but also of many users who don't necessarily practice in extreme conditions. Who can do more can do less."
Ghislain Pipers, co-founder & CEO of Samaya
Lightweight: only 655 grams

Compression: only 2 litres in volume once packed

Breathable walls: 40,000 g/m2/24h

Eco-friendly: made from bio-based Dyneema Composite Fabric (walls & floor) + recycled plastic pegs

Waterproof walls and floor: 20,000 mm
Key data:
Colour: White

Dimensions: 200cm x 70cm  x 90cm

Price: 1500.00€
Available: Since June 2022