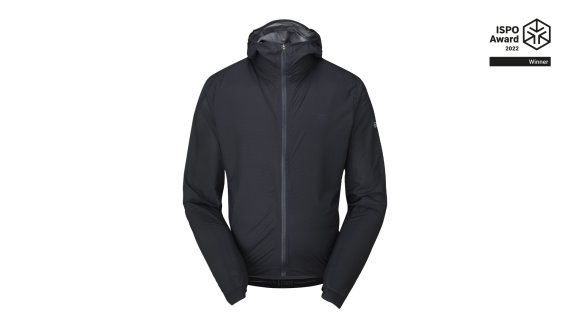 "Off road biking adventures require immense versatility in apparel. One moment you're too hot, then too cold, it's windy and you're always dealing with moisture. We have the knowledge and experience of managing these conditions through many years of creating the finest mountaineering, climbing, running and skiing kit", explains Rab Product Director Tim Fish. He adds: "We've taken this knowledge and combined it with a finely engineered on-bike fit to enable fun, adventure and exploration. We know that bikers wear Rab. And that Mountain People bike. Our new Cinder range is the logical progression."
One piece of this brand new range in Rab's collection is the Cinder Phantom Jacket. It is featherlight, weighing less than 100 grams, stretchable and ultra low bulk making it a pleasure to wear. Available for men and women it offers on demand water protection every time you ride. Built with 7D Pertex®Shield 2.5-layer fabric with stretch and tailored for performance with a slim fit, it follows your every move without a lot of swishy noisiness or felt stiffness. In short, it is really comfortable to wear. The hem is dropped lower at the back to keep the rider's back protected even while gripping the handle bars.
The Rab Cinder Phantom Jacket is also quite the minimalist, offering everything needed on the bike while being one of the lightest biking waterproofs available. Built to be stashed and forgotten but thrown on at any moment, its wearer will be prepared for whatever weather comes their way.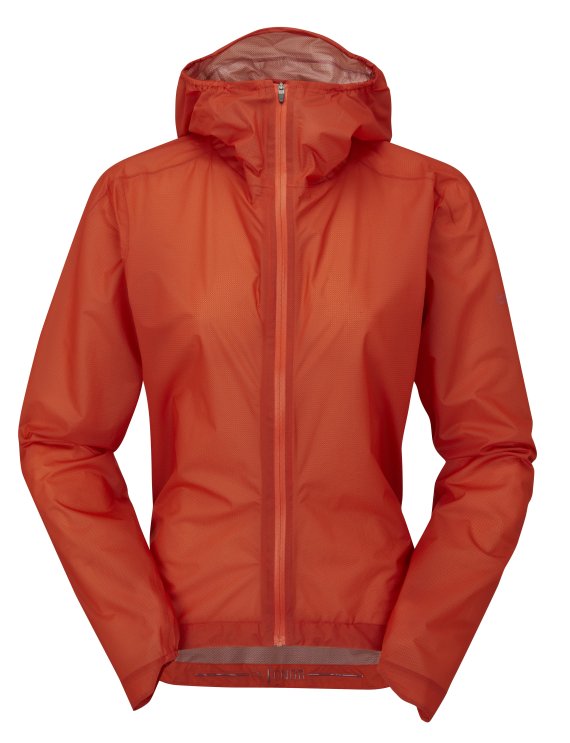 Rab has skillfully translated their experience designing fine mountaineering, skiing, running and climbing wear into a shell to brave the elements on a bike. Cinder Phantom has refined sleeves with well thought out cuffs that won't feel restrictive yet stay in place. It also comes with a sleek under-helmet hood for additional protection when conditions deteriorate. 
Andy Schimeck, Global Sales Director at Rab describes it like that: "Rab has enjoyed the credibility and trust of mountaineers around the world for decades. When it comes to technical clothing and protection from the elements, we have the expertise to deliver the ultimate bike wear for mountain people. With our new Cinder bike collection, we offer the perfect gear for any mountain person on two wheels." Also their Cinder Phantom caters to different rides as well. "Whether that's gravel, adventure, or mountain biking. Multi-day bike-packing or afternoon training to get ready for the next expedition", Schimeck adds.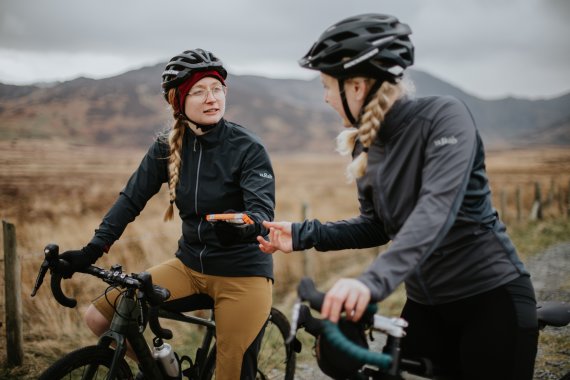 The ISPO Award jury especially liked the handy way it packs down and can be stashed: The lightweight stuff sack comes with a nifty frame attachment. Small straps and a clip make it super easy to attach the small bundle to the frame. This way, the waterproof can be taken along on any ride with no bother and is right at hand when it starts pouring down without a warning. It also dries quickly and can be packed away in no time again, as soon as it starts clearing up. Minimum features, maximum utility, the Cinder Phantom is designed for protection without bulk and wins the ISPO Award as a trusted companion on the bike.
"With this jacket you could tell straight away that a mountaineering professional was at work here. It is incredibly light and comfortable to wear. The practical attachment to the bicycle frame is particularly great."
Dr. Regina Henkel, ISPO.com Editor & Jury Member
stretchy slim fit cut 

very comfortable to wear

under 100g & extremely lightweight

sleek under-helmet hood

low bulk with bike frame attachment for stacking
Product specs:
Fabric: 7D Pertex Shield 2.5L fabric with stretch
HH: 20,000mm/MVTR: 20,000 g/m2/24hrs)
Weight: 99g (Size M)
Sizes: Men's S, M, L, XL, XXL and Women's 8, 10, 12, 14, 16
Colours: Men's: Marmalade; Ebony, Sahara and Women's Ebony; Red Grapefruit (pictured)
RRP: 220 Euro