At their jury meeting for the fourth round of the ISPO Awards 2022, the ISPO Award jury noticed that the sports and outdoor industry is changing. Responsible materials are key to follow this new direction. In comes the Alpine Suit by Patagonia. The jumpsuit for alpine climbers that will be launched in October 2023 features the new and eco-friendly Gore-Tex ePE as well as recycled materials.  But that's not all: the jury also noted some elaborate functions that make the life of athletes in the mountains and in harsh winter conditions easier.  In the overall impression, the Patagonia Alpine Suit impressed the jury so much that they rewarded the piece with an ISPO Award 2022.
Patagonia's Alpine Suit is intended to represent the cutting edge of design and material innovation for committed alpinists and is the latest result of the US company's partnership with Gore. During the development process, Patagonia has paired years of intensive design experimentation and testing in the harsh winter climbing conditions of Scotland and the Alps with the latest membrane technology by Gore-Tex.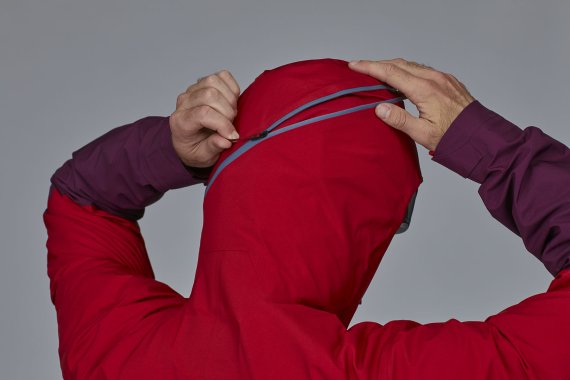 Intended for committed winter alpinists who care for the planet, the Alpine Suit represents responsible performance. While rooted in the alpine climbing ethic of minimalism, style, and partnership, it combines Patagonia's innovative design solutions to reduce layers and improve mobility for alpinists with Gore-Tex's latest PFC-free "extreme and extended" material technology. In other words: the Alpine Suit embodies the next era of solutions for alpinists from Patagonia and Gore-Tex.
The suit is made with 100% recycled nylon and features 100% PFC-Free Gore-Tex ePE, the latest waterproof and breathable Gore-Tex material innovation that provides very good storm protection without PFCs. All materials use Bluesign approved dyes and contain no forever chemistries, and the ePE used is built with a lower carbon footprint. Thus, the suit showcases Patagonia's intention as a responsible business partnering with other brands to move the industry towards a better way of doing things.
Another point regarding responsibility is the so-called Ironclad Guarantee that Patagonia has offered for many years for all its products, including the Alpine Suit for sure. It means that if a customer is not satisfied with one of the products, or if one of the products does not perform to satisfaction, customers can return it to Patagonia for a repair, replacement, or refund. Damage due to wear and tear will be repaired at a reasonable charge.
Supporting unrestricted vertical mobility, the gusset, knee, and elbow articulation of the Alpine Suit are patterned for high stepping and extended reach. The impressive spiral zip at the hood makes it possible to wear the suit with or without a helmet, and the cuff designs provide a perfect fit for different kinds of footwear, worn with or without crampons. Altogether, the Patagonia Alpine Suit is a neat and thoroughly designed piece of work that has rightfully won an ISPO Award 2022.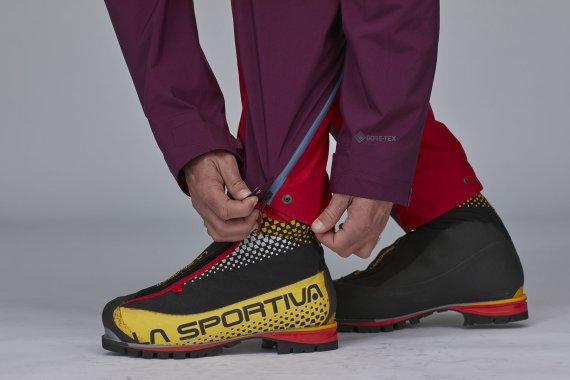 "Two things stand out in this jumpsuit for climbers. First: the very well-thought-out cut for unrestricted freedom of movement. Secondly, the practical zippers on the lower back. That allows for easy handling of the overall when going to the toilet." ISPO Award Jury
"The Alpine Suit showcases the best of Patagonia & Gore's shared commitment to innovation. Rooted in the alpine climbing ethic of minimalism, style, and partnership, the Alpine Suit pairs Patagonia's progressive design solutions to reduce layers and improve functional mobility for alpinists with Gore-Tex's latest PFC-free extreme and extended material technology. Merging innovative design and new material solutions, the Alpine Suit redefines responsible performance for winter alpine climbing."  Linden Mallory, Patagonia Alpine Category
Eco-friendly 100% PFC-Free Gore-Tex ePE membrane

Innovative design

Lightweight

Recycled fabrics

Waterproof & windproof
Key data:
Colour: Nouveau Green & Touring Red

Price: 1,000€

Available: October 1, 2023