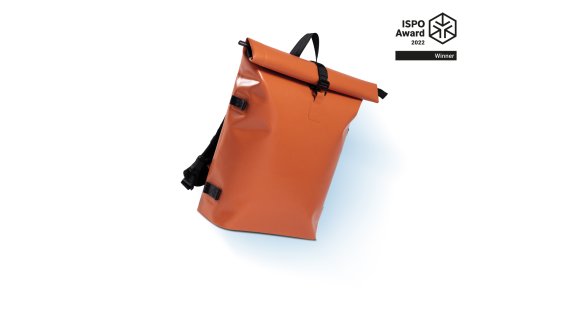 This Everyday Rolltop companion can easily be turned from a durable and minimalistic everyday backpack into a runner's backpack in no time. The padded S-shaped shoulder straps ensure an ergonomically correct weight distribution. Snap-on the sternum strap for a snug fit that keeps your backpack rock steady on the run. For extra comfort and easy-access pockets in the front, attach the ergonomic "Waist Pocket Belt". On the inside, there is enough room to store away smaller things in separate compartments.
The pack has a volume of 22 liters and enough room to carry everything needed for a day at the office or in the city. Thanks to its roll top, it can be compressed and made smaller, if the pack isn't fully loaded. Additionally, you can also attach a jacket or a yoga matt thanks to the rolltop strap.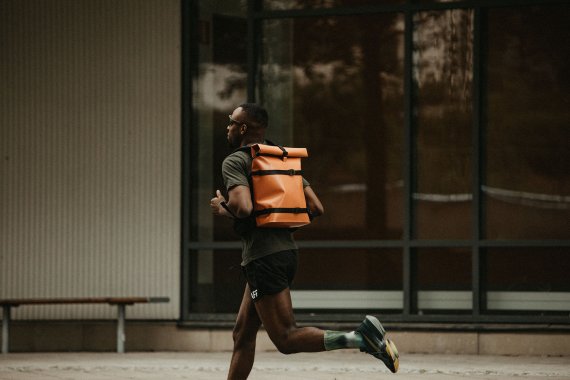 Its Scandinavian design is clean and beautiful as the roll-top concentrates on the essentials. The backpack is stripped down from all unnecessary details, leaving the user with a highly durable, ergonomic product and the option to modify the product to their own needs with an ecosystem of accessories, add-ons, and packing organizers. Product Designer Oskar Malm explains: "We wanted to create as much as possible with as little as possible. By creating a modularity system, we allowed Everyday Rolltop to be stripped down from everything but the bare necessities while maintaining the main criteria: A versatile, waterproof & ergonomic backpack."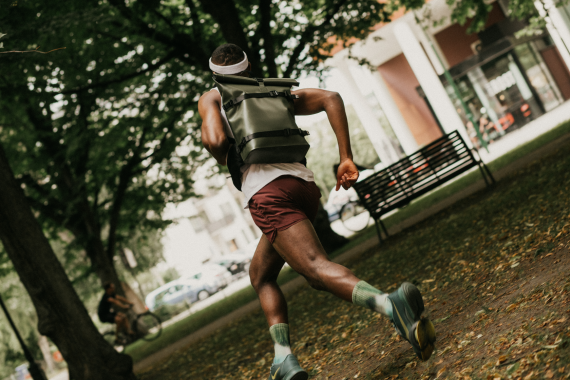 The Everyday Rolltop, like the name suggests, does not look like the common running backpacks on the market. A conscious choice by the brand, made to make an active and sustainable lifestyle attractive to a broader group of people, even those who do not identify with a "neon-striped" and performance focused design. And you wouldn't want to wear a running vest every day in the city, let alone need other options to take, for example, your laptop or tablet with you. The backpack is made to last a lifetime using durable and recycled materials. This is why the brand also offers a lifetime warranty. It is also designed to cater to most activities that the everyday person might encounter in their daily life or when commuting.
When testing out the pack at the jury meeting, the ISPO Award jury of course also put the Everyday Rolltop by IAMRUNBOX to a small test. Even when filled with a water bottle and other stuff, it sits quite snugly on the back and the sternum strap as well as the running belt, which is by the way easy and quick to attach, do what they should keeping the pack nicely in place without a lot of bounce while running.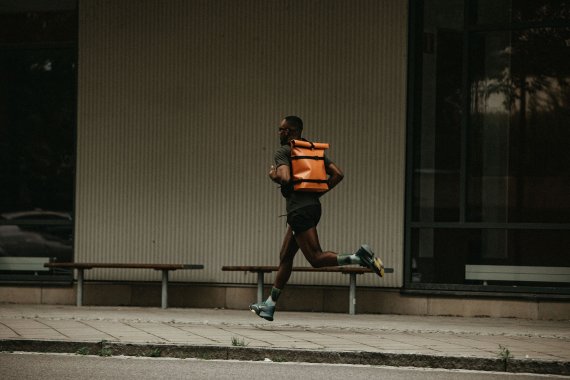 "We are humbled and delighted to receive one of the most prestigious awards in the industry! With this, we are now one step closer on our journey towards a more sustainable future and delivering on our mission to reduce our collective dependency on cars."
Kirill Noskov, Founder and CEO IAMRUNBOX
"This hybrid backpack is not only a looker and really well-designed, it also hits a nerve: using your own body to commute while running is an active, more sustainable and future-proof way of living an urban outdoor lifestyle."
ISPO Award Jury
run in style: does not look like a classic running pack

adaptable from everyday backpack to running companion

waterproof, long-lasting material and design

TPU fabric made from recycled plastic bottles

stylish product promoting a healthy & sustainable urban lifestyle
Product specs:
Hypalon puller

22L carrying capacity

100 % recycled TPU

sternum strap and attachable running belt

easy access waist pockets

Colors: black, navy, orange, gray, green

RRP: 149.95 €