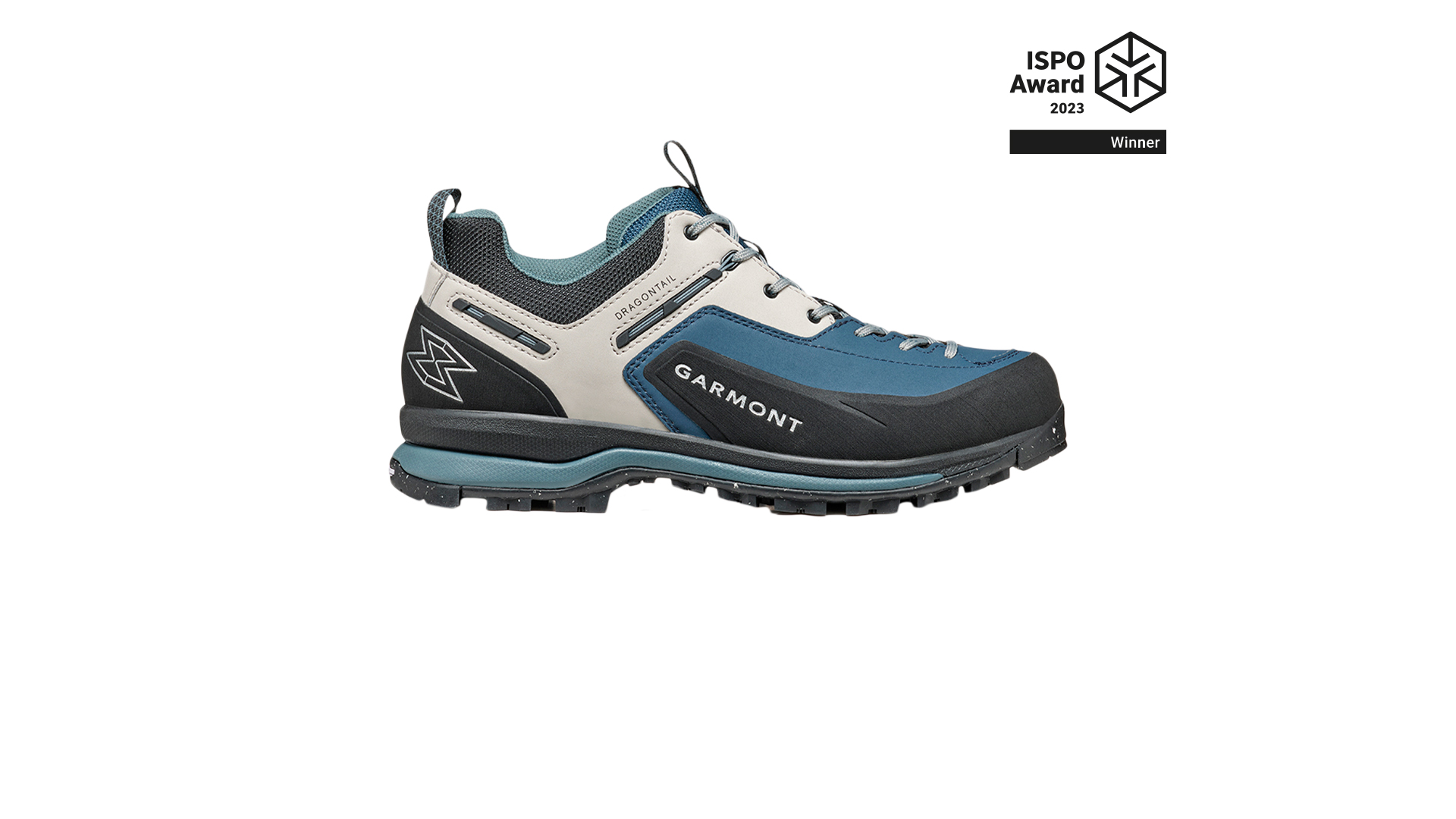 To create a more sustainable product, there are lots of steps and components that have to be taken into consideration. From raw materials, processing, logistics, packaging and end of life, lots makes a difference when it comes to the carbon footprint of a shoe. But to find out how to make the most eco friendly version of the Dragontail, one of their well-loved hiking and approach models, Garmont took a closer look. »The biggest challenge was to combine performance and responsible materials,« says Garmont Head of Product Paolo Martignon. The shoe was therefore disassembled into its single components, from the main upper materials up to the smallest inner reinforcements during the development process and the brand calculated the CO2 impact for each one trying to find more eco-friendly alternatives to reduce it. The brand's main challenge was to provide the same level of abrasion resistance, durability, and support of virgin materials, for example, substituting leather with a FreeBio™ Microfiber Upper made from 40% recycled PL 15% recycled PU, 14% recycled Calcium Carbonate and 10% wood fiber.
A scientifically calculated impact comparison according to GHG Protocol was therefore done. This calculation took into consideration raw materials, transport, production, packaging, and the product's end of life. But also from upper, lining, reinforcements, sole package and accessories CO2  impacts where measured and compared between different possible material options. Driven by numbers, Garmont found a balance that doesn't compromise performance. »We had to make changes in the last second when everything seemed to be defined just because some tests had not given exactly the results expected. We have been able to show that we can make more sustainable technical products and this is the most important result for us because it opens the doors to countless future projects,« Martignon explains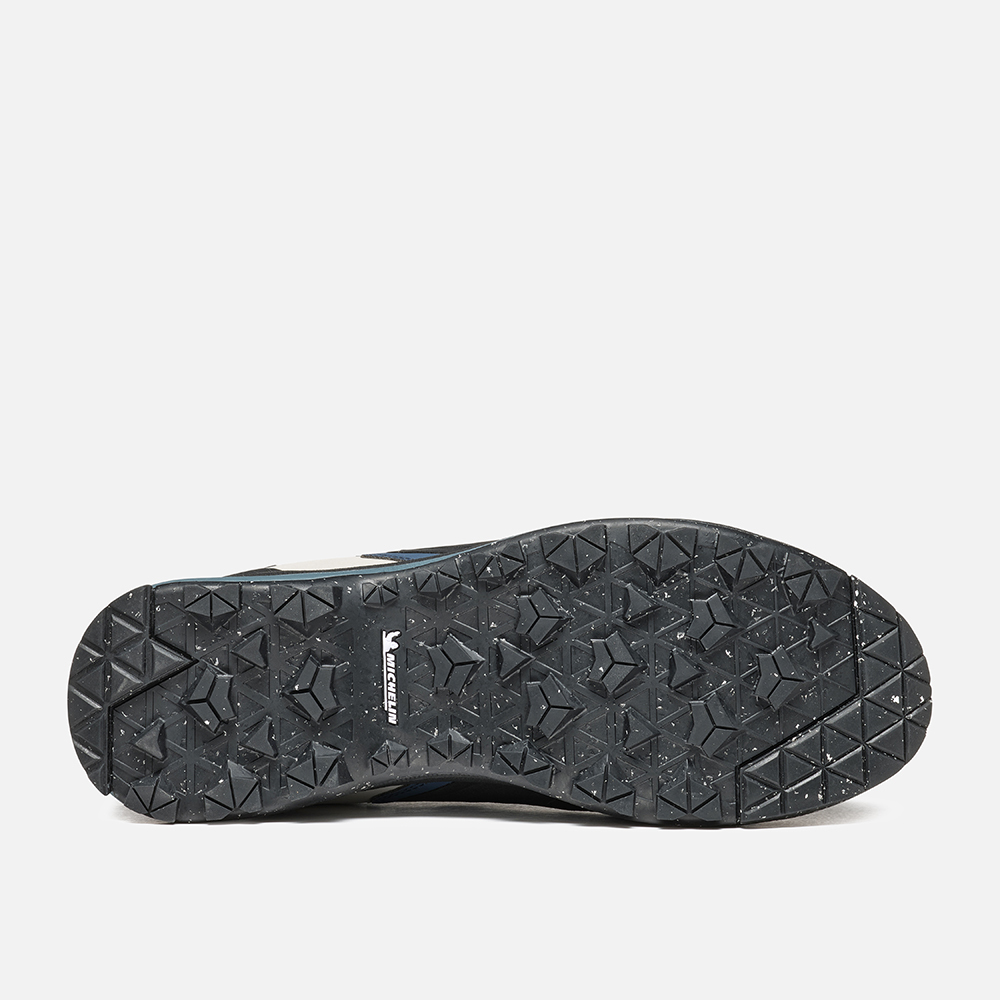 The shoe still has a lot of other features making it a great hiking shoe, for example an extended protective rand, an asymmetrical and extended lace to toe closure to better adapt to different feet and instep volumes, and a wide toe box for more comfort on long days or multi-day adventures. A different insole design for men and women offers support and cushioning, while the Michelin Off-Road outsole gives grip all sorts of terrains.
Overall, a huge number of laboratory tests were performed to ensure that all selected materials satisfy the brand's physical and mechanical test specifications before the shoes were taken out on field tests. Each pair of shoes will also be equipped with a QR code on the hangtag referring to their impact in numbers as well as the materials used for each component of the shoes.
This transparent approach for the Dragontail Tech Geo should influence future approach and hiking shoes to come.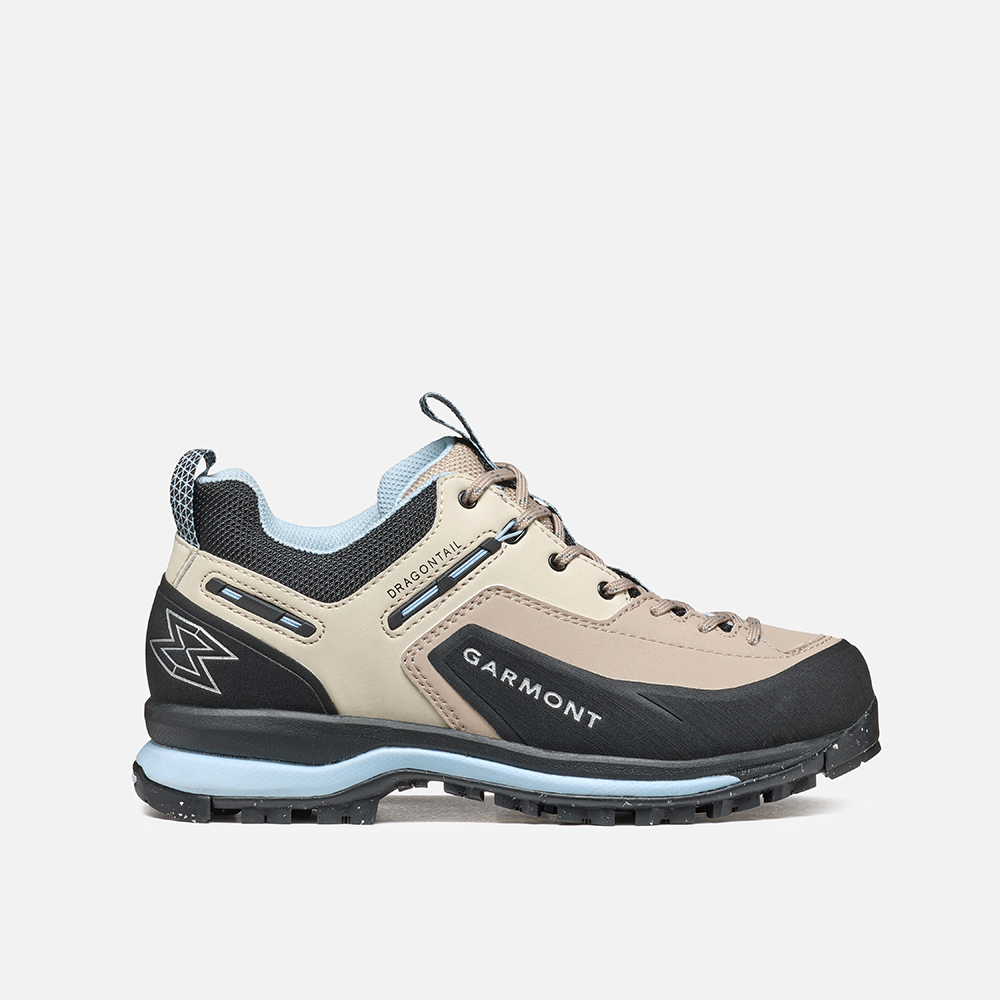 "The main Garmont driver, together with innovation, is sustainability which constitutes one of our fundamental pillars for some years now. From SS24 collection we wanted to make a breakthrough by cooperating with ACBC, a B-Corp certified company that can give us added value. The CO2 calculation system we set up will be a new standard for our collection because the goal is to include season after season more and more responsible products and know precisely how much CO2 we are saving."
Davide Calcagnotto, General Manager Garmont International
"Keeping it real when it comes to sustainable materials and their impact and giving maximum transparency for different components is really interesting to see. Even more so when updating a popular shoe. The new Garmont Dragontail Tech Geo is a strong statement for using a larger amount of recycled and bio-based materials and cutting impact without dampening the performance."
ISPO Award Jury
a more sustainable model of an iconic approach and hiking shoe
28.8% lower CO2 impact per pair (10.4 Kg/CO2e vs 14.6 Kg/CO2e compared to the previous model)
targeted use of bio-based and recycled materials 
scientifically calculated and backed 
same level of durability, abrasion resistance, and support as virgin materials
FreeBio™ Microfiber Upper – (40% recycled PL + 15% recycled PU + 14% recycled Calcium Carbonate + 10% wood fiber)
Protective Rand, 30% recycled PA 
Heel Lock Cord, 100% recycled PL 
Collar & Tongue 3D Mesh, 100% recycled PL
Lining Mesh, 100% recycled PL
Laces, 100% recycled PL
Toe and Heel Box inner reinforcements
50% recycled PL
Ortholite® Recycled™ Footbed
98% recycled PU Midsole
50% bio-based material from sugarcane
Michelin® Outsole Hybrid
37.5% of recycled rubber
Colors: air blue/dove grey (men), earth brown/parchment white (women) 
Size: 6-13 UK (men), 3-8.5 UK (women)
RRP: €180