Every alpine enthusiast who spends a lot of time in the snow knows how important it is to have the right goggles. It is not just the protective function that is important to protect the eyes from the elements, but also the proper dealing with rapidly changing light conditions. Skiers and snowboarders depend on being able to see the terrain accurately, especially at higher speeds, to ensure that they can react quickly and correctly even in difficult lighting conditions.
For this reason, quick-change systems have long since become established: Instead of having several goggles in your backpack, you simply quickly swap the lens in the frame to always be provided with the right vision.
In changing weather conditions, in open terrain or with rapidly changing light incidence, the process of changing lenses should be quick and uncomplicated. This is why magnetic systems are so popular.
While these systems are uncomplicated to use, they also have a key drawback: when force is applied to the goggles, such as during a fall or a messy landing after a jump, the magnetic lenses can occasionally come off unintentionally. Unprotected eyes that may be exposed to snow, ice and wind are not a nice feeling - not to mention the obvious risk of injury.
The Californian eyewear specialist 100% therefore relies on a combination of its own Gravit8 magnetic lens system and its proprietary 3DPlane Molded Lens technology for its top model "Norg" in the Snow line. This technology has been successfully featured since 2019 in the revolutionary Armega goggle, which is particularly popular in the MotoX and bike scene.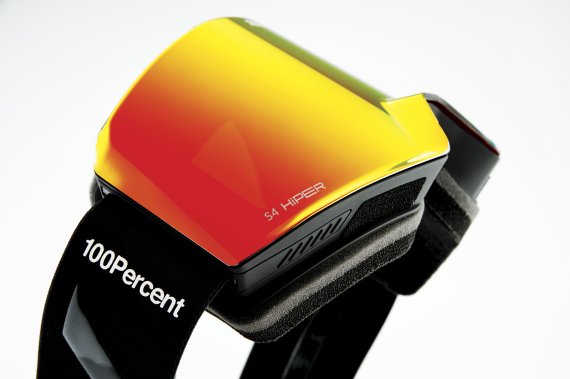 For the Norg goggle, this proven technology has now been consistently further developed: The glass, which is manufactured using an injection molding process, is extremely impact- and break-resistant, with optimal optical performance. While in many other magnetic systems the lens lies on the frame and is therefore easily detachable under certain circumstances, the 100% Norg comes up with a special design: The glass "embraces" the frame - unintentional releases are virtually impossible.
This design also means that it is the lens, rather than the frame, that provides the goggle's structural integrity and stability. The frame material can thus be kept soft and flexible, resulting in huge improvements in terms of fit. 
100% thus manages to enhance the proven magnetic interchangeable lens system through technological advancements in lens engineering. Innovative design approaches in the connection of lens and frame lead not only to the optimization of the function, but also improve the wearing comfort and expand the potential customer base through the better fit: because not every goggle also fits every face.
The large number of different lenses available for all possible light conditions ensures that the best view is always guaranteed with the Norg.
With its combination of innovative technologies, exceptional design, outstanding comfort and great style, the Norg goggle from 100% is a bright shining highlight on the 2022 goggle market.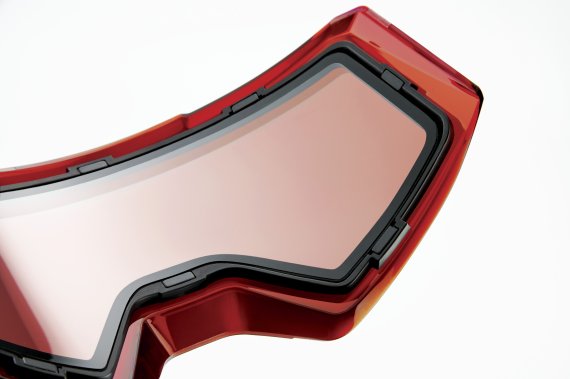 "The 100% Norg Snow Goggle is the result of more than two years of research and development. The finished product showcases the evolution of our 100% 3D plane molded technology — which utilizes the injection molded lens design to create the unique nose bridge with the lens. The ground-breaking lens mould was first unveiled in the launch of the Armega Motocross goggle in 2019. The 3D Plane technology implemented into the design and function of the 100% Norg goggle doubles in aesthetic and functional brilliance by hiding the outer edges of the frame of the goggle in addition to providing unparalleled structural integrity to the lens." Marc Blanchard, Head of Design and Co-Founder 100%:
"The Norg Goggle is a good example of how the function of a Google with magnetic interchangeable lenses is noticeably improved by changes to small details." ISPO Award Jury
Outstanding lens changing capabilities

No unwanted ejection of magnetic lens possible

Unique design

Maximum comfort

Unmatched frame-to-lens fit
Key Facts:
One Size

Available Colors:

White, Black, Green, Red

Price:

270€ Retail