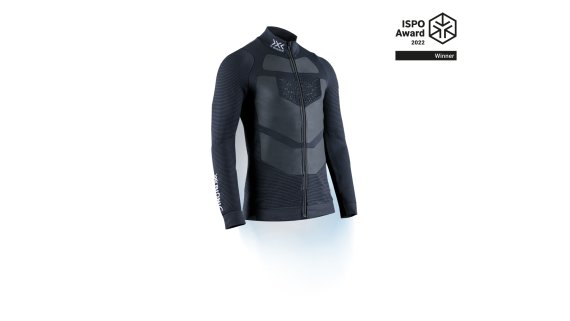 The Windskin® Transmission Layer is designed for training sessions or endurance competitions in cold and windy conditions. The special knitted technologies support the body's natural temperature regulation. The laminated membrane at the front protects from wind and over cooling. The protective membrane elements have been integrated into particularly wind-exposed areas of the layer jacket. In this form, certainly a new and innovative approach to combine materials. The ISPO Award jury liked this innovative idea in the development of the Windskin® jacket. Martijn Jegerings, Chief Marketing Officer of X-BIONIC, showed himself delighted: "We are very excited to have convinced the ISPO jury with the Windskin®, our innovative thermoregulation approach, to re-enter the cross-country ski market. This prestigious award is a great recognition for all the time that went into the development of this product."
This jacket is designed for cross-country skiers and people who like to run in cold temperatures. The Windskin® Transmission Layer offers the full advantage of thermoregulation without restricting freedom of movement. For a targeted effect, intelligent functional zones are positioned even more precisely in the ultra-dense knitted fabric.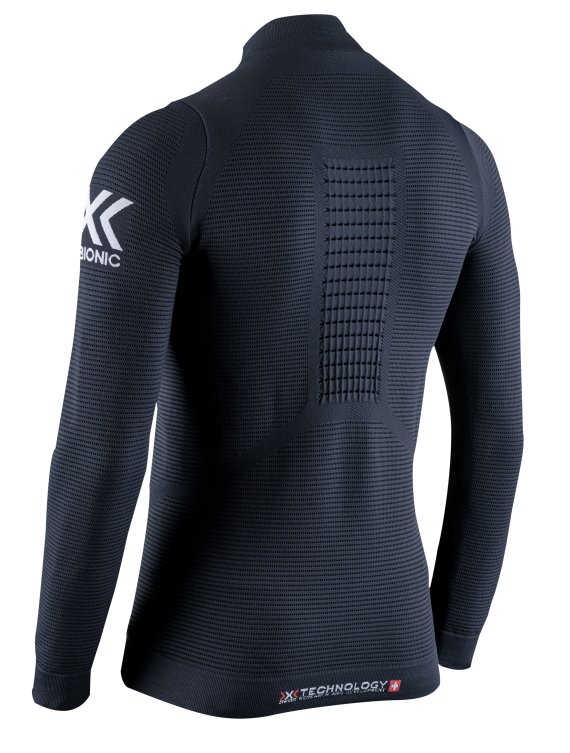 Winter sports enthusiasts can expect to encounter a highly elastic processed textile. It works as a second skin, is windproofed yet air permeable. That's how the new Windskin® Transmission Layer protects runners in a headwind and still allows moist, warm air from the skin to escape. "The big idea behind this jacket is the combination of wind protection through a laminated membrane at the frontside with our award-winning 3D technologies to offer a performance product for ambitious athletes. The 3D Bionic Sphere® System with ThermoSyphon® technology supports natural thermodynamics, improves sweat management, and protects from the risk of overcooling during rest and recovery phases", says Martijn Jegerings.
In addition, science is an integral part of all products and technologies X-BIONIC develop. Martijn Jegerings: "For example, the 3D Bionic Sphere® and ThermoSyphon® have proven repeatedly to improve athlete's performance under the most extreme conditions. Furthermore, we work very closely with our athletes. Their experience and feedback are an invaluable source of information and help us to continuously push our product development. All our newest innovations are tested by athletes first before they are available on the market."
X-BIONIC believes that innovation is the core of sustainable development. "By using knitwear as the base for our products, we can on the one hand reduce waste materials to a bare minimum while at the same time create products that have a guaranteed longevity", underlines Martijn Jegerings. "By using a high share of recycled yarns, we are further reducing the environmental impact of our garments. Moreover, all our products are made in Europe which allows us to be close to our core markets and save crucial greenhouse gases."
Finally, the X-BIONIC Windskin® Transmission Layer scores points regarding the haptic impression that a tight-fitting sports layer should have. Whether running track on cool days or wearing it as mid-layer in other sports, it is a convenient solution with tendencies to become a real favorite piece.
"According to the motto: There is no such thing as bad weather, only wrong clothes, X-BIONIC has reached deep into the bag of tricks and created a very sophisticated mid-layer for cross-country skiers and endurance athletes in cold and windy conditions. Sufficient wind protection on the front and freedom of movement through an extremely stretchy fit support the natural thermal regulation. The completely continuous zipper rounds off the overall package. High-tech solution for endurance lovers." ISPO Award Jury
Thermal regulating

Windproof

Moisture management

Antibacterial

Bi-stretch

Breathable
Product Specifications:
Available: September 2023

RRP: 249,00 €