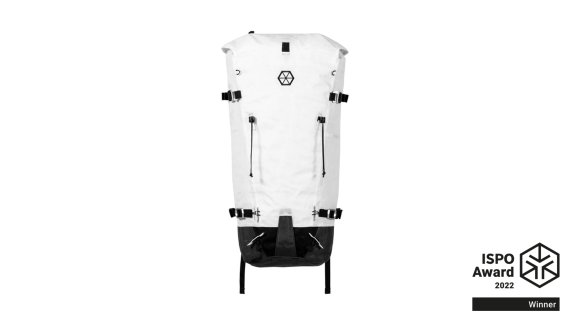 Until now, the French brand Samaya has been known primarily for its tents for ambitious mountaineers and expeditions, which are as stylish as they are radically technical. With the ULTRA35 backpack, the brand, which was founded three years ago, has ventured into new territory for the first time and has placed no less high demands on design, functionality and sustainability.
With its first backpack, Samaya has launched a new, complex product that, together with the ULTRA tent, forms a new product line designed for the most demanding alpine ascents. The result is so compelling that Samaya is receiving an ISPO Award 2022 for it.
The ULTRA35 was created in close collaboration with Samaya's athletes. The big idea behind it was that Samaya wanted to develop the "lightest mountain sports backpack of all time." With 35 liters of volume, the bare backpack weighs just 495 grams - without modular accessories. Five more liters can be added by also filling the rolled-up top of the backpack. The concept of modular accessories is also due to the lightness: The backpack can be equipped individually depending on the requirements. So, you only have the functions on the backpack that you need and save weight. But lightness was by no means everything the developers had in mind.
Above all, Samaya wanted to develop an extremely lightweight and extremely powerful backpack that is also waterproof and extremely robust. In doing so, Samaya wanted to combine properties that were previously almost impossible to reconcile, even though both aspects are enormously important for any user.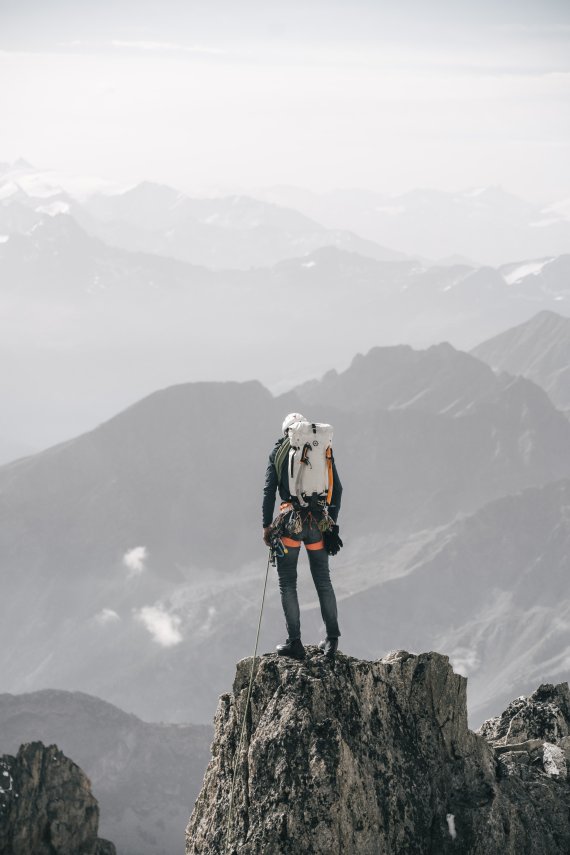 "A waterproof Dyneema backpack is exactly what you need to take to the mountains: it's lightweight and durable. The Dyneema is bio-based and the backpack is designed to hold up in the roughest terrain, plus it's repairable. Accessories for ice tools and skis are removable to adapt to the needs of each adventure. Lightweight and sustainable, without compromising on performance - that's perfect."
Andrea Andriani, ISPO Award 2022 Jury Member and Collaborators Club
For the material, Samaya relies on bio-based Dyneema® Composite Fabric made in the USA. This allows Samaya to reduce the backpack's carbon footprint. Ten tons of bio-based Dyneema® avoid 50 tons of CO2 compared to conventional Dyneema® and 57 tons compared to nylon.
To achieve waterproofness, the backpack does not need any special repellent finishing because the material is naturally water repellent and hydrophobic, thanks to its PES lamination and Dyneema®'s very low water absorption rate. You can even completely submerge the backpack without fear of water getting in. Sustainability also plays a role in color: polyester is naturally white, so no pigments are added.
All of this sits on a special aluminum carrying system that is both minimalist and ergonomic.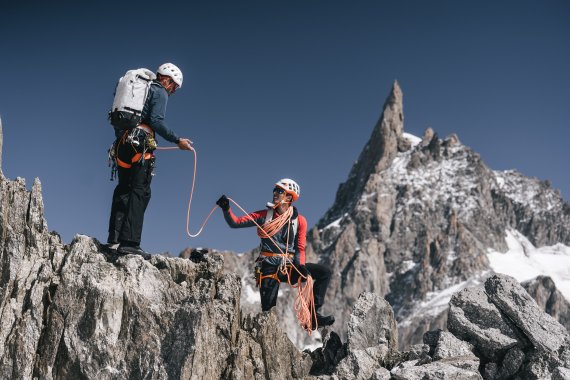 Samaya doesn't stop at materials when it comes to sustainability. Early in its young history, the company established an environmental task force to define and meet environmental and social goals. For example, Samaya has long produced drybags or other accessories from production scraps from tent manufacturing. With the ULTRA35, too, components are ideally made from leftovers from tent production.
In addition, the products are designed for a long service life. The ULTRA35 comes with a five-year extended warranty, and Samaya can offer a lifetime repair service thanks to a recently established workshop and Dyneema's special ease of repair. Samaya is also already thinking about end-of-life, even if it is still early given the long life of the products.
The backpack is particularly lightweight yet powerful

It is abrasion-resistant, cut-resistant, tear-resistant, waterproof, water-repellent and thus particularly robust and durable

Modular accessories reduce weight and increase versatility

Focus on sustainability in materials and beyond
"Made from bio-sourced Dyneema®, the Samaya ULTRA35 is the perfect demonstration of Samaya's know-how and commitment to combine sustainability and high performance. Our ambition was to remain a forerunner in outdoor equipment by developing a product that would meet the requirements of our athletes as well as a consumer need that was not covered in the outdoor market: a mountaineering backpack that is simultaneously light, waterproof, resistant and modular in its accessorization for versatility of use (ski touring or alpine skiing, mountaineering, climbing, water sports, trekking, etc.). The ULTRA35 is designed as a protective 'shield' for its user: whether for extreme or urban use, it must always meet both technical and aesthetic expectations."
Ghislain Pipers, Samaya co-founder and designer of the Samaya ULTRA35