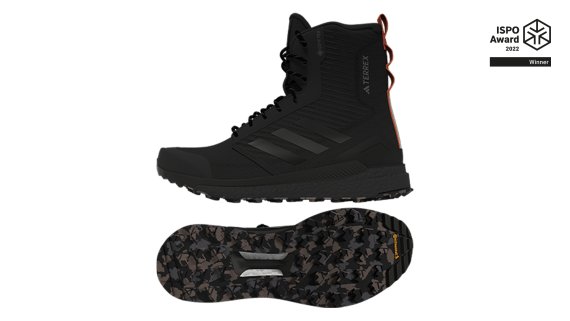 The current outdoor boom is sharpening the focus on design: more and more people are drawn out into nature and into outdoor adventures. But that doesn't mean they want to look like professional alpinists. With the new Adidas TERREX Free Hiker XPL Gore-Tex Parley shoe, Adidas TERREX has found the balance between functional outdoor footwear and urban design. The design was inspired by the previous model, the Adidas TERREX Free Hiker shoe, and expedition boots from the early 20th century. The ankle-high shoe, with a contrasting heel loop, looks stylish, is suitable for many uses and is fun to wear in any environment. Adidas Boost foam and an outsole from Continental provide the right grip and cushioning.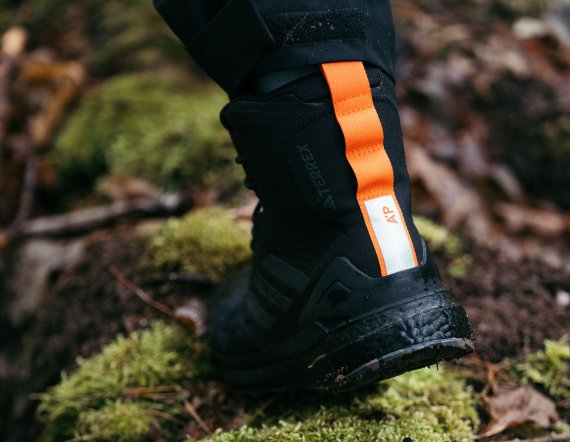 Even more than the design, the focus during development was on sustainability. The idea was to create a lightweight, waterproof hiking boot that challenged the current best available sustainable technologies to the limit. First and foremost, Adidas TERREX uses the new, more sustainable Gore-Tex membrane ePE. This membrane debuts this fall with three exclusive partners - including Adidas TERREX - and is made of expanded polyethylene. The membrane is lighter but just as durable and functional as the well-known Gore-Tex membrane made of PTFE, but free of PFCs and has an improved carbon footprint.
"The Free Hiker Xpl Gore-Tex Parley is a boot developed for light adventures trying to bring material sustainable innovation to the next level. It combines the expressive look and feel of the adidas TERREX Free Hiker boot with a new sustainable, PFC free, durable waterproof material laminate - powered by Gore-Tex ePE and is built with an upper made from recyceld materials and Parley Ocean plastic fibers."
Henrique Nigro - Senior Product Manager for Adidas TERREX; Daisy Black - Materials Manager for Adidas TERREX
That's not all. For many years, Adidas has been a cooperation partner of Parley for the Oceans, an organization that collects and recycles ocean plastics. As a result, Adidas TERREX uses a textile upper made from Parley fibers and other recycled materials in this shoe - in total, the proportion of recycled upper material comes to over 50 percent.
Added to this is a PFC-free waterproof finish. This contributes to Adidas' goal of reducing the carbon footprint of its products and achieving CO2 neutrality by 2050.
The sustainability concept continues in the packaging. Adidas TERREX uses cartons and hangtags made from recycled paper. In addition, shipping and logistics are carefully planned to minimize the environmental footprint and avoid air freight, for example.
"Adidas has thought of everything with this hiking shoe. It is not only lightweight, sustainable and comfortable, but also convinces with its super design. Young hikers will consider wearing this shoe even in their free time."
Jens Häußler, ISPO Award 2022 Jury Member Collaborators Club
Appealing product for beginners with an appetite for the outdoors.

Use of the new, more sustainable ePE membrane from Gore-Tex

Use of recycled Parley fibers from marine plastics

PFC-free membrane and PFC-free finishes