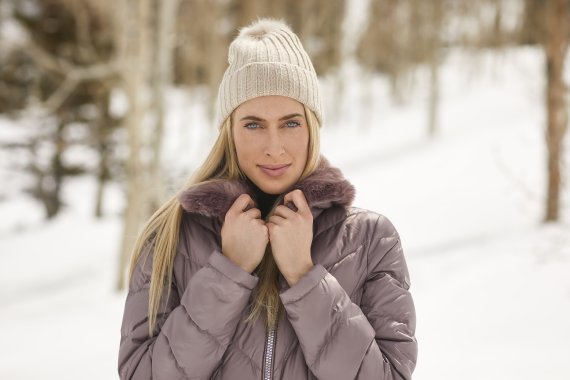 DuPont™ Sorona® proves that high-quality comfort stretch fabrics can also be produced without spandex by presenting a stretchable, completely recyclable jacket. In the showcase jacket, the outer layer is made of a durable, spandex-free Sorona® stretch fabric with a soft and almost cotton-like touch from the manufacturer Duream. For the inner lining, Sorona® stretch fabric from Jin Jin was used for its ability to snap back into shape for a smooth, wrinkle-free look. For the insulation, the recently launched ECOLoft™ Flex SR from Youngone is used combining Unifi Repreve® recycled polyester fibers with DuPont™ Sorona® polymer-based fibers. Maximized multi-layering of Repreve® and Sorona® in the padding web, creates a lightweight, warm insulation designed for breathability and movement. With a lower basis weight than its peers, it offers flexibility, stretch and comfort ideal for the casual market. Even the synthetic fur trim is made of Sorona® fibers. In this way, DuPont not only demonstrates the versatility of Sorona® fibers, but also demonstrates the groundbreaking ability to construct complex garments in a way that makes them recyclable.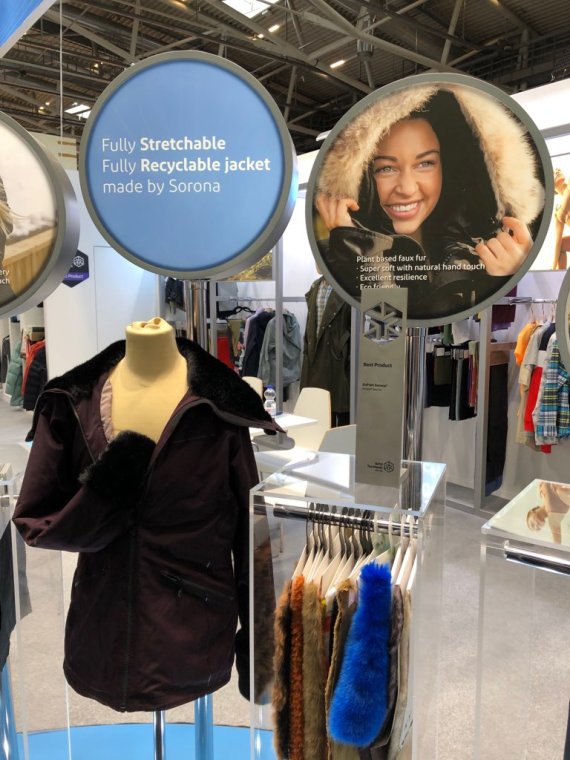 Sorona® is a high-performance comfort stretch fiber made from 37 percent plant-based raw materials. Sorona® fibers are a substitute for spandex and achieve long-lasting mechanical stretch and recovery performance. Sorona® is also resistant to heat, UV rays and chlorine exposure. Fabrics made with Sorona® fibers thus offer designers and brands a partially bio-based option that has an amazing hand feel, leaves a smaller environmental footprint and is mechanically recyclable at the end of a garment's life cycle. Chemical recycling is also technically possible.
One of the highlights of the jacket is the decorative fur trim made of Sorona® fibers. It was awarded "Best Product" in the "Accelerated Eco" category by the ISPO Textrends jury for the fall/winter 2021/22 season. Sorona® faux fur is made from 70-100% bio-based Sorona® polymer fibers, making it one of the first commercially available plant-based synthetic furs. Current styles vary from classic mink to plush teddy-style fur, offering limitless solutions for fashion apparel, such as the lining of a jacket or the trim of a collar, as well as footwear and accessories, including fur-lined shoes, earmuffs and more. The first plant-based faux fur offers a natural luxury look with a super soft, natural hand feel and is recyclable. As the apparel industry increasingly moves away from the use of animal fur, this innovative product offers a thoughtful solution to fur with a luxurious, high-end look and feel.