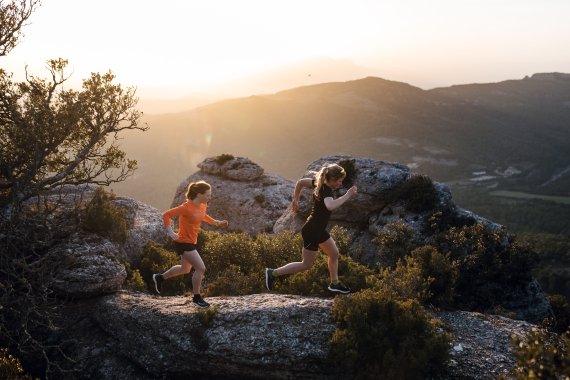 This year, the American outdoor shoe brand Merrell celebrates its 40th birthday. For four decades now, Merrell shoes have accompanied hikers, runners, fitness fans and many others on their excursions into nature. And that's what the brand is all about: inspiring people to get outdoors. Chris Hufnagel, President of Merrell, is convinced that being outdoors can release a very special energy: "What we are standing for, our 'Brand Purpose' has never been more relevant than in these challenging times. For us, nature is medicine for body, soul and mind. With our tagline for 2021: 'Let's get outside', we want to bring back the feeling of freedom after the restrictions of Covid-19 that affected the whole world will finally be over – for everyone, everywhere." Therefore the brand offers shoes for outdoor use: for activities such as hiking, walking, training and trail running. But what actually is trail running?
Trail running is versatile! At least that's what Merrell says! The running shoe brand offers products for running beginners who rather run in nature than on the road, all the way to true professionals pacing over mountain ridges. Shaun Bohnsack, Senior Product Director Performance Footwear at Merrell explains: "We have been the number one outdoor footwear brand in the world for many years. We develop shoes for barefoot training, natural running but also classic hiking boots. Therefore, we have the necessary experience from different worlds to create a versatile and functional trail running collection."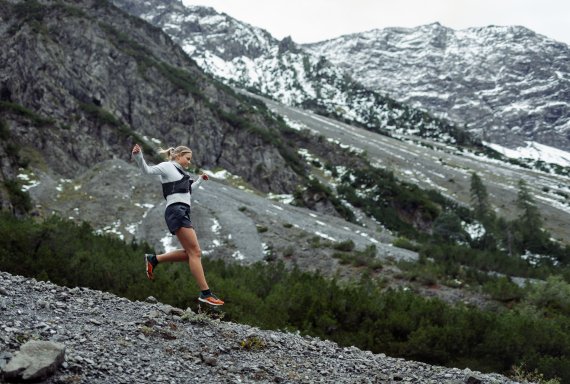 Merrell has sponsored the worldwide trail running event "Sky Runner World Series" since March 2020. The championships of the 'International Skyrunning Federation' consist of a number of extremely challenging mountain running events with the world's best trail running athletes competing against each other. Last year, the international running events could not take place. For 2021, 13 races are scheduled, among them for example the Mt. Awa Skyrace in Japan with a length of 33 kilometres and a climb of 2,300 metres in altitude and the Hochkönig Skyrace in Austria with a length of 32.6 kilometres and 2,720 metres in altitude. Merrell is not only an event sponsor. The brand also equips some of the best trail runners in the world and works closely with them.
Shaun Bohnsack from Merrell explains: "The event series gives us the opportunity to connect with and inspire our customers internationally. Our team of elite skyrunners represents exactly what Merrell stands for: great athletes who not only perform at their very best, but also - every single one of them individually - bring an interesting and empowering story to the table."
Merrell ambassadors such as Sanna and Lina El Kott, Hector Haines, Marc Pinsach, Ragna Debats and Pere Aurell are actively involved in the development of Merrell trail running shoes. The aim is not only to design models for extreme challenges, such as the Skyrunner Races, but also suitable training companions and running shoes for trail running beginners.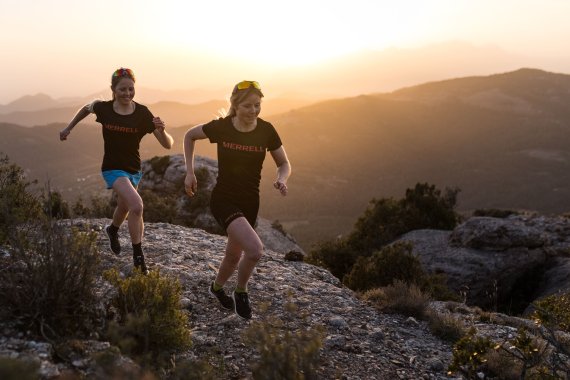 At Merrell they call this project, where the brand's development team works very closely with athletes: 'MTL - Merrell Test Lab'. "The nature is our lab, the athletes are our subjects," explains Shaun Bohnsack. "The Basis of the MTL is to work with athletes to develop new ideas around what a product should be for a specific environment and activity.  This is a circular process where we gather insights, build prototypes, test in the field, and make adjustments. This goes on until we get to the point where we have a product that meets the athletes needs. And then it doesn't end. The process goes on even after launch, as we build to the next version or innovation. The athletes have a lot of input into the original concept, features, and testing. They help keep the project true and on track."
For example, Ragna Debats, Skyrunning World Champion and Trailrunning World Champion 2018 and her partner Pere Aurell, winner of the Skyrunning Ultra Championship 2018 were already heavily involved in the development of the Merrell MTL Long Sky and Merrell MTL Skyfire models in previous years, both of which have been on the market since 2020. The MTL Long Sky is suitable for runners who want to cover longer distances in rough terrain and offers secure grip in technical mountain terrain. The MTL Skyfire is intended as a slightly lighter training shoe for shorter and fast trail running sessions.
For the upcoming season, Shaun Bohnsack and his team will continue to focus on the growing trail market and, in addition to MTL Long Sky and MTL Skyfire, have many other trail running innovations to offer that have been developed for a number of different terrains and demands. A special highlight: the MOAB Flight. The MOAB has been Merrell's most popular hiking shoe model worldwide for many years. Over 25 million people wear them on their feet. For summer 2021, Merrell is presenting an entire product family based on the bestseller: MOAB 2, MOAB Speed and MOAB Flight. While MOAB 2 is still intended for classic hiking, MOAB Speed was developed for active speed hiking. Finally, MOAB Flight is the well-cushioned and comfortable trail running model in the new MOAB series.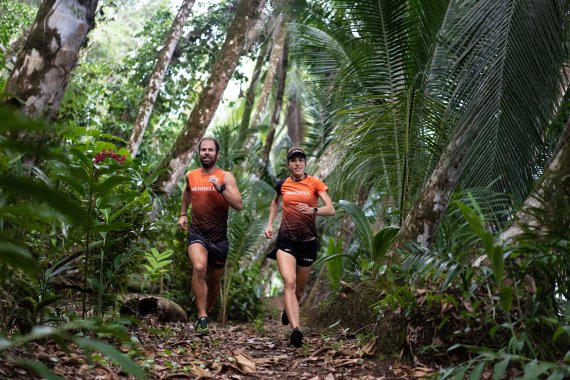 The big advantage of Merrell's 2021 trail running collection is its diversity. Merrell ensures that there is a suitable shoe for every trail running athlete. In addition to the comfortable MOAB Flight, the NOVA 2 and ANTORA 2 are convincing all-rounders on light to medium trails. The well-cushioned AGILITY PEAK 4 is the perfect companion for runners who want to feel particularly safe even on the toughest trails. RUBATO is a suitable training shoe for trail runners - with zero drop but maximum cushioning. The Natural Running model TRAIL GLOVE 6 is also used by Merrell ambassadors Ragna and Pere. And MTL LONG SKY and MTL SKYFIRE - the favourites of elite athletes - are also back in the 2021 collection.