The new sports equipment combines balance, physical feeling, and freestyle sports, and can be easily modified for sensible use in health sports.
A concept that also convinced the ISPO BRANDNEW jury: They chose the company from Fürstenfeldbruck, Germany as one of the TOP 50 newcomers to the sports business in 2016.
Andreas Mall of Almighty Boards in an interview
ISPO.com met with co-founder Andreas Mall for an interview, to learn more about the new trend sport of slackdecking and the young sports start-up Almighty Boards. 
ISPO.com: Mr. Mall, how does one come up with the ideal to get on a slackline with a wooden board?
Andreas Mall: Everybody from our team likes to be outside in nature, to pursue our hobbies of surfing, wakeboarding, snowboarding, longboard skating, and slacklining. The idea came about randomly when, while slacklining, my partner Sari Sigl got on the line with his longboard. He had a lot of fun from the very beginning on, since it was a completely new physical feeling.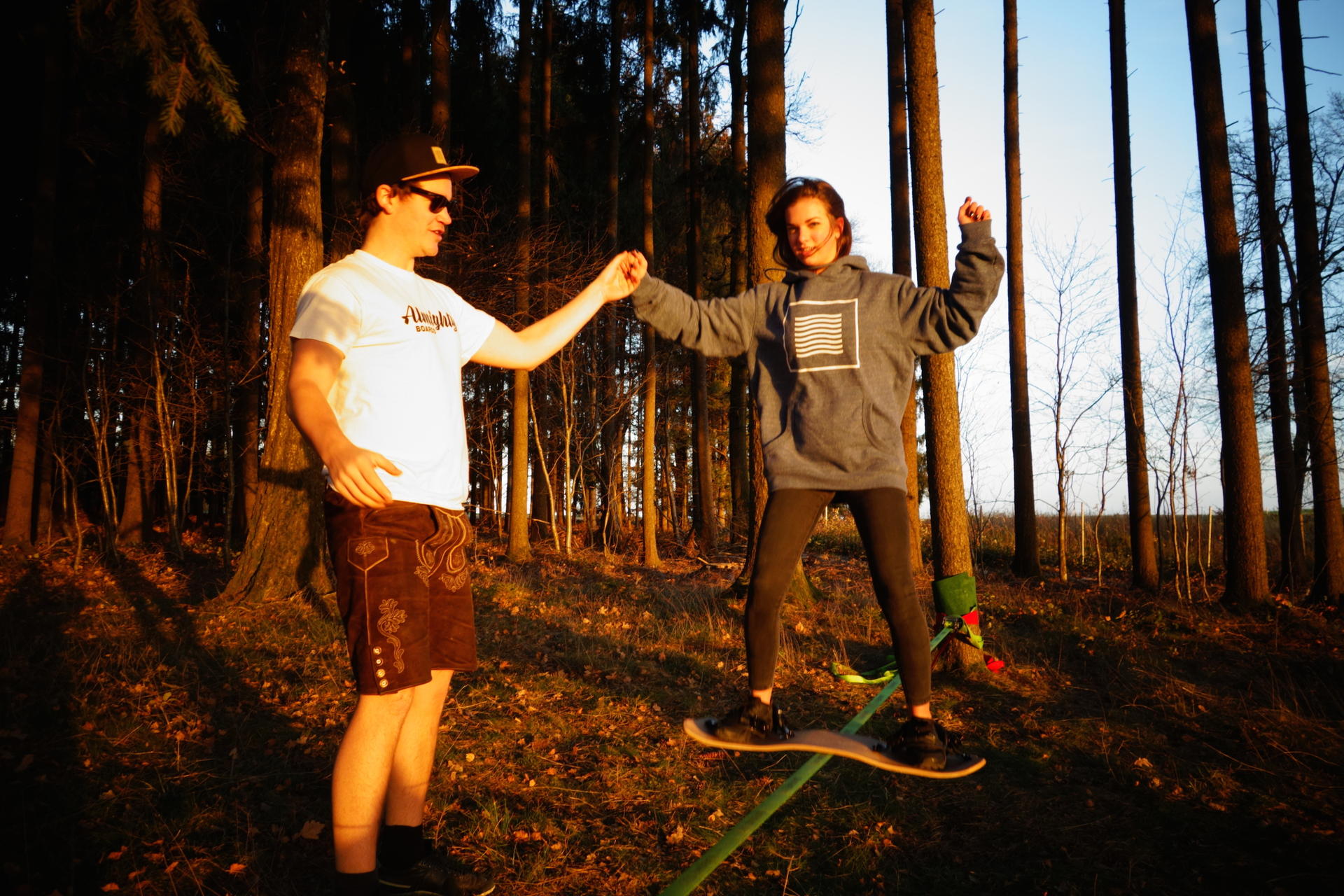 And balancing on the board worked out right away?
Yes, Sari was able to keep his balance very well in a short time. But when he got braver and bobbed more heavily on the line, he lost his balance and fell off his longboard. During the fall, the board got caught with its axles in the slackline as it shot up, and got flung into the air. That wasn't safe. Then, when we met up a week later to slackline, Sari had the first, slightly bent Slackdeck with him which still worked perfectly.
Check out here: All ISPO BRANDNEW Awardees
First place at young entrepreneur trade fair
The founding of Almighty is now about a year behind us. How did the product idea get to the resolution to found your own company?
After the first prototypes and tests, it was clear to us that a board is a great innovation for slacklining. Every board athlete and balance fanatic could have lots of fun training their sport's specific movements on the line.
To find out how the general public would react to our idea and our concept, we participated in the Fürstenfeldbruck district's "Messe der Jungunternehmer" (Young Entrepreneurs Trade Fair) in 2015. There, a jury evaluated the individual start-ups according to their appearances, their concept, and their fair stand. Almighty Boards was awarded first place. It thus was clear to us that we were on the right path and had to keep going.
What a crazy ISPO BRANDNEW Winner: Boot Bananas – The Declaration of War on the smelly Sports Shoe
Video: Almighty Boards celebrates ISPO MUNICH premier
Contacts made in the ISPO BRANDNEW Village
And just what happened next?
The Slackdeck was further developed, structures and processes established, and the Slackdecks provided to visitors to try out at various trade fairs and events. There was only good feedback, everywhere we went. To get even more exposure, we applied to the ISPO BRANDNEW competition for sports start-ups.
There, too, we made into the finals and were able to thus secure a stand in the ISPO BRANDNEW Village. We were able to make some good contacts there and were even more motivated to work on our product.
The Slackdeck for freestyle training
Let's talk about the sport of slackdecking. As a beginner, is it easier to balance on a slackline with or without a board?
If I were claim that it's easier with the Slackdeck, it'd be nonsense. We noticed in the many trade fairs and events that people who already had something to do with board sports or have a good sense of balance will find their balance on the Slackdeck in short time.
Fitness and Virtual Reality: That's the ISPO BRANDNEW 2016 Overall Winner
Almighty Boards applied with this video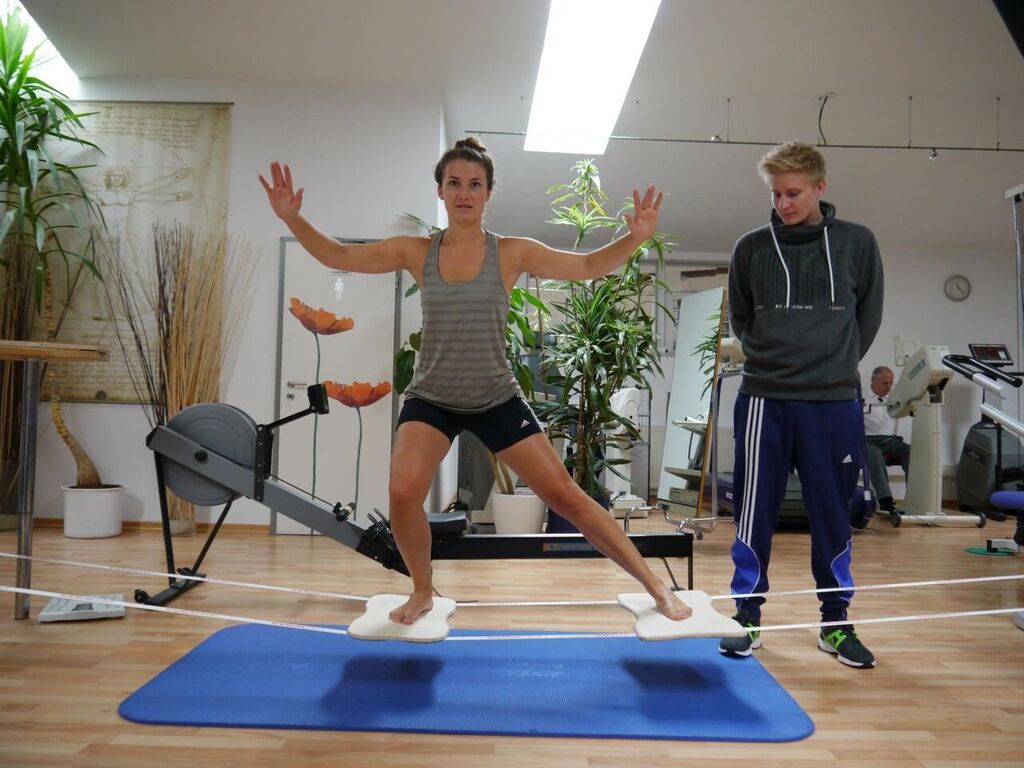 Even if they didn't have any experience with slacklining?
Yes. You don't need any previous experience on the slackline. We noticed that some good slackliners even had it harder at first than, say, wakeboarders, snowboarders, or skaters who didn't previously balance on a line.
"First tricks after a short time"
How do board athletes and slackliners react when they see and try out the boards for the first time?
At first, they're usually still a bit cautious. Many people say that slackdecking isn't easy – but what sport is easy after two minutes of practice? Most of them seize their ambition, and after a short time they've tried out their first tricks.
Who exactly is your target group? Who were the boards thought up for?
At first we thought that our target group in the freestyle sector with slackliners would be really small. However, it was shown that not just slackliners have fun slackdecking, but rather everyone who likes to be on a board.
The Slackdeck is a perfect piece of dry training equipment to train balance, coordination, jumps, spins, grabs, and backflips. Beyond that, it's also fairly strenuous, and thus improves your endurance.
Are there already competitions on the slackline with the Slackdeck?
Not yet, currently. But we are already at the point of contemplating a competition system. You can look forward to the first competitions and contests in spring of 2017 at the latest.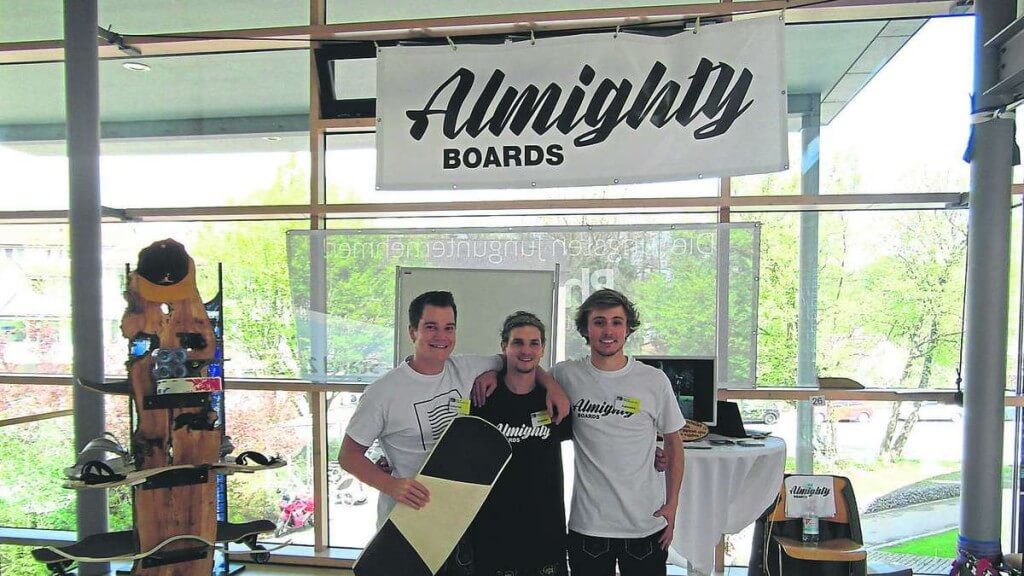 Coordination training with the Slackdeck
In the meantime, you offer four different Slackdeck models. What are the differences?
The Slackdeck Pro is intended for the freestyle sector. There are two versions, one with and one without binding. The Slackdeck Kids is the same variant, just a bit smaller and lighter. The Balance Board is an all-rounder that we above all use in the novice sector at events.
We're tapping another target group with the fourth model, the Slackdeck Deep Balance. It's a board for health sports and physical therapy.
No matter young or old, trained or untrained, everyone can train on this board. It's used on two taut, parallel slacklines that thus offer the necessary stability. We've already developed 80 different exercises to date for application in health sports.
How do you want to make the Deep Balance Board known and establish it as training equipment for sports therapy?
To that end, we offer advanced education and training in different facilities, and are developing our own training plan. Our slackline tool partners have developed a clasp that lets the slackline be integrated into every type of room. Together with the Deep Balance Board, that results in an effective, variable, and inexpensive piece of training equipment. And the patients are very motivated by the fun aspect of the slacklines.
What are your goals for the next five years, and how do you want to reach them?
Our main goal is to expand our Almighty Community piece by piece and to further establish and spread the sport of slackdecking. At the moment, none of us are able to live off of the company's revenue yet, but of course that's a goal for the future.
What Slackdecks by Almighty cost:
Slackdeck Pro without binding: €160
Slackdeck Pro with binding: €195
Slackdeck Deep Balance: €150
Facts on the company:
Company: Almighty Boards GbR
Year established: June 2015
Company headquarters: 82281 Eggenhofen
Number of employees: 4
Website: https://www.almightyboards.com/
Almighty Boards on Facebook and Instagram
Video: How the ISPO BRANDNEW jury makes its evaluations