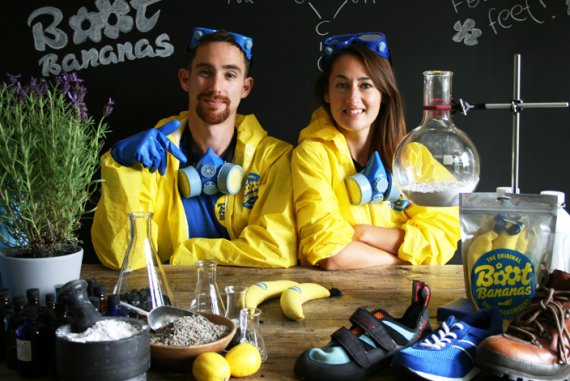 ISPO.com: How did the idea for Boot Bananas come about?
Alexandra Bowers: When we moved into our first flat, Phil's nasty-smelling climbing boots in our shoe cabinet became a serious problem that we couldn't find a solution for. There was no product on the market that really helped and did without chemicals. In our research we found out that a combination of salts, minerals, and plant extracts could create a remedy. Then we just had to put it into a shoe-friendly shape as possible.
Philip Osband: Alex succeeded at that when she sewed yellow fabric remnants into a banana-shaped sleeve that we could fill. The idea for the Boot Bananas was born.
What happened next?
Philip Osband: We distributed test patterns to climbing gyms, and after many positive responses, started production of a small quantity in our flat. Then, when interest grew from climbing shops all over England, we had to professionalize and outsource our production in 2013. In the first year, we produced 4,000 units and supplied 35 shops in England this year, we'll sell about 30,000 units to over 170 shops all over Europe.
A rapid development. How do people react when they see the Boot Bananas for the first time?
Alexandra Bowers: A lot of people laugh at first. That's great, because it makes us happy when the sight of the Boot Bananas prompts positive emotions. Then when they read what ingredients are in the bananas and how they work, they become curious. At the latest when they've tried a pair out themselves, they're convinced they work.
When the Boot Bananas are ripe, they turn brown
How exactly do the Boot Bananas work?
Alexandra Bowers: The mix of different ingredients neutralizes odors and pulls moisture out of the shoe, whereby the interior of the shoes are less susceptible to bacteria. After use, you just hang the Boot Bananas up to dry in the sun or next to a heater.
Can the Bananas be used indefinitely?
Philip Osband: No. Depending on use, the function diminished after six to twelve months. It depends on how much I exercise, how heavily I sweat, and what type of sports shoes I use. Regular drying is important for a long lifespan. The bananas turn brown when they've absorbed a lot of moisture. Then, at the latest, they should be replaced.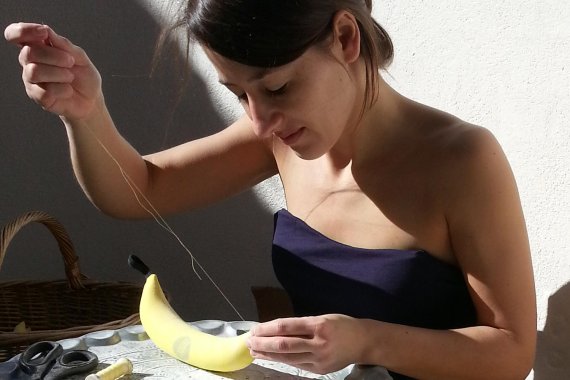 Can I recycle the worn-out Bananas, or how do I dispose of them?
Philip Osband: You can dispose them totally normally in your household rubbish. The ingredients and the cotton sheathing decompose in the dump, and you can definitely find another use for the metal carabiner included in the delivery.
How did you finance the development of the first products?
Philip Osband: We manufactured the first Bananas completely on our own, and expanded our business in small increments in the first year. We were able to provide for everything with our savings. Then when we had to increase production based on the high demand, a relative gave us a cheap loan.
"We made lots of contacts at ISPO MUNICH"
Did you get any consultation from professional business coaches when forming the business?
Alexandra Bowers: No, but we're very thankful for the support of our many friends from all kinds of different sectors of the creative industry. At the start we got lots of useful tips from them.
What does the distinction of ISPO BRANDNEW finalist mean to you?
Philip Osband: Our DIY business approach was perfect for launching the product, and that way we still have full control of our company. But in part, developing the business ran frustratingly slowly. ISPO BRANDNEW just changed everything.
To what extent?
Philip Osband: We made lots of new business contacts at ISPO MUNICH, and at both the ISPO ON SNOW PREVIEW and at the trade fair itself, interest from the press was enormous. We gave interviews for German TV broadcasters like Sat.1, Bayern 3, N-TV, and Pro 7. That definitely helped our brand awareness, especially in Germany and Austria. I can only recommend every sports start-up participate in the ISPO BRANDNDEW competition.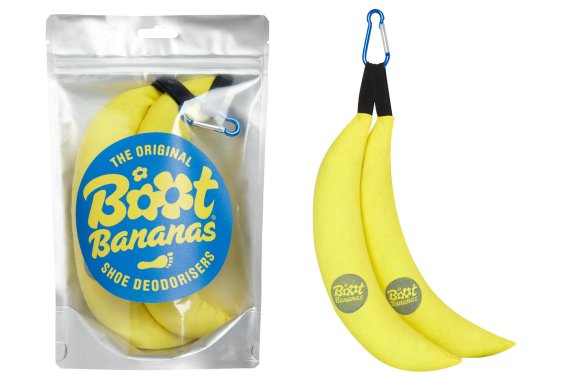 And what's changed for you in your day to day business since your appearance at ISPO?
Philip Osband: Loads. Just a few months after the trade fair, we're now already working with new distribution partners abroad. That gives us the opportunity to expand our production and continue to grow. 
Does that mean that you've since been able to live off of the Boot Bananas business?
Philip Osband: At the moment, unfortunately not. But the company is carrying itself and is financially independent. We're at a turning point, so it's stays exciting.
Can you pass on any tips from your success story for young entrepreneurs who'd also like to go into business for themselves in the sports business?
Philip Osband: Have at it, if you believe in your idea. But without fail, first think about researching fundamentally similar products and clarifying your legal situation. Do I want to file for a patent, register a trademark, or have the design protected? Those are all questions that you absolutely should answer for yourself beforehand. Only once the brand and the idea are protected should you then go public.
What were the biggest hurdles that you've had to overcome since founding your company?
Philip Osband: The founding in itself wasn't easy. Looking for investors would have been an option, but we wanted to remain independent and grow at our own pace. We also thought about crowdfunding. But since neither of us are that at home in the digital world, that wasn't an option for us either. The biggest challenge was increasing the awareness of our product.
And how did you succeed?
Alexandra Bowers: We only had a minimal marketing budget, from which we had to get maximum attention. That's when we had the idea to produce a video with our slogan, "Saving the world from fruity feet!" A friendly ad agency helped us with the storyboard and the production. To keep the costs low, we did a lot of organizational things like location scouting ourselves. We were very satisfied with the result. The clip is on our YouTube channel.
Finally, a look to the future: what are your goals for the next five years?
Philip Osband: In the coming five years, we'd like to establish Boot Bananas internationally and introduce new products which we're already working on. Aside from that, we want to support young climbers who participate in international events through sponsorship.
Facts on Boot Bananas
Name: Boot Bananas Ltd.
Company headquarters: Bournemouth, Dorset / UK
Number of employees: 2
Website: www.bootbananas.com