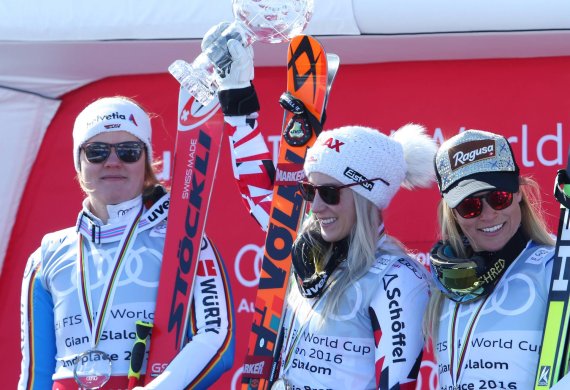 The fact that the world's best female skiers are almost like the football transfer market can be explained quite well using the example of Stöckli. Years ago, the Swiss ski manufacturer signed Tina Maze and scored an absolute hit from a marketing point of view.
The Slovenian, one of the most complete ski racers of her time, was one of the very few athletes to achieve the feat of winning all five disciplines in one World Cup season. She also became a multiple Olympic and World Champion, claimed 26 World Cup victories and stood on the podium a few dozen more times - with her Swiss skis in hand. In the 2012/2013 season she scored 2414 World Cup points: Record!
The only annoying thing about such an athlete from a sponsor's point of view is the fact that such a fine career is finite. At the age of 33, Maze announced at the start of the 2016/17 season that she was ending her career and would only be competing in a farewell race in her home country of Maribor. A bitter loss for Stöckli.
Which skis are hot in the men's World Cup and why Marcel Hirscher is causing stress, read here >>>
Rebensburg "inherits" serviceman from Maze
But the Swiss were prepared and signed replacements: Julia Mancuso and Viktoria Rebensburg have been on Stöckli for a while.
Rebensburg from Tegernsee is clearly stronger on the piste and has improved especially in the speed disciplines since switching from Nordica to Stöckli. Rebensburg has also "inherited" Maze's service man Andrea Vianello.
This may sound banal to ordinary mortals, but it has immense significance for female racers. Just as Formula 1 stars can listen to their cars and suggest improvements, Rebensburg & Co. have a special feeling for snow, which in turn the service man has to translate into the right preparation of the skis.
Especially with large equipment manufacturers like Head, for example, who have several winning candidates in their portfolio, it can happen that one or the other star doesn't feel sufficiently supported and enviously goes over to the in-house competition.
The best example: the spectacular duel between Maria Höfl-Riesch and Lindsey Vonn, which lasted several years and was not always harmonious. Even today, three potential overall World Cup winners in the women's category - Vonn, Anna Veith (formerly Fenninger) and Lara Gut - are skiing from Kennelbach in Vorarlberg.
By the way, the biggest coup before the Olympic season was achieved by equipment supplier Head: It snagged Liechtenstein's Tina Weirather from Atomic for its World Cup Rebels team. And this despite the fact that Weirather won the Super-G World Cup with Atomic equipment.
And Tina Maze? She will stay in skiing as a coach and scout for Stöckli, as winter sports director Walter Reusser confirmed - conditions almost like in professional football.
The skis of the World Cup stars 2017/2018 in the overview:
Slalom
| | | | |
| --- | --- | --- | --- |
| Ski star | Brand | Model | Price |
| Mikaela Shiffrin | Atomic | Redster Doubledeck S9 Women | 899 Euro |
| Veronika Velez-Zuzulová (drops out 2017/2018) | Salomon | X-Race Lab 157 | 899 Euro |
| Wendy Holdener | Head | Worldcup Rebel i.SL | 850 Euro |
| Frida Hansdotter | Rossignol | Hero FIS SL R21 WC | 1050 Euro |
| Petra Vlhova | Rossignol | Hero FIS SL R21 WC | 1050 Euro |
Giant Slalom
| | | | |
| --- | --- | --- | --- |
| Ski-Star | Brand | model | Price |
| Tessa Worley | Rossignol | Hero FIS GS R21 WC | 1050 Euro |
| Mikaela Shiffrin | Atomic | Redster Doubledeck 3.0 GS Women | 899 Euro |
| Sofia Goggia | Atomic | Redster Doubledeck 3.0 GS Women | 899 Euro |
| Federica Brignone | Rossignol | Hero FIS GS R21 WC | 1050 Euro |
| Lara Good | Head | Worldcup Rebel i.GS | 850 Euro |
Super-G
| | | | |
| --- | --- | --- | --- |
| Ski-Star | Brand | Model | Price |
| Tina Weirather | Head | | 1120 Euro |
| Ilka Stuhec (drops out 2017/18) | Stöckli | Laser SG | 875 Euro |
| Lara Gut | Head | Worldcup Rebels i.SG | 1120 Euro |
| Elena Curtoni | Head | Worldcup Rebels i.SG | 1120 Euro |
| Sofia Goggia | Atomic | Redster Doubledeck 3.0 SG | 875 Euro |
Downhill
| | | | |
| --- | --- | --- | --- |
| Ski-Star | Brand | Model | Price |
| Ilka Stuhec (drops out 2017/18) | Stöckli | Laser DH | 875 Euro |
| Sofia Goggia | Atomic | Redster Doubledeck 3.0 DH | 1130 Euro |
| Lara Good | Head | Worldcup Rebels i.DH | 1120 Euro |
| Lindsey Vonn | Head | Worldcup Rebels i.DH | 1120 Euro |
| Tina Weirather | Head | | 1120 Euro |