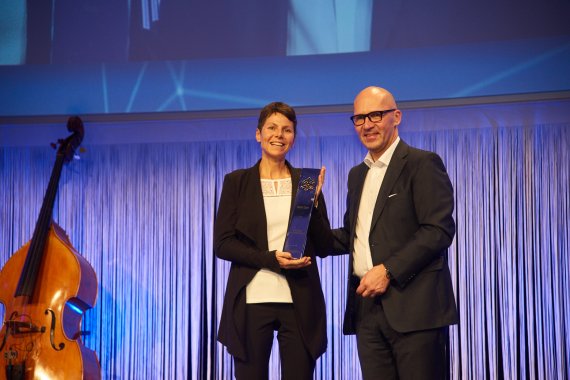 The extreme mountain climber from the Austrian town of Kirchdorf an der Krems was handed ISPO trophy by Klaus Dittrich, Chairman of the Board of Management of Messe München. The Austrian was the first woman to summit all 14 8,000-meter peaks without additional oxygen. The latest winner of ISPO trophy has been involved with Nepali aid organization Beilngries for many years now; the charity engages in projects to build village schools, children's homes and clinics. 
Dittrich honors Kaltenbrunners social engagement

"In Gerlinde Kaltenbrunner we are honoring an exceptional athlete. The extent of her extraordinary achievements goes beyond the athletic sphere – her social engagement stands out as well," said trade fair director Klaus Dittrich, himself a passionate mountain climber who ventured to the peak of Mont Blanc last year, another reason he was so pleased with this year's winner.
Award winner Gerlinde Kaltenbrunner said it was "a truly special honor and joy for me. At first I thought I would just be there when the award was presented – but to receive it myself is something I never would have believed. I'm so pleased to be able to give something back to my partners who have always supported me." 
A gathering of the decision makers in sports business
More than 350 decision-makers and actors in the sports industry as well as sporting stars such as Olympic champion Matthias Steiner, extreme climber Stefan Glowacz and actor Ralf Bauer attended the award ceremony as part of ISPO VIP Dinner at the ICM (International Congress Center Munich).
The celebration honoring Gerlinde Kaltenbrunner was led by Bernd Kullmann, who has been involved with outdoor retailer Deuter for 30 years, many of which as Managing Director. Today he is a brand ambassador, having been the youngest European to summit Mount Everest in 1978 at just 24 years of age, and doing so in record time. He also highlighted Gerlinde Kaltenbrunner's significant commitment to social causes.
Speaking of her own extreme experiences, ISPO trophy winner said, "I have the best support system but have never felt pressured by them. Getting back safely was always priority number one." And what's next for her now that she's won ISPO trophy?  "I'm looking forward to a trip to Pakistan or Nepal in 2016, although the plans aren't fixed yet. And I'm going on a ski and climbing trip to the Alps before I go."