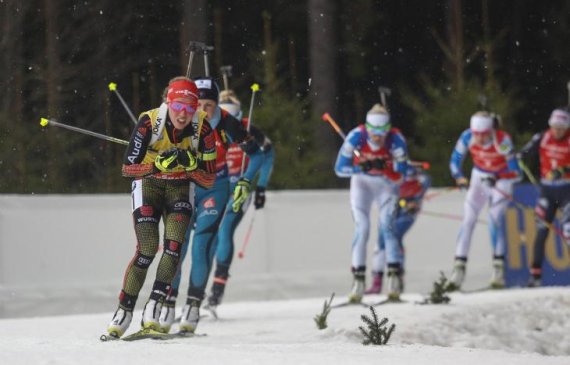 Biathlon is the TV sport par excellence, as the World Cup in Ruhpolding has shown year after year: The live broadcast on ARD was watched by an average of more than 5 million viewers - figures that are actually only trumped by King Soccer in Germany.
The 2017/2018 biathlon season opener in Östersund also delivered good ratings. "Biathlon remains the clear number one," says ZDF sports director Dieter Gruschwitz.
Logically, the sport of biathlon is also attractive to many companies as an advertising platform. Biathlon competitions such as the hunt race or the mass start are particularly attractive, as are season highlights such as the World Cup in Ruhpolding, which traditionally takes place in mid-January and in 2018 will be held from Jan. 9 to 14.
Erdinger has supported biathlon since 2008
"Just as it is for the numerous spectators in the arenas and on their TV sets at home, so it is for us. That's where the terrific performances of the likeable athletes, the exciting combination of skating and shooting, and the fantastic atmosphere at the World Cup venues fascinate us," Philipp Herold tells ISPO.com.
He is head of the sponsorship department at the private brewery Erdinger Weißbräu, which has been involved in the biathlon since the 2008/2009 season. "We trailer specific to the sport and in this way anchor our brand emotionally with the viewer even before the TV broadcasts," explains Herold.
In September 2017, Erdinger announced that it had extended its contract as sponsor of the Biathlon World Cup until at least the end of the 2017/18 season. "As a crowd puller, the sport offers the ideal conditions for anchoring our brand emotionally with spectators," says owner Werner Brombach.
In addition, Erdinger Alkoholfrei supports world champions such as Simon Schempp, Andi Birnbacher and Erik Lesser. Biathlon legends such as Olympic champions Magdalena Neuner and Michael Greis are also on board as brand ambassadors.
In the 2017/18 season, the Biathlon World Cup stops in Sweden (Östersund), Austria (Hochfilzen), France (Annecy-Le Grand Bornand), Italy (Antholz), Finland (Kontiolathi), Norway (Oslo) and Russia (Tyumen). For Erdinger, which understands its commitment internationally, these are, according to a company spokesman, "enough opportunities locally for the ambassador of Bavarian joie de vivre and hospitality to strengthen its existing customer relationships and make new friends."
Hörmann is a new addition to the circle of major biathlon sponsors. "Through our partnership with the IBU, we reach close to 500 million viewers across Europe every year," says Christoph Hörmann, personally liable partner of the door and gate manufacturer. "In the markets that are very important for Hörmann, including Germany, Russia and Scandinavia, this sport enjoys great popularity."
IBU and Infront Austria focus on exclusivity
Biathlon's governing body, the International Biathlon Union (IBU), and its marketing partner, Infront Austria, are deliberately focusing on a scarce sponsorship concept.
To underline the exclusivity of the partners, there is only one title sponsor (BMW) and five premium sponsors (Viessmann, Hörmann, DKB, Erdinger Alkoholfrei, Bauhaus). These are present at all Biathlon World Cups as well as the World Championships.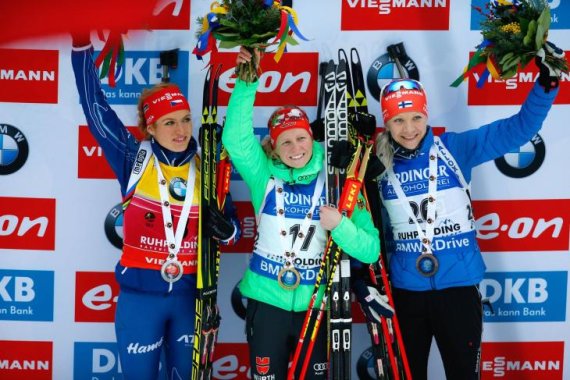 Infront's sponsorship concept has long been considered a pioneering example for other winter sports. The marketer has a contract with the IBU until 2018.
ZDF sports boss: Biathlon is number 1 with TV viewers
Fans of public broadcasts of the biathlon can look forward to the telegenic sport in the long term: IBU and European Broadcasting Union (EBU) extended their contract until 2022 in May 2016.
For ARD and ZDF, biathlon broadcasts are the quota guarantor par excellence. "Biathlon has been number one among TV viewers in recent years and will continue to find numerous viewers in the coming season," said ZDF sports director Dieter Gruschwitz.
This costs the public broadcasters an annual sum in the low double-digit millions. A lot of revenue for little money compared to soccer, where about ten times as much has to be invested for the Bundesliga rights.
Because the TV rights to the biathlon are so coveted and RTL wanted to get in on the action, there were even legal disputes a few years ago over the awarding of the rights.
Magdalena Neuner now drives BMW
Athletes don't get as much of the big pie. "I'm not as rich as everyone thinks. I was a biathlete and not a professional soccer player. The sums of millions that have been written about are unfortunately not true. But I don't want to complain," said Olympic champion Magdalena Neuner once on the subject of money. She took a break as a TV pundit in the winter of 2016/2017 - Neuner became a mom for the second time in November 2016.
"I'm an athlete at heart and will keep my enthusiasm for biathlon throughout my life - I'll try to convey that to the viewers," Magdalena Neuner explained in a major interview with ISPO.com in November 2015. It's not yet clear how long I'll be allowed to be a brand ambassador for my partners such as Erdinger Alkoholfrei, Audi or Adidas." At least there was a change in the automotive partner: Magdalena Neuner now races with biathlon title sponsor BMW.
Other active athletes are also working on marketing concepts. For Simon Schempp, for example, this is being handled by the Marcus Höfl Management Group (MHM), which also looks after sports stars such as Franz Beckenbauer and Maria Höfl-Riesch.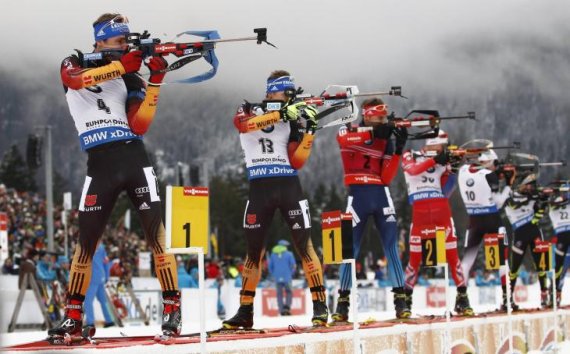 BMW: "Biathlon an outstanding platform".
Biathlon TV broadcasts also perfectly showcase BMW as the title sponsor. "Over the years, biathlon in Germany and also in Europe has developed into a spectacle that excites people both at the tracks and in front of the TV," explains Friedrich Edel, Head of Sports Marketing at BMW.
"Biathlon captivates its fans with its combination of precision, technique and endurance. These qualities are an excellent fit for the BMW brand and make the sport an outstanding platform for us."
What's also special about biathlon is that the sport and all its players are always open to new innovations. This applies to new competition formats, but also to new concepts of cooperation.
The World Cup hosts Ruhpolding and Oberhof as well as the World Team Challenge on Schalke, each on the calendar at the turn of the year, have been exchanging experiences in the biathlon3 working group since the winter of 2015/2016.
Schalke also helps with event marketing
"We all benefit from the cooperation as biathlon3. Schalke can pass on expertise, especially in the field of event marketing," says Moritz Beckers-Schwarz, Managing Director of FC Schalke 04 Arena Management GmbH.
On Schalke, right in the heart of soccer, more than 40,000 spectators are enthusiastic about the spectacle of biathlon every year. The exciting sport therefore also goes the direct way to the customer.
Sponsors and partners of the BMW IBU World Cup:
Title sponsor: BMW
Premium Spons ors: Viessmann, DKB, Hörmann, Erdinger Alkoholfrei, Bauhaus
Data and Timing Sponsors: IFS, Polar
Contractual partners: Infront, Eurovision
IBU Supplying Gold Partners: Adidas, BMX, Zeiss, Lapua, Fischer
IBU Supplying Silver Partners: Alpina, Atomic, Anschütz, SRB, Casco, Holmenkol, Briko, Leki, Odlo, Rex, Barnett, Rossignol, Madshus, One Way, Salomon, Roeckl, Rottefella, Start, Toko, Swix, Novaped Sports
IBU Supplying Bronze Partners: Marwe, Larsen Biathlon
TV rights holder: European Broadcasting Union (EBU) - ARD and ZDF