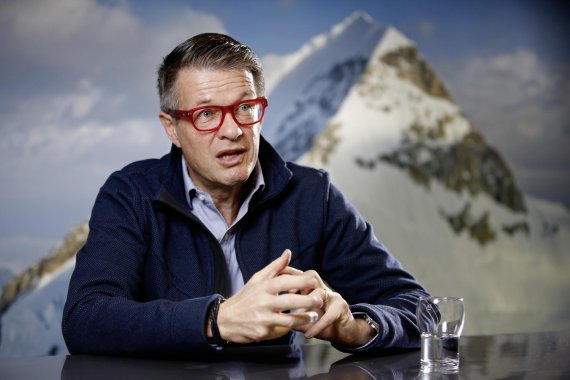 ISPO.com: If someone asks around about your exit after 20 years as CEO at Mammut, Mr. Schmid, they'll register some major regret among employees, as well as your long-time companions. And you even got some applause from the journalists to whom you bid farewell. Something like that is otherwise a rare experience.
Rolf Schmid: It would be easier for me to classify it if I had ever experienced anything like it before. But yes, these days it's not commonplace to withdraw from a company after 20 years of work in a leadership position. It was not without some personal melancholy. When I took over Mammut 20 years ago, revenue was ten times less than what it is today. Back then, you still knew every employee personally. Today, with over 600 employees, that's not such a simple thing. All the more notable is the echo in my social sphere. It's a difficult situation for me, because I'm being approached about it everywhere. But even though it hurts: I am facing them. 
And publicly, at that. You were at Outdoor in July and met with the European Outdoor Group (EOG).
I've usually always sat at the front with the microphone. And now, for the first time in public, somewhere behind, in a spectator role for the first time. That sure is different.
You do have little grounds to fret. In any case, the industry is lauding your merits in the outdoor business exceedingly.
It is true: I walk with my head held high. Sure, there's never a perfect moment to say farewell, but it is right now: for the company, and for me, too. At my 57 years, I do by all means have something left in me still. I'm not just going to say, "Well Rolf, that's that" and then go ponder with my wife about what we want to buy at the supermarket everyday. That wouldn't be what my wife would want.
"New, different thinking" at Mammut
You'll have to explain that. First things first. Why is it right for the company, that is, the Conzzeta Group, to chance a fresh start without you?
We have a clearly defined strategy, the implementation of which will last about five years. Because now, giving a full commitment for one another again would be a relatively long period for everyone. And it's never bad for a company if, after a certain period of time where a change is needed in a pinch, a new, different way of thinking comes in. 
That means that you can understand that someone was no longer satisfied in Conzzeta?
I didn't say that. You have to understand: I had the same boss, the same board president, for 18 years. Then two years ago there came a new gatekeeper, and cooperating with the new board became different for me. The predecessor had a certain direction for 18 years, now there's a different one.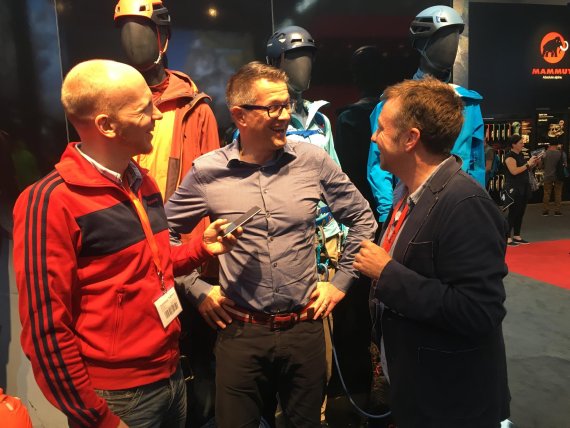 It means that, above all, it's a matter of balance sheet figures, and those are stagnating in the entire outdoor sector, but are especially not that great anymore at Mammut. What the reason for your departure?
It can't be said in such a simplified way, since it's always multiple factors coming together. After 18 years of collaboration, sometimes it's good for both sides if a breath of fresh air comes in and old patterns are broken.
"The outdoor industry is getting faster and faster"
After the first press conference due to your resigning, you said about the Mammut leadership: "A new guide is needed." What has this newcomer to be made of?
The industry is getting more and more difficult, it's getting faster and faster. I had the fortune of being there at a time where the industry grew, where there was euphoria everywhere and all the time. It's not there anymore today. So, the new guy has to understand our unique DNA, get to know our brand deeply, and consider: What will I make of the brand? We defined a strategy there, as well.
And that would be?
Heavy internationalization. Target groups will be addressed more clearly. And now we're on the move on the urban scene, too: Our customers don't just want to wear our products in the mountains, but also in the city, and we have to address this segment in a more targeted way without undermining our "Absolute alpine" brand essence. On top of that, we have to work more heavily on the Monobrand stores, especially in the Far East, think about our retailers, and work our floor-space management even more consciously with our specialty retailers. So: not just thinking up to sell-in, but also up to the sell-out. But for that you need employees who have a mastery of it, and those we have to train.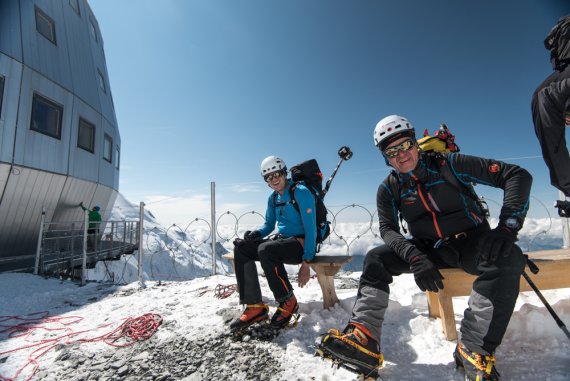 You've addressed the new times – and given yourself a nudge, too: Mammut outsourced rope production from the Swiss Seon in 2016, and sold this sector to the Austrian company Teufelberger, which in turn produces in the Czech Republic.
We did only have our rope production for 154 years... (laughs). It's a part of the heart, the soul of Mammut. But the Switzerland location as a production location is very difficult for a textile company. For us in the company, there's not a single wage under 4,000 Swiss francs. 
That converts to 3,680 euros per month!
We don't pay anyone less. In Germany, the wage costs amount to maybe half of that, and if you go eastward it's one quarter. Add to that: In Switzerland, the land, the building, and the factory cost significantly more. Switzerland is simply too expensive for rope production. And after January 15th of last year, when the franc was booming, it got another 15 to 20 percent more expensive for us overnight. That was the moment when we said, 'Now it doesn't make any sense, now we have to outsource.' And then we found a partner in Teufelberger, which also has almost 100 years of rope expertise.
What consequences does that have for the buyer?
None at all. The one thing they'll notice, if they're very attentive, is that the item numbers on the goods will change. It won't be "Switzerland" anymore, but rather "Made in Europe." If we produce in Switzerland, we'll miss the money in sectors where we can still grow. Unfortunately, the consumer today isn't prepared to pay more for this "Made in Switzerland," since that label alone doesn't make the products better. 
Following Rolf Schmid is Oliver Pabst
Whether this improves the Mammut balance sheet figures is something you won't be operatively experiencing anymore. You will, however, continue to be involved with Mammut as a consultant. How do you rate the collaboration with your successor? Have you dealt with future CEO Oliver Pabst before?
We've shaken hands at some time or another before, and now after the decision we've briefly talked on the phone, but the fact that we're familiar would be an overstatement. He has to make his own way at Mammut; I can only make myself available. I hope that I can help in the background with projects that we didn't have time for before. 
What will you do for Mammut specifically after your departure on September 1? How will you accompany the company? Will you still have an office in the company?
I won't have an office, rather I'll work from home and, if need be, visit Mammut as a guest. But first, I'm going to keep my distance for half a year.
Why is that so important to you?
The successor shouldn't get the feeling that someone's breathing down his neck, so that the employees don't think, 'Should I still try to please the old guy or go by the new guy?' That would be unfair. And as a consultant, I won't have a post with executive authority. I'll keep to the background, help in the sense of strategy development, or with customer care in Asia, where I have long-standing relationships. I'll no longer make appearances in the operative business.
The fact that the CEO is still going to work at the same company as a consultant after his retirement is pretty unusual, too.
But it's not as difficult as it seems. It is frequently the case that the old CEO then becomes the president of the board of directors – that's much more difficult, because he's the boss's boss. I'm going to be a consultant, and maybe sometimes point towards how we used to do things. But the new CEO has to make the new decisions and focus. I don't have or want any say there.
You didn't have a say even in selecting your successor?
No. But it's also not typical that a CEO determines their successor.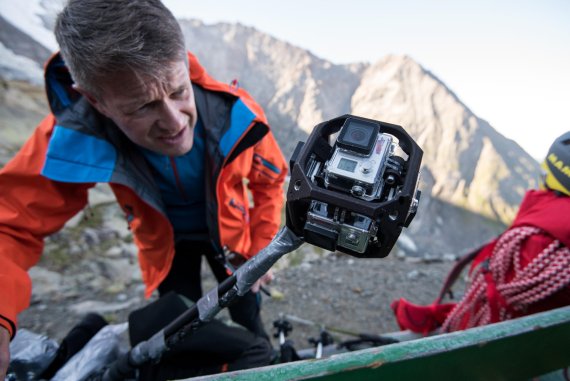 Describe for us the greatest moments of your Mammut career.
For one, definitely the 150th anniversary celebration, when we climbed exactly 150 summits in 2012, pitched 150 tents on the Jungfrau, and climbed this great mountain in the Bernese Alps. It was a very significant moment, for the brand and for me personally. And I climbed the highest mountains in our ten largest markets, 4,000s each in Italy, France, Germany, Switzerland, the USA, and Japan. That was a great project. Or, how I set off with Klaus Dittrich, the head of Messe München, to ascend Mont Blanc.That was a lasting experience. But I don't want to just mention individual moments, but rather each day dealing with the employees, the team per se, management, we were a well-practiced team with an uncanny bond. For me, they were always more than just work colleagues. 
A three-month sabbatical – "unusual for a CEO"
What values were important to you in your 20 years as CEO?
Personally exemplifying that what you consider proper for everyone was and is important to me. I've always done myself, what I ask of other people. That is, practicing what you preach. It starts at hotels and expenses, so with little things. If I order the most expensive wine, just because I'm the boss, that won't do. You have to do and show what you expect of others. For example, I took a three-month sabbatical in 2011, which is very unusual for a CEO. I was completely outdoors for three months. Zero e-mail, zero telephone. I just wanted to show that it can work, because I wanted the employees to be able to do the same. Work-life balance is very important to me. 
Where else can someone link that?
I was never in the office on the weekend, for example. If I sometimes worked on Sundays, it was from home, where nobody noticed it. If I, as the CEO, go into the office on the weekend, then everyone thinks that they have to be seen there too, to score with the boss. I also didn't write any e-mails to employees on the weekend, where they would have felt pressured to have to answer. 
Where, if not at Mammut, will we find you in the future?
I see myself in active consulting, e.g. in administrative boards. The administrative board has a much more active role in Switzerland; it also has more responsibility than the German supervisory committee. I'd like to work in administrative boards for various firms, which I'm already doing today: in the major car-sharing company Mobility, at the major Swiss pan company Kuhn Rikon, and with a textile finisher that still needs to elect me to their administrative board. My task is to be accompanying the company management, not laying slides on the table then saying "See you" like outside business consultants. I consider myself an administrative board that has to help carry the can for what I bring about.
In light of your experience, it's obvious that when people think of you, they also think of the outdoor industry.
You'll understand that I can't name any names for you right now. But I do hope that I'll get some mandate or another from our industry, be it in the outdoor or the sports sector.
Consultant – yes. For direct Mammut competitors – no
So could you also consult Mammut's competitors?
So long as it isn't direct competition. I'd really struggle with that, emotionally too, since it wouldn't be my brand. So if I were to run in at xy on September 2 and say, "Now let's show those guys at Mammut how it works!", I couldn't do that. It also wouldn't be believable. But why not some from a similar sector, maybe a ski firm or a bicycle manufacturer? That wouldn't hurt. And the legalities are the same, the challenge is the same. 
You mentioned your long-time work in the European Outdoor Group. What tasks, what appointments can you picture there?
The industry stands before some major changes; there are also some tasks for the EOG there. If the industry wants to call for my support there, of course I'm happy to do so.
Do you want to leave it at your new consultant work, or will we once again see you in a similar position as we did at Mammut, as a CEO, that is?
No, I don't really want that anymore. If it came too quickly, I would try to make a second Mammut. That would be a mistake: there is no second Mammut for me. I believe that it'll be more fun for me to do various things. I also don't want to be 80 to 90 percent other-directed anymore. I'd like to have my agenda back in my own hands.
Finally, Mr. Schmid, hand on your heart once again: After these 20 years in service to Mammut, do you feel your replacement to be a personal loss?
Ah, you know, you do always want to leave the stage as the big hero. Everyone asks themselves, "Am I really getting enough applause, couldn't the people clap and cheer a bit longer?" But is that really how it should be? I don't think so. Essentially, I've been paid as CEO here for 20 years, and really enjoyed that time. And of course it would be nice if I could stay in the people's memory a while longer.
Participation: Julian Galinski