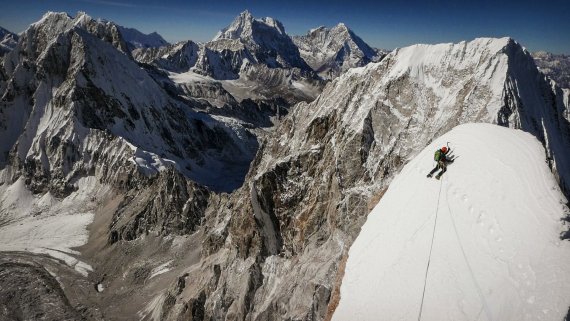 As a sport climber, David Lama (26) had already achieved it all in his teenage years. His move in 2010 to mountain climbing, with its high peaks and big names, was the logical next step for him. In 2011 Lama completed one of the most difficult routes in the world, conquering the Eiger in 24 pitches. In 2012 he celebrated becoming the first to free climb Cerro Torre (Patagonia).
In November 2015 he unsuccessfully tried to become the first to scale Lunag Ri, a 6895-meter high Himalayan mountain on the divide between Nepal and Tibet, with Conrad Anker (USA). Lama and Anker made their last attempt without any insulating bivouac materials and were forced to turn back, just 300 meters from the peak, when they were threatened by frostbite on a particularly cold night. At the end of October 2016, the second attempt begins.
Climbing Star David Lama in Interview
ISPO.com: Just before reaching Lunag Ri's peak you had to decide: Admit defeat and turn back, or go for the top, possibly risking severe frostbite. What does it mean to you to fail?
David Lama: Failure is a completely normal thing to happen. Projects which others think are impossible will push you to the limit – and so it was with Lunag Ri. So you need to grapple with this issue. Only then will you learn something and see something positive in it. For me, failure is a really natural process from which I draw new strength.
Strength for the second attempt which stands just before you. How are preparations going for the new attempt at the Lunag Ri?
Great. In the spring I was in Nepal again and, together with Hansjörg Auer and Alex Blümel, I tried to climb Annapurna III's (7555 meters) south-east facing side, which had not been climbed before. Then I spent a couple of weeks in Mexico. At the moment I'm spending a lot of time running and climbing.
10,000 Meters in Ten Days
Are you sticking strictly to the training plan?
I don't have a firm training plan. I know why I have to work and what I need for a long climb like the Lunag Ri. Above all it's about endurance. When it comes to technique and willpower, I'm all set. Everything is working. But you have to work hard on endurance. So in the last ten days I've climbed an altitude of 10,000 meters.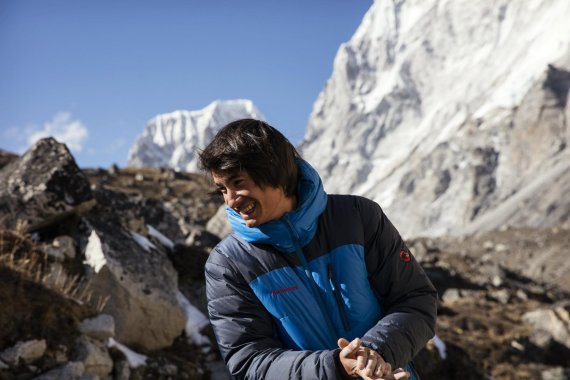 What role does Nepal play for you on this expedition ? Is the family connection important to you?
The mountain doesn't feel different simply because my father comes from there. The cliffs, the snow and the ice are no different to anywhere else. Of course, because I have family history there it does bring me a special feeling. But I can't speak of sense of home there. I was born in Austria and I don't speak any Nepalese. Until now I haven't visited Nepal very often. But I do feel a deeper sense of connection with every journey there.
At the European Outdoor Film Tour there is a 20 minute post in which your expedition and family reunion in Phaplu are shown.
That's right. We documented our first attempt on Lunag Ri and the journey back into my father's village on video. It's a great film.
The Right Attitude to the Mountain is Key
You are not only a world-renowned mountain climber, but also a star of films and adverts. Your face is in magazines, in cinemas and on TV. Do the mountains ever take a backseat to marketing?
No, absolutely not! For me, mountain climbing always has the priority, even with the occasional event for the media or the sponsors. I am however very lucky that my relationship with my sponsors is very good. I don't have to answer to anyone and can choose my path freely without being swayed by anyone. If it weren't like this my projects and expeditions would not be possible or implementable.
You are known to always say: "The mountain determines the approach." What exactly do you mean by this?
I'm not going to establish any rules. For me, having the right attitude to the mountain is key. That means that I don't just see the peak and try to use every means possible to reach it. The way there is fundamentally important to me – it characterizes the idea which first brought me to the mountain. And my idea defines how I go about reaching the mountain peak – whether with lots of technical equipment or free, there is not one legitimate style.
I stay true to this idea, I hold fast to it. Even when this means not reaching the peak during the climb. The approach to the mountain and my attitude do not change. There is a really great appeal in that.
Is mountaineering more than simply a sport for you?
Yes, especially when you are the first person to climb a mountain, like with Lunag Ri. The whole mountain is for me like a canvas, that's white and untouched. There are no fixed routes, no courses which lead you straight up to the top. And so with our expedition we are making the first stroke, drawing a line, just like an artist beginning to paint a picture.
At the end, when the last brushstroke has been made, we stand at the peak and have made a work of art. For me, mountaineering has a lot in common with art.
David Lama Tries Out as a Surfer
An art form which you can practice best around your home of Innsbruck.
That's right. Innsbruck is a great starting point. The Karwendel, East Tyrol and the Zillertal, Lake Garda, the Dolomites and Switzerland – it's all nearby and has a lot to offer, in summer and winter. It's great for skiing (a sport I also enjoy) as well as climbing.
We have a large and strong scene in Innsbruck. It's always the best place to prepare for my expeditions and projects.
And your parents also live there.
The small village where my parents live is just ten kilometers from me. We see each other nearly every week.
What are you passionate about outside of mountain climbing?
The last time I was in Mexico I discovered the world of water sports. I didn't do any climbing there, but surfing. I didn't think about mountains at all.
David Lama will make an appearance at the European Outdoor Film Tour (EOFT) in Füssen on October 14, not only on the screen, but also in person.
Editor's note: David Lama was hit by an avalanche on 16.04.2019 together with Hansjörg Auer and Jess Roskelley in the Canadian Rocky Mountains. The bodies were recovered on Easter Sunday (21.04.2019). We grieve for three great people. Our sympathy is with the relatives.