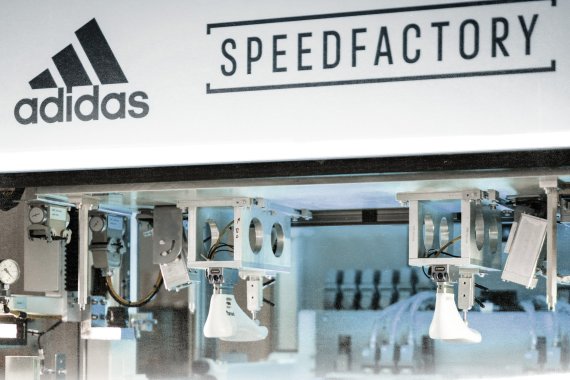 The sports goods manufacturer Adidas was awarded the German Innovation Prize 2018 in the category Large Enterprises for its Speedfactory on April 13.
The Speedfactory is a prime example of networked production and how a company can gain an advantage over its competitors through innovations, it was said at the award ceremony in Munich's Kesselhaus.
The Speedfactory makes it possible to adapt the design, cut and fit of each individual shoe to individual customer requirements with underlying algorithms. The new technology also shortens production cycles and strengthens Germany as a production location.
Adidas built its first Speedfactory pilot factory in Ansbach as early as the end of 2015. With the AM4LDN, the first completely automated shoe series from a Speedfactory was released in 2017.  In April 2018, Adidas opened its second Speedfactory near Atlanta, Cherokee County, Georgia.
Federal Minister of Economics Peter Altmaier, patron of the award, congratulated the award winners: "Innovations are the basis of our prosperity and the problem solvers for our social, demographic and ecological challenges. The award underlines the importance of innovations for strengthening Germany as a business location. I thank the organisers for shedding light on these achievements and congratulate the winners for their outstanding innovations".
The German Innovation Award is an initiative launched in 2009 by Accenture, Daimler, EnBW and WirtschaftsWoche. The prize, sponsored by the Federal Ministry of Economics and Energy, honors outstanding and forward-looking innovations by German companies.