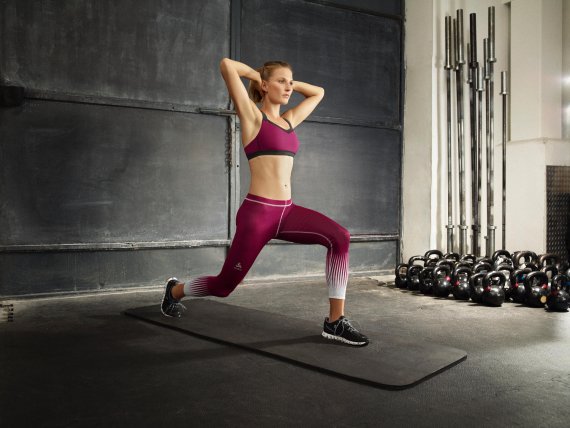 Running is more than just movement – it is a fitness and wellness program for body and mind. This is especially true in winter. The start of 2016 brings the third installment of this five-part series on running, in which top trainer Ingalena Schömburg-Heuck tells runners what to bear in mind when the weather is cold and wet.
In competitive sport, you may well come across the mantra: "Summer's champions are made in the winter." Well, there is a lot of truth in that saying! Building muscular stability and good endurance levels is the best way to prepare for going full throttle in the spring and being extremely fit in the summer.
But this is the very stage that many runners skip over. It is cold, it may well be wet, the mornings are dark and it is dark when we get home from work. What's more, our bodies want to relax because the lack of daylight robs us of positive energy, making us feel more tired. This makes it all the more important to think about alternatives to running and create a plan that is feasible. A good way to get motivated in the months of darkness is to agree to attend training sessions, which will help you to achieve two goals at the same time. Firstly, you won't want to let the others down. Secondly, if you don't like running on your own in the dark, it solves that problem as well.
What makes an ideal winter training program? A varied, moderate intensity program that focuses on areas of weakness. 
Reduce the training intensity
In winter, the intensity should be somewhere around 70–90% of the maximum heart rate. Very high-speed, high-intensity training takes a back seat in the winter. You should run more slowly, especially if the temperature is below zero degrees Celsius because inhaling deeply when the air is cold puts an additional strain on the lungs. You can go running at a moderate pace in temperatures as low as minus 15 degrees Celsius but it is a good idea to ease yourself in gradually. It can help to put a face mask over your mouth if you need to. Most of your training should be in the area of basic endurance (70–85% of max. heart rate). Ideally, the duration should be between 30 and 180 minutes.

Use the correct running technique
It is important that you adapt your running technique. If the paths are icy or slippery, shorten your stride while increasing your stride rate. You should also try to land with a flatter foot strike. This makes you more agile and able to react more quickly. Use your arms more to help support the overall movement. This will also help to increase your stability as you move. Smaller steps will also help in deeper snow.

If at any time it really isn't possible to go outside, there is always the emergency option: the treadmill. Set the incline to 1%.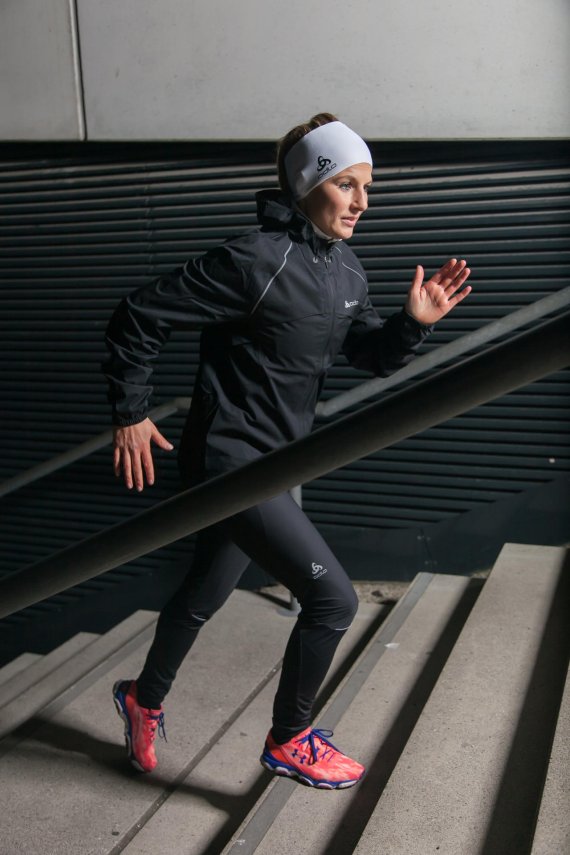 Vary your training routine
In winter it is especially sensible to have a varied training program. Replace those miles of classic running with long-distance skiing, ski touring, snowshoe hiking, swimming, spinning or other sustained, rhythmic sporting activities. This will provide the ideal workout for your cardiovascular system and for your muscles. Endurance training such as ski touring will ensure that your pulse is raised to a moderate to high level for a prolonged period of time, within which there are also times of peak intensity. The perfect training stimulus! And it will prepare you well for your summer marathon. 
Focus on your areas of weakness
During the cold months, focus on your areas of weakness. Now is the time to remedy deficiencies in muscular coordination by having a personal training program compiled for you or by regularly taking part in courses that will give you new challenges and inspire you. Many athletes lack core stability, which makes it impossible for them to transmit motion efficiently. Their running technique suffers greatly as a result, particularly during long distances.

Finally, the lack of core strength also increases the risk of injury. For these reasons, you should definitely use the dark months to spend at least one or ideally two to three sessions working on core training, either at the gym or at home. Small devices such as TRX equipment, Mini Bands, exercise balls and balancing boards can help with this.
Even if it is cold and dark outside, do keep at it! You'll see – this will be your best summer yet! And it will help you to survive the winter! Remember the saying? "Summer's champions are made in the winter."
For more inspiration and information on running visit Ingalena Schömburg-Heuck's homepage.
About the author
Ingalena Schömburg-Heuck (29) is a former top runner (also a German half-marathon champion) and nutritionist. She also holds a diploma in sports sciences. She is one of the most prolific running coaches in the German-speaking community and works as an advisor for companies and athletes. In addition, she acts as an ambassador for various companies: Sport Scheck, Odlo, Running Coach, BMW, PowerBar, Perform Better and others. She lives out her passion for sport on a daily basis and conveys it to others through her work.