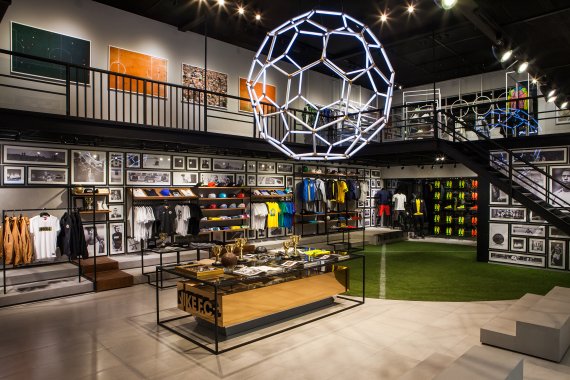 Pop-up stores, which are flourishing with small designer brands, are now also insanely trendy for large sports brands. It's also a hot topic for everybody looking for a way to get their foot in the door or a turbo boost for their career in the sport business. That's because the pop-up sector can also immerse college grads and newcomers in the brand worlds of Adidas, Puma, Nike, and others. Manufacturers' temporary stores also need to recruit temporary staff.
These limited-time employees need to familiarize themselves very quickly and take care of several tasks at the same time. Special agencies usually search for and supply these personnel. Or the agencies offer jobs having to do with the pop-up trend – in social media communication for the opening and for special events. Or for training salespeople or outfitting stylish stores.
Andy Gugenheimer, head of sportyjob.com and cooperation partner of the ISPO Job Market, explains what job opportunities can be found in and around pop-up stores in the sports business, and which five prerequisites applicants should bring with them to these jobs.
Small and exclusive: the hallmark of nearly all pop-up stores. Few are much larger than 200 square meters. That means: The five to ten employees are not utilized in the same specialized way as in a "traditional" sports store of 1,000 square meters or more. They therefore need to be able to carry out several tasks, "jacks of all trades" as it were.
Accordingly, the job advertisements demand a wide range: "After closing time, you close the cash desk and leave our store clean and tidy for the next day." Or: "You keep an eye on your inventory and order as needed. You help in the preparation of events and promotions in the store." Yet another example: "You'll also be responsible for visual merchandising, daily cash register statements, and general work in the store."
In plain language, a business savvy employee with an eye on income and orders will also have to grab a cleaning cloth, and jump on stage at events that they've just finished decorating in the brand's style.
"This is an excellent opportunity to acquire a very broad range of know-how in retail, and the presentation of a sports brand, within a short period of time," raves career specialist Gugenheimer. The major brands in the sports business value applicants who, namely, learned how to deal with customers and products on a very broad basis at an early stage. Just like car companies prefer engineers as managers and board members who know the technical foundation of the business.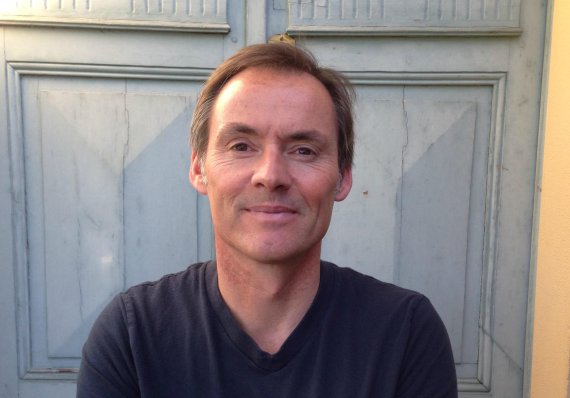 The temporary stores have their own unique staff dynamics. Naturally, everything is perfectly staged and the employees are recruited in advance by service providers such as Avantgarde Experts. A large proportion are flexible workers, i.e. students, freelancers, or agency employees. If a pop-up store stays open for several months or if its time gets extended beyond one year, many employees will have to go back to school or other jobs. New ones will fill in after them.
But those who stick around for a longer time, outlast change, and shine with special talent for consulting, sales, and product presentation can make a career in this microcosm quite quickly and surprisingly. "The temporary employee can become a sales team leader or even a store manager overnight, if their accumulated know-how and commitment are enough to match," knows Andy Gugenheimer.
"Running your own small company as a working student, so to speak – you don't find this kind of opportunity and unique addition to your resume just anywhere!" That means: If you're looking for a pop-up job, you should be prepared to take responsibility. Some job advertisements in this sector send signals accordingly: The willingness to lead a small team would be preferred.
What pops up has to be extraordinary this also includes consulting services. In the classic fashion industry, store guests can often be fitted out by style consultants. The same also works for sporting goods. At the three recently opened pop-up stores for Adidas Original in Munich, Cologne, and Vienna, for example.
The Adicolor pop-up stores take customers into the colorful world of red, blue, green, yellow, and black. Every customer can consult an Adidas Color Consultant to find the right color for them and the corresponding Adicolor parts. Examples like this show: In the pop-up store, the working world is literally colorful. Employees have to be trained for completely new areas of responsibility for the individual campaigns and services.
For a pop-up newcomer, this demands a lot of flexibility and above all the ability to learn. "Without the willingness to learn something completely new, no one needs to start in a pop-up store," the expert Gugenheimer advises. Whether color consultation or operating an interactive photo box to stage the new look for the customer immediately. In order to impart all new skills and special brand knowledge to the employees, manufacturers are employing special agencies such as Rheinsport from Cologne, specializing in training courses.
In turn, working in the agencies means the pop-up from the other side, guaranteeing the brand company the perfect implementation. Gugenheimer: "More and more cool jobs are being created here. The people in the agencies often have more specialist knowledge than the employees at the manufacturers, which helps them in their long-term careers."
Pop-up stores by major sporting goods manufacturers and smaller trend brands are always a hot topic, especially on social  media. Using Facebook, for example, brands can invite their fans directly to the pop-up events and get immediate feedback. Via Facebook, Instagram, Pinterest, and Twitter, the store's highlights and top offers can be distributed and reach fans who can't be there in person (but who are encouraged in their positive brand image).
An example of one major social media event was the opening of an exclusive Fenty pop-up store by Puma in Berlin last year. It exclusively hosted creations by Rihanna, and DJs really turned up the heat for visitors.
Even if it isn't always the big event number – social media is the most important medium in the pop-up business. Marketing experts specialized in Facebook and co. take care of the professional management of the channels. This includes agencies like the Munich-based Coma AG, which supports sports customers like SportScheck and Mammut Outdoor. There's anything but radio silence in the store itself, however.
Andy Gugenheimer: "Local employees have to regularly check what's being posted online about the store, which items are currently hip. When in doubt, they'll have to stage them even better or reorder them. And many employers like to see their employees regularly posting the latest news from the store online via their social media, and then becoming micro-influencers!"
Before anything pops up, the concept (which goods in which environment) and especially the staging of the store have to be planned precisely. For this creative overall task, the store planners at the major sporting goods brands work together with agencies that specialize in the pop-up business. These agencies are familiar with or can locate the right locations for the temporary store, meaning they're deeply networked with the scene. Take the pop-up heartland of Berlin, where Nike opened a pop-up for its skateboard line as early as 2009.
Service providers like the agency BOLD Communication & Marketing, headquartered in Los Angeles and Berlin, then also see to the suitable outfitting of the store. Because: "The atmosphere we create can, in some cases, have more of a positive impact on the customer's decision-making process than the product itself," say pop-up experts.
Staffing consultant Andy Gugenheimer: "Special agencies for the preparation and execution of pop-ups are often looking for creative people with an event background, who've already worked for scene brands of all kinds. But even people who worked in the dining scene while they were in school and have a sense of design have a chance to get their foot in the door."
No matter whether it's about completely new and exciting experiences in the store, or the planning and marketing around it. The pop-up traveling circus is a world of its own, with many tasks and contact possibilities in the smallest of spaces. If you're flexible and don't want to start your career by the book, a corresponding look at the job markets for companies and agencies is a must.