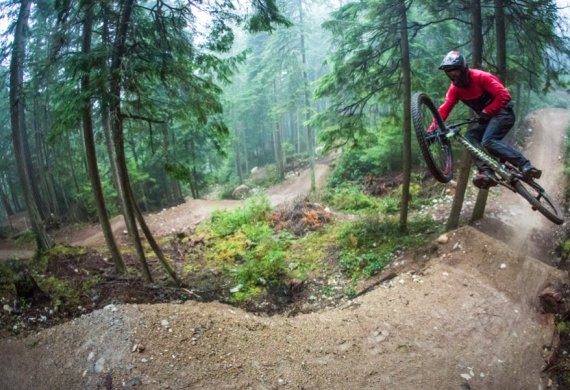 1. Canada/British Columbia: Whistler Mountain Bike Park
It's clear that anyone who takes a look at North America can't miss the world's most famous hotspot – the bike park in Whistler. Anyone who gets there is overwhelmed – by the numerous trails (about 50 variations), on the one hand, and by the excellently maintained downhill trails, on the other. Experts should definitely test the infamous A-Line, beginners can't even manage the first jump at the start of the trail. Above all, Whistler has something for everyone. Flow trails for beginners as well as jumps and enduro passages for experts. And you may well see a pro or two fly by you here. Whistler is the training park number 1.
It's no wonder that the trail builders are celebrated as heroes and their art is now being put to the test in bike parks like Sölden.
Key facts
Where? Whistler Mountain Bike Park // British Columbia // Canada

Trails: approx. 50

Opening times: May 17th to October 14th 2019

Lift pass: approx. 64 CAN dollars

Lift: Gondola/chairlift/shuttle service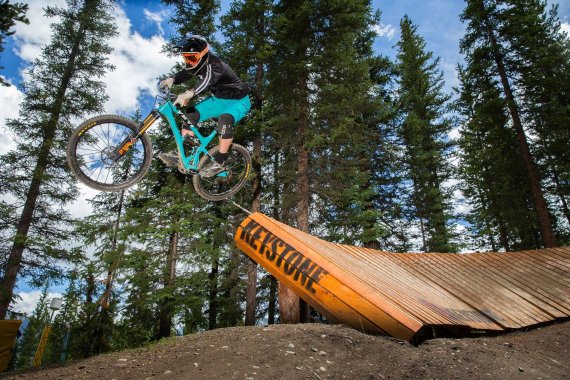 2. Canada/BC (Sechelt): Coast Gravity Park
Located in the forests of Sechelt, the Coast Gravity Park is about an hour from North Vancouver. But you can only get to the park by ferry, airplane (!), or helicopter. By registering on the Internet ahead of time, you can get discounted tickets. What has the park got to offer? Well-maintained trails built with care with berms that weave artfully downhill. Green, blue, red, and black trails offer different difficulty levels. Plenty of wonderfully-built jumps with old pipes that are integrated as tunnels leading to large jumps. Heavy machinery and old boats are used for jumps and create an industrial backdrop.
Key facts
Where? Coast Gravity Park // British Columbia // Canada

Trails: 12

Opening times: lifts in operation year-round

Lift pass: approx. 65 CAN dollars, no discounts

Lifts: Shuttle service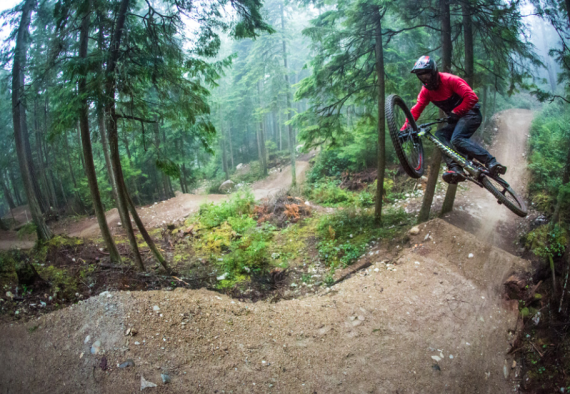 3. Canada/BC (Kamloops): Sun Peaks Bike Park
Another top spot can be found in Sun Peaks. With 29 different trails, bike park fans will never get bored. It's best to plan to stay for several days. The Sun Peaks Bike Park also organizes lots of camps. MTB beginners learn how to behave in a bike park and can practice their first jumps, which they can try out on the numerous beginner trails like the Smooth Smoothie. Intermediate riders can shred over the roots on the Root Dog and enjoy the jump line on the Steam Shovel.
Key facts
Where? Sun Peaks Bike Park // Sun Peaks / BC // Canada

Trails: 29

Opening times: June 21st to September 17th 2019 (from September 3rd 2019 lifts open only on weekends)

Lift pass: approx. 53 CAN dollars (prices for 2019 not yet available)

Lift: Chairlifts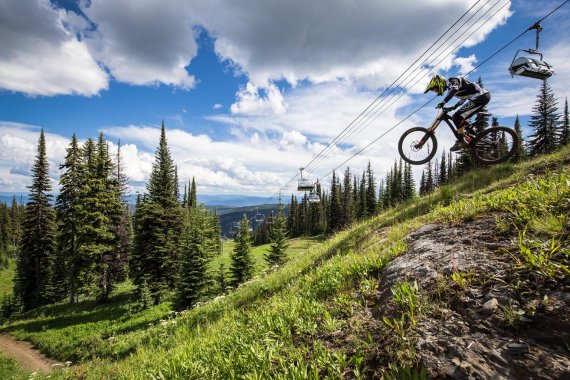 4. Canada/BC (Vernon): Silver Star Bike Park
The Silver Star Comet Six Pack chairlift is one the longest mountain bike lifts in all of Canada. Once you reach the top, a total of 50 kilometers of trails with about 300 jumps await you. Here, too, beginners will find great flow trails, intermediate riders jump over rocks and enjoy root sections and trails that are full of jumps. There are artistically constructed trails and nature trails and if you want, you can also ride the cross-country routes. The big wooden wall rides are an absolute highlight.
Key facts
Where? Silver Star Bike Park // Silver Star Mountain/BC // Canada

Trails: 22

Opening times: June 21st to September 2nd 2019

Lift pass: approx. 43 CAN dollars (prices for 2019 not yet available)

Lift: Chairlift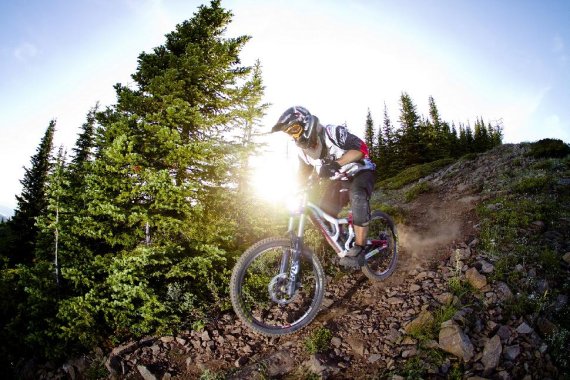 5. Canada/BC (Vancouver Island): Mount Washington Alpine Resort
The 450-kilometer-long island just across from Vancouver is the largest island on the west coast of North America. It is one of the most important tourist destinations in Canada and is extremely diverse: in the center, there are snow-covered mountains, further south, the slopes are covered with rainforests. The coasts vary between cliffs and sandy beaches. That's reason enough to visit the island – and, of course, a trip to one of the best mountain bike parks in North America is a must for all MTB fans.
A hub for skiers and snowboarders in the winter, it's full of mountain bikers in the summer, especially those who don't like the hustle and bustle of Whistler. In comparison, there is not as much on offer here, but there's also nothing missing. The resort itself only has two restaurants and a few shops, but in exchange there's also unspoiled wilderness, breathtaking landscapes, and a handful of trails for beginners and experts. The trails were shaped with care by bike pro and local hero Darren Berrecloth. Since 2017, this Canadian mountain biking park has 17 trails, including a skill park.
Key facts
Where? Mount Washington Bike Park // Vancouver Island // Canada

Trails: 17

Opening times: June to September

Lift pass: approx. 52 dollars

Lift: Chairlift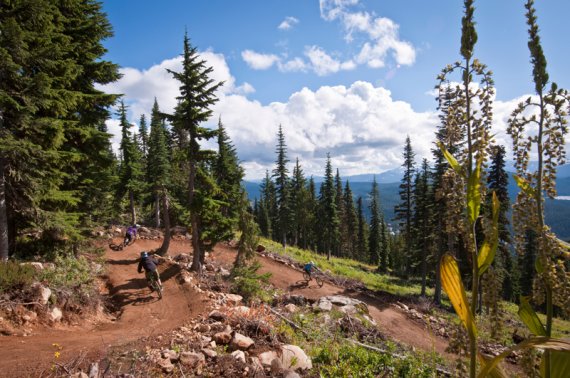 You can find part 1 and 2 here: