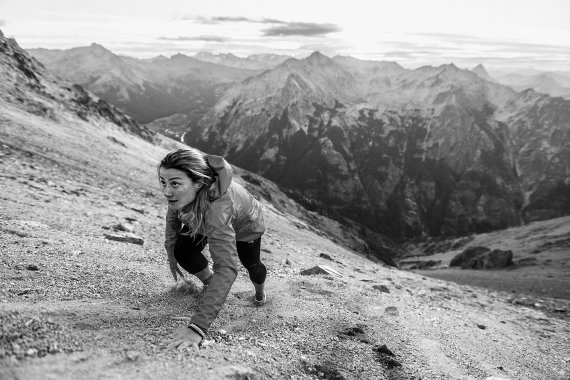 For the first time, The North Face addresses exclusively women. Under the title "Move Mountains", the outdoor brand will share stories of adventurous and courageous explorers worldwide over the next few months. The basic idea is to offer the stories of women in sport a larger platform to activate the next generation. The North Face is also taking this entrepreneurial approach: in addition to a large-scale social media campaign, two women-specific stores are to open in the USA in the coming months.
With their faces and in a series of short films, the alpinist Hilaree Nelson, the two exceptional climbing talents Ashima Shiraishi and Margo Hayes or the ultra runner Fernanda Maciel also stand for the campaign. The company is expanding its product offering for women, starting with trousers that the brand is redesigning through compression, core support and vision science. New styles and cuts are available.
"For decades we have had women on our team of athletes who have made first ascents and won 100-kilometre races. Who, if not us, knows that there are so many women who master outstanding and inspiring things every day," says Tom Herbst, Global Vice President of Marketing at The North Face.
With the hashtag #SheMovesMountains, The North Face also wants to create an opportunity in the social media to share other stories of impressive women. The stories are then collected and presented to the public at exhibitions in the shops of the outdoor brand in New York and London in the summer.
In addition, The North Face in the UK is working with 1600 young women from an urban environment to develop solutions for outdoor activities and adventures in nature.
The company presented its campaign in Germany to 150 guests at the Munich event location Isarpost. Verena Bentele, former Paralympics winner and Federal Government Commissioner for the Disabled, has been speaking there.