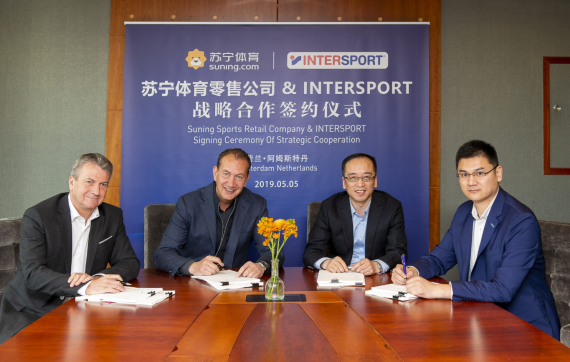 Intersport International Corporation (IIC) takes off in China. The retailer network based in Bern and the Chinese omnichannel retailer Suning Group from Nanjing have signed a franchise agreement in Amsterdam. This enables Suning to open Intersport stores in several provinces and municipalities in China and to distribute Intersport own-brand articles online and offline.
"Intersport's global expansion is progressing," said Steve Evers, CEO of Intersport International. Commenting on the cooperation, "We are proud to announce our partnership with Suning, the leading Chinese retailer, to boost our sports retailing business in this rapidly growing market. This alliance of two strong partners with complementary businesses and competencies will form the basis for long-term success in the Chinese sports retail market."
For Gary Gong, Vice President of Suning.com, the cooperation is a response to the sports boom in China: "Football, fitness, and a penchant for a healthy lifestyle are increasingly popular in China. For this reason, Suning took the strategic decision to extend its retail business into the sport equipment market."
According to IIC, Suning operates 12,871 stores in over 600 cities and is the largest Omnichannel retailer in China. Suning's e-commerce platform Suning.com has over 407 million registered users. Overall, the Suning Group is considered the second largest private company in China.
Would you like to know more about cooperation as the key to the successful digitalisation of your company? Then take part in the ISPO Digitize Summit on 3 and 4 July in Munich!