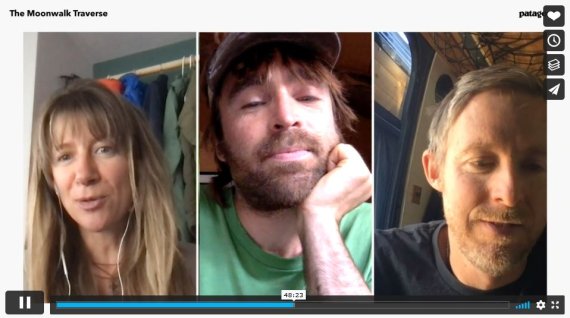 The climbing scene was raging with enthusiasm when Sean Villanueva O'Driscoll secretly managed to cross the Fitz Roy Traverse on his own. Nobody thought it was possible. The Fitz Roy Traverse, which is around 5000 meters long and 4000 meters high, is considered the "mother of all traverses". Its distinctive serrated line of seven peaks - including the 3406 meter high Fitz Roy - is the trademark of southern Patagonia and has been attracting climbers of all nations for decades. And no one had known about Sean's plan. "I had to be sure that I had a really intrinsic motivation for this big project," says the 40-year-old in the Patagonia Live Chat. "That's why I only told two friends." He was stuck in Patagonia due to the pandemic, and his climbing partners had made it out. So the idea matured to do the traverse alone. When he entered the mountain range from the southeast on February 5, 2021, the conditions could not have been better. "It was perfect, dry, warm and almost windless, actually quite unusual for Patagonia," says Sean. You have to know: The weather in Patagonia is unpredictable and can change very quickly. But it wasn't the weather that wanted to bring Sean to his knees.
The first day began with a catastrophe: falling rocks hit his rope and damaged the mantle. But instead of giving up, he made a makeshift tape repair and kept climbing. On the second day, a harness loop broke and he lost several Camelots. He also injured his thumb. As if by a miracle, the rope held for the whole six days: Only when Sean wanted to abseil for the last time did another part of the mantle come off and exposed several meters of the rope core. But he made it all the way down. How could he even go on in the face of these risks? "I had a special mindset," he explains. "Whenever something went wrong, I just saw it as part of the challenge, not as a setback or an obstacle."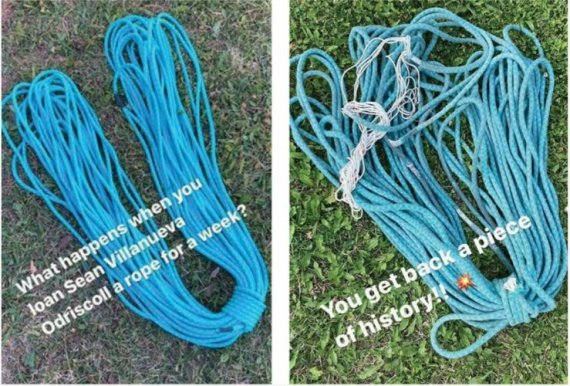 In general, the Belgian is known for his cheerful nature. On all expeditions he has his flute with him and loves to play music. When he celebrates his 40th birthday during the tour, he simply sings himself a song and is happy about the "seven birthday cakes" that stand around him with their peaks of snow. "Singing connects me with the environment and with the present," he says. When asked, he also makes the fans smile in the chat with a short sample of his musical skills. Around 380 viewers have logged in. Why did he want to walk the traverse from that direction? Sean: "Because nobody has done that before, just because of that."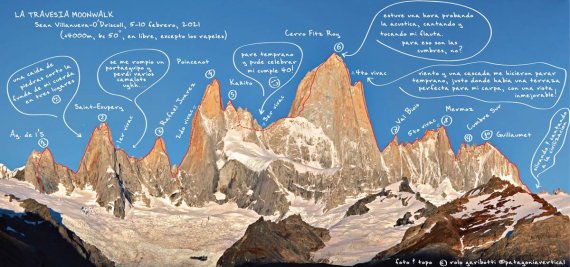 Tommy Caldwell can only marvel at so much risk-taking and courage. "Many people have tried the traverse and failed because the rope didn't hold. I've heard that a lot. But I don't think most people would have thought of trying to fix it with tape!"
US climbing stars Tommy Caldwell and Alex Honnold first climbed the Fitz Roy Massif in 2014, but started from the opposite side. Unlike Sean, the two weren't so lucky with the weather. The cracks in the walls were full of ice, the rope was frozen, waterfalls ran down the walls and soaked their clothes down to their underwear. "The traverse was an endurance test, even in terms of pain," Tommy says. Yet he knew what he was getting into. He'd been climbing and ice climbing in Patagonia many times before.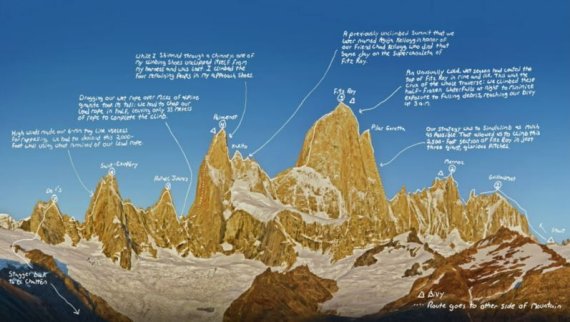 You can't say that about his partner Alex Honnold. Up until then, Alex was best known for his spectacular free solo ascents in Yosemite National Park, USA. He is characterized by a special mental strength, otherwise you won't be able to climb a big wall like El Capitan alone and without a rope. He had climbed with Tommy before, but had never been to Patagonia or ice. "He had never climbed with crampons or ice tools," says Tommy. So it happened that they had to find out just after getting into the traverse that Alex had the wrong crampons with him. They didn't match shoes and terrain. Fortunately, they met another climbing team who were on the retreat and who gave Alex a pair of crampons.
Tommy had traveled to Patagonia with his family. His wife Becca and young son Fitz helped him mentally prepare for the trip. "The hardest moment was definitely going out and leaving the two of them," says Tommy. Why he takes this risk anyway: "Beeing in the mountains is a very intense experience, even if it is really hard and you are in pain everywhere. Actually, you wouldn't want to endure any of that in normal life. You learn that if you master the difficulties in the mountains, you can do it in normal life, too. It helps to appreciate the comfort of everyday life better."