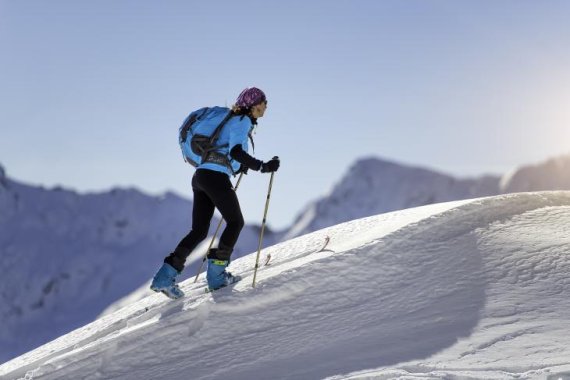 Necessity decides what can and can't go in your backpack – that, and the weight. Weight also plays a decisive role when buying new ski touring equipment like skis, ski boots, and bindings. That's because ski touring is a sport where it's not uncommon to push performance to its limit. Ascents of 1,000 to 1,500 meters up demand everything from your body. Every gram too many on your feet makes your legs as heavy as lead after just a few meters. 
But what good is the lightest equipment if safety isn't guaranteed? The manufacturers of ski touring equipment are dedicating themselves to this question. The results are new materials and innovative technology that allow for savings in the right places. Even safety equipment is getting slimmed down. 
Performance is another important factor: Ski boots are a product that consumers expect quite a lot from. They should be lightweight, ensure high mobility in walking mode, and yet exhibit convincing rigidity and stability going downhill. Bindings should allow for a comfortable ascent, but still prevent the wildest turns and jumps on the descent. Not to mention the ease of use. The focus is clearly on versatility. The multiuse concept thus plays a very big role in development. 
But how far can the individual adjusting screws still be turned towards perfection? In part 4 of our Ski Touring series, leading ski companies report on what innovations can be expected this and next season. Seven industry experts report:
Black Diamond: Stephan Hagenbusch, Vice-President of International Sales
Dynafit: Alexander Nehls, International Marketing Director 
Fischer: Franz Föttinger, CEO
Hagan: Walter Wiesinger, Sales Director
K2 Sports: Stefan Stankalla, Sales Manager K2 Skis
Mammut: Valentin Strohmaier, PR
Ortovox: Hendrik Reschke, Head of Communication
Black Diamond Equipment is a manufacturer of climbing, skiing, and mountain sports equipment headquartered in Utah. The company was founded in 1954, and also maintains global subsidiaries in Innsbruck, Austria and Zhuhai, China.
Stephan Hagenbusch, Vice-President of International Sales: "Black Diamond is a leading manufacturer for backcountry equipment, and were seeing a strong trend in this direction in our markets. Our customers are primarily active off the slopes and that's where, in addition to performance and quality, we're placing particular emphasis on safety and the right training for users with our products.
With our partnership with the Pieps brand we have gained a leading position in this area, especially in the field of snow safety. That way, we can respond to the increasing security requirements and needs of users.
Black Diamond products are constantly further developed. Weight savings play an important role in this, but not the decisive one – the safety and user focus in product development clearly comes before radical weight reduction. We'll be launching new avalanche transceivers for the winter of 2018 in order to offer a complete snow safety package."
Dynafit Sports GmbH is a mountain sports and ski touring specialist headquartered in Munich. Dynafit has been part of the Salewa Group/Oberalp Group since 2003, and employs more than 200 people.
Alexander Nehls, International Marketing Director: "In winter 2018/19 we'll be launching the ski boot revolution: the Hoji Pro Tour. These boots are the perfect symbiosis of a highly mobile, comfortable climbing shoe and an almost alpine ski boot for downhill skiing. The Hoji Pro Tour is switched by a single lever. Thus, the closing and opening of many buckles is history. The boot locks itself in place when switching to downhill mode thanks to the ingenious Hoji Lock System, so stably that the tourer would feel as if they were standing in their alpine boots.
Light weight is and remains the ubiquitous issue. However, light weight and safety aren't mutually exclusive. Lightweight products can be just as safe as heavy ones. This is proven by the TÜV certifications and the numerous tests we conduct on our products. In the winter of 2018/19, for example, there will be a racing binding that weighs just 49 grams and still meets the requirements of the International Ski Mountaineering Federation (ISMF). Its name is P49 – P for pin tech and 49 for the weight. It's a very exciting system where the pins come out of the boot."
The Fischer Sports GmbH manufactures items for alpine and Nordic ski sports. The company is headquartered in Ried im Innkreis, Austria, where the company employs more than 450 people.
Franz Föttinger, CEO: "We've been dealing with the issue of weight for a very long time now, so now we can cover all aspects of safety with the technological advances in this area. Our new Ranger Free ski boots are precisely the answer to your question: light weight and functionality like a touring ski boot coupled with the stability and safety for all requirements of a modern skier."
The winter sporting goods manufacturer Hagan develops and distributes touring skis, bindings, and accessories. The family-owned company is located in Antiesenhofen, in Upper Austria.
Walter Wiesinger, Sales Director: "We're also seeing this trend towards lighter products, so we're presenting another lightweight pin binding and expanding our Ultra (lightweight ski series) with another model." 
K2 Sports is a company founded as K2 Inc. in 1961 on Vashon Island, near Seattle, that manufactures skis, inline skates, snowboards, and mountain bikes. K2 Skis is a single-source supplier for the alpine sports and touring sectors.
Stefan Stankalla, Sales Manager K2 Skis: "The touring skis by K2 stand for an optimal relationship between uphill and downhill performance. That continues to be important to us, too. Thanks to new technologies and processing methods, we are able to make our skis even lighter and (at the same time) improve performance and safety on downhill runs. We continue to be about the perfect run!"
The Mammut Sports Group AG is a Swiss manufacturer of mountain and trekking equipment with headquarters in Seon, Switzerland. The company, which has 465 employees, was founded in 1862.
Valentin Strohmaier, PR: Avalanche backpacks are becoming more and more lightweight and comfortable without giving up ground in the reliability or safety of the equipment. Thanks to technological advancements, the user only need bear an additional weight of about 1 kg to carry an airbag and cartridge.
In the case of avalanche transceivers, the trend is towards better and easier operability. The intuitive control of the device is especially important in an emergency, and increases the chances that the user will remember their avalanche classes and be able to avoid a black out. An experienced user can quickly and easily solve several problem scenarios. Excellent performance in terms of range is a basic requirement for doing so."
The ORTOVOX Sportartikel GmbH is specialized in mountain sports and produces AVS devices, backpacks, avalanche emergency equipment, and sportswear made from Merino and Swiss wool. The company has 45 employees and is located in Taufkirchen, near Munich.
Hendrik Reschke, Head of Communication: "We're currently at the top of the wave and pushing it forward. With products, but also with the corresponding communication. Ski tourers are our most important target group in the winter. Our product portfolio has been growing in all sectors for years, but especially in clothing, where the ski touring segment is also becoming more and more multifaceted. We cover all segments from fast piste tours to the freetour sector, the mix of freeriding and ski tours.
To make our customers aware of the dangers of the sport, we're continuing to strengthen our safety roots with the right emergency products, but also with training measures such as our Safety Academy.
With our Naked Sheep campaign, in winter 2018/19 we'll be focusing on the essentials: Protection. Comfort. Low weight. With innovative compositions, new materials, and sophisticated features, we're a light travel companion in the mountains – but we never forego protection. That's because it's essential in the mountains.
In the field of hardware, for example, we've managed to produce an extremely lightweight and compact, yet extremely stable shovel. We're reaching a new dimension of insulation in mountainwear with the insulated Zebru jacket, which has made its Swisswool® filling even more lightweight and elastic thanks to an innovative processing technique. We have thus concentrated on the essentials, from hardware to apparel. We're a lightweight travel companion, but the greatest protection possible is always the focus."
Mit unserer Naked Sheep Kampagne konzentrieren wir uns im Winter 2018/19 auf das Wesentliche: Schutz. Komfort. Geringes Gewicht. Mit innovativen Zusammensetzungen, neuen Materialien und durchdachten Features sind wir leicht in den Bergen unterwegs – verzichten aber niemals auf Schutz. Denn dieser ist in den Bergen essentiell.
Im Bereich Hardware haben wir es beispielsweise geschafft, eine extrem leichte und kompakte, aber dennoch extrem stabile Schaufel zu fertigen. Eine neue Dimension der Isolation erreichen wir in der Mountainwear mit der Isolationsjacke Zebru Jacket, die durch eine innovative Verarbeitungstechnik die Swisswool® Füllung noch leichter und elastischer gemacht hat. Somit haben wir uns von der Hardware bis zum Bekleidungsbereich auf das Wesentliche konzentriert. Wir sind damit leicht unterwegs, dennoch steht höchstmöglicher Schutz stets im Zentrum."