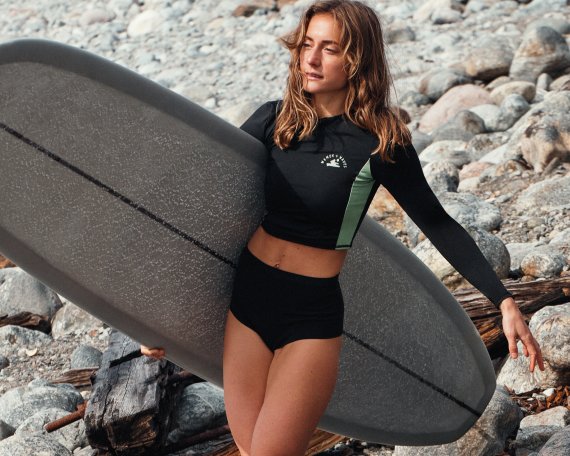 Women + Waves consists of a group of passionate surfers who create a unique women's surf group and community, sharing their skills and passion for riding the waves.
The aim of the group is to reach out to fellow women, offering surf courses in Newquay, Cornwall, and women's surf trips overseas. The collective's end goal is the help each other smash their goals, build confidence, and simply having fun with like-minded women. 
In keeping with the multifunctionality now desired by today's consumers, many pieces in the range work on the beach and surf to the street.
Surf and style ready the range of modern swimwear, one-pieces, rash guards, and a wetsuit in a high-quality natural rubber, form the Women + Waves x H&M collection performs equally well in the ocean and on land.
A hoodie, T-shirt and accessories are also included, featuring special Women + Waves logos by illustrator and fellow member Clara Jonas. 
Details such as zip openings, body-enhancing seams, and secure straps, while the colour palette of muted greens, soft yellow, and black is cool and confidence-building, just like the women who are part of the sisterhood of surf.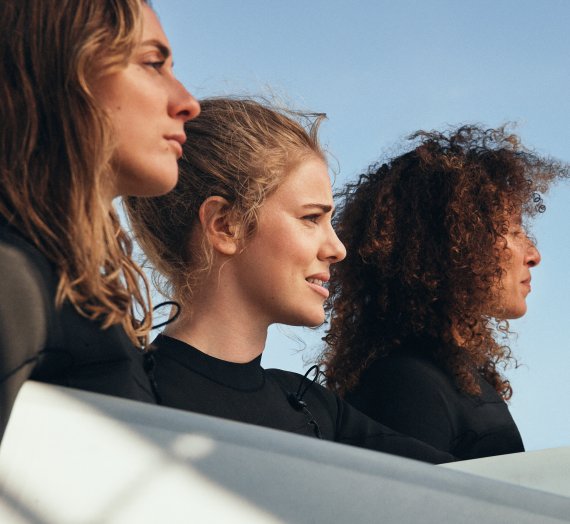 The collaboration is also the first foray into fashion for Women + Waves, with pieces made from sustainably sourced materials, including recycled polyamide, recycled polyester, and organic cotton. The whole collection is made from fabric blends with at least 50% of sustainably sourced materials. 
"With this H&M collaboration, we really wanted each piece not only to be practical but also reflect the strength and empowerment of women surfing together. Our community started from casual once-a-week gatherings and now it has grown into a real collective who constantly supports one another. I hope the H&M collaboration will inspire women to surf, plus raise awareness of keeping the oceans clean," said Rachel Murphy, founder of Women + Waves.
Designed by an H&M in-house team in close collaboration with Women + Waves, the collection's overall silhouettes are strong and sleek in homage to surfing as an active sport and the women it brings together. 
"When we came across Women + Waves for the first time, we were blown away by the power and authenticity of this all-female surf collective. It's unique, positive, and inspiring, so we're absolutely thrilled to be collaborating with them. Together, we knew it was important to have functional and fashionable," said Maria Östblom, head of design womenswear at H&M.
This collaboration is also an early testament to the increase in sports and activewear that continue to play a larger part in fashion brands. With the current state of fashion, the discussion of whether it is still relevant after the chaos corona has caused, yet enlightening consumers to the priorities of what is important in their lives, health, and sports is key.
Expect to see more innovative collaborations come through combining fashion styling with a higher level of performance fabrics and technicity within traditional sports and outdoor brands as well as fashion brands looking to capture the 'new norm' of pursuing fitness. This new level of empowerment and decision making from women in sport, an area that ISPO and many of the leading brands are giving a new focus, is expected to grow.