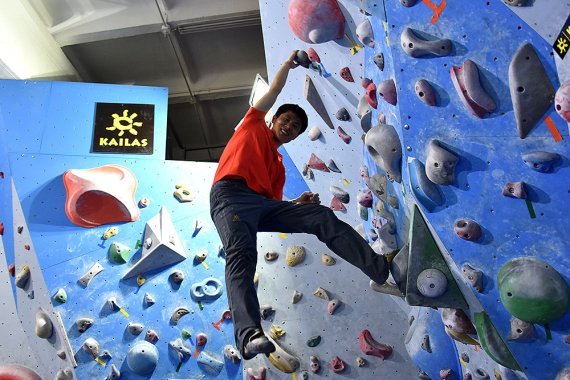 One thing is certain – there are ample amounts of climbing enthusiasts in China. Although there are no precise reports estimating numbers of local climbers, one may assume that we are dealing with an amount not exceeding 100,000 active climbers.
You want to know everything about the Chinese sports market? Then visit ISPO SHANGHAI 2017 from July 6-8 >>>
On the other hand, it is worth paying attention to enthusiasm and passion characterising the Chinese climbing community. 
The mere fact that the third edition of China Rock Climbing Summit took place during ISPO BEIJING 2017 clearly demonstrates that climbing activists are very engaged in the sport. Below we would like to present you the latest developments on the Chinese climbing scene.
Rock Everywhere, Climbers Rare
Liza Di Liu, editor of the Chinese version of the 8a.nu website, estimates the numbers of climbers in China: "It's believed that there are around 50,000 climbers in China. If we narrow this amount only to true enthusiasts, who devote at least one or two days every week to climbing and training, then the number drops to approximately 10,000."
Andrew Hedesh has lived and climbed in China for many years. The Canadian is loyal to Yangshoo crags. He transferred his experience of this most popular Chinese climbing area into a climbing guidebook, which is due to be published in 2017. 
Andrew admits that exploratory possibilities of China are immense. Despite the fact that climbing is becoming more and more popular, there are only few climbers engaged in opening new routes.
Chinese climbing is at the beginning of its path. Climbers want to participate in creation of their own culture, however, many of them are focused only on commercial aspects of the development.

Andrew emphasises that it is crucial to support also other initiatives – for example, exchanging old bolts in climbing areas that were opened more than 10 years ago.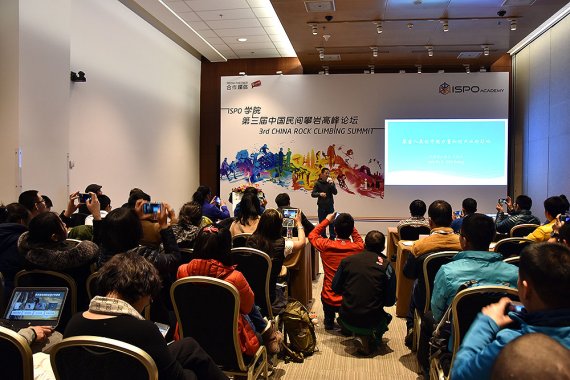 Where to Go Climbing?
Most climbers in the world are familiar with such well-known sites as Yangshoo (Guangxi Province) or Getu (GuiZhou). These climbing areas have been popularised by climbing events (e.g. Rock Petzl Trip in Getu), and now are flagship crags of Chinese climbing.
However, Chinese climbing is not limited only to the above-mentioned areas. Climbing potential is really huge. Undoubtedly, new areas will be gradually discovered and developed.

One can find suitable offer for any style of climbing – starting with bouldering at Qingdao (ShanDong) and Daocheng (Sichuan), through trad climbing at Liming (Yunnan Provinve), Keketuohai (XinJiang), Guoliang (Henan), a relatively new spot in Zhangjiajie (Hunan), and ending with sport crags like Kunming and Shigu (Yunnan).

A particularly interesting area offering a combination of sport, trad and ice climbing is Baihe, located near Beijing. 
Best Climbers
The male climbing elite includes such Chinese climbers as Liu Yongbang (Abond), Wei Guang Guang (Da Wei) and Wang Qinghua, while the female scene is dominated by Weijun Huang and Renqin Lamu.
One of the most famous climbing routes in Yangshuo, Spicy Noodle, was led by Liu Yongbanga (2010) and Wei Guang Guang (2013). In 2012, Wang Qinghua ascended Red Point Dinner (Meal), whose initial grade was suggested to be 9a, but then the grade dropped to 8c+. 
The most difficult female ascent has been China Climb 8c, led by Weijun Huang (Jun Bao). The best competition female climber is Renqin Lamu from Tibet – recently, she has won the title of the 2017 Asian Champion, both in bouldering and sport climbing.
The above-mentioned Spicy Noodle was created by Chris Sharma in 2009 and its beauty attracts climbers from all over the world. Recently, it has been climbed by two women – a famous Korean climber, Jain Kim (December 2016), and a Pole – Aleksandra Przybysz (January 2017).
It is worth saying a few words about the Polish climber – Przybysz has lived in China for years, she runs a company organising outdoor events. She has been an influential figure in Chinese climbing – she repeats the most difficult lines, opens new routes and explores many interesting sport climbing and trad areas.
Kailas Chooses Climbing
If we take into consideration more specialised outdoor equipment, climbing gear and apparel, then the unquestionable market leader in China is Kailas.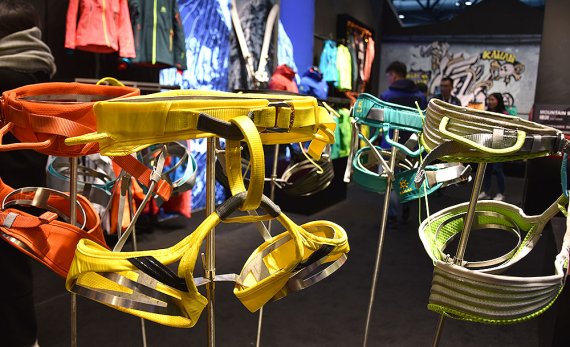 Kailas does not focus exclusively on the Chinese market (in China the company sells its products in over 500 shops, it also owns more than 100 mono-brand stores) – it is trying to compete on European and US markets, sponsor climbing competitions and film festivals. 
Kailas manufactures technologically advanced products – like ice axes, harnesses, helmets, quickdraws, ropes, etc. Many of those products have received awards at trade shows like ISPO MUNICH. 
Climbing Centres Seek Young Climbers
Despite great prospects, Chinese climbing, similarly to the whole global outdoor sector, has been experiencing a slight stagnation. Many owners of climbing centres complain about lack of customers. As salvation might be seen climbing coaching and popularisation of climbing among the youngest. 
This opinion has been confirmed by Liz Di Liu: "I'm most concerned about those who have invested their own money into climbing walls and managed them with passion and devotion. Unfortunately, now this business has become very demanding – many operators don't have funds left to keep investing into not fully profitable business. This is a particularly difficult period for climbing walls. If they survive, that will be only because they've associated their future with coaching children and teenagers." 
World Cup Is Fond of China
Although climbing walls seem to be encountering difficulties, climbing competitions enjoy great popularity. Every year there are more than 25 various events – ranging from National Championships, through amateur events, ending with the World Cup.
In 2017, the World Cup in bouldering and speed climbing will visit again Chongqing (22-23 April) and Nanjing (29-30 April). Later, sport climbers and speed climbers will compete in Wujiang (7-8 October) and Xiamen (14-15 October). 
Another important factor popularising climbing and integrating the community are climbing festivals which take place in Yangshuo, Getu and Liming (a trad festival).

Every year they attract hundreds of climbing buffs, which clearly demonstrates that Chinese climbing – despite current difficulties – is steadily gaining on popularity.
You want to know everything about the Chinese sports market? Then visit ISPO SHANGHAI 2017 from July 6-8 >>>