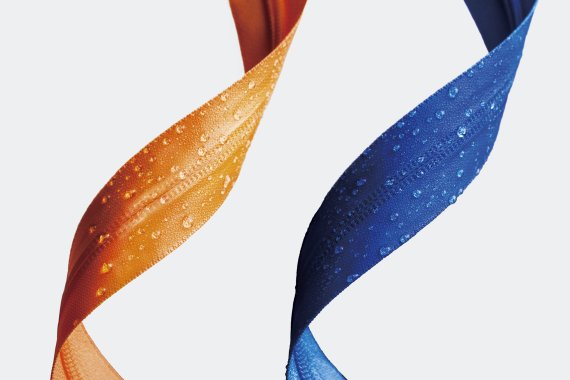 When YKK introduced the AquaGuard® zipper in 2002, the zipper with a band of laminated polyurethane set a new standard in water repellent zippers. Today, exactly 20 years later, YKK is going one step further, presenting a more environmentally friendly evolution of this classic.
As part of its move to more sustainable products and in order to replace the previous AquaGuard® product line in the future, YKK Corporation has now developed a new, more sustainable water repellent zipper. The new AquaGuard® Natulon® zipper is produced with a tape made from recycled polyethylene terephthalate (PET). YKK also uses fluorine-free chemistry for the water repellent finish, responding to tightening regulations on the use of organic fluorine compounds in Europe and elsewhere.
The gradual conversion process of the AquaGuard® product line to AquaGuard® Natulon® will take approximately one year.
The new zipper has been improved not only in terms of sustainability, but also in design. For example, the opening and closing function as well as the appearance of the zipper have been enhanced. Especially in outdoor sports, smooth-running zippers are important, for example when handling with gloves. To ensure that AquaGuard® Natulon® zippers can be used without hesitation in such areas, YKK has improved the structure of zipper parts such as the chain and slider, enhancing pin insertion and the sliding force when opening and closing the zipper.
"The AquaGuard® Natulon® zipper fulfils the desires of our customers that had been expressed in the past for a switch to green specifications as well as to improve operability," explains Hisashi Yoneshima, Vice President, Product Strategy and Development Division, Global Sales Department at YKK. "An improvement in appearance has also been achieved. YKK will continue to pursue further functionality of its fastening products while promoting the development of products that are friendly to the environment and will contribute to the achievement of a sustainable society."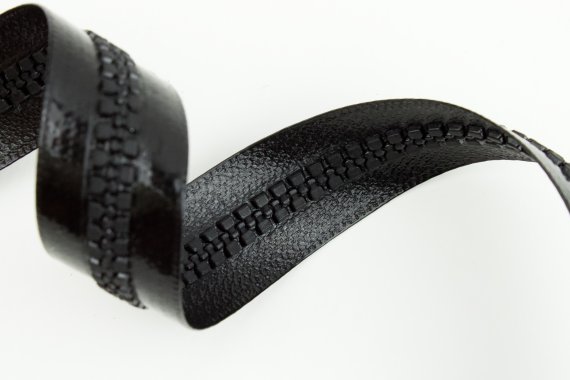 In addition to the improved AquaGuard zipper, YKK is introducing the new AquaLock® watertight zipper. It features an resilient and flexible design that provides near-surface, watertight protection and lightweight comfort. The narrow tape achieves an ergonomic design that fits the needs of technical outdoor garments.
This YKK innovation is PFC-free and uses polyurethane technology on both the zipper elements and the tape for optimal weather protection.
YKK will showcase both products at ISPO Munich in Hall B2, Booth 100.