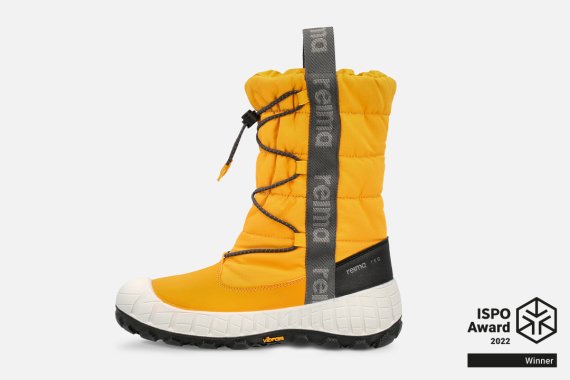 Kids and snow are an unbeatable combination - but only as long as everything is packed warm and the big freeze doesn't start. Then child and parents quickly lose the fun.
With the Megapito children's boot, Reima wants to prevent just that and has developed a boot that still keeps reliably warm even at the lowest temperatures.
This much is clear: a Finnish company based north of Helsinki brings enormous credibility to the table right from the start when it comes to being able to produce warm clothing. And that's exactly what Reima has been doing since 1944 - initially only for apparel, in 2004 the first shoes were added.
With the Megapito, Reima has now developed a children's boot that defies temperatures of at least -30 degrees Celsius. The boot, which will be launched in winter of 2022/23, is waterproof, particularly flexible in the sole and easy for children to wear. It will be offered in four timeless colors, yellow, blue, red and black.
To ensure that children can enjoy premium function, Reima has brought well-known suppliers on board. Warmth and breathability are provided by 400-gram PrimaLoft insulation. In addition, Reima uses a new Vibram technology in the sole, Vibram Traction Lug Technology. The special shape of the lugs improves grip and traction of the outsole. Thus, the shoe remains slip-resistant even on snow and ice. Studies confirm increased propulsion and braking power. [Info comes from Vibram Website]
The boot is manufactured using DIP technology. DIP stands for Direct Injection Process and refers to a manufacturing technology in which the sole and upper are directly molded together. Such processed shoes do not require glue and are particularly flexible and robust.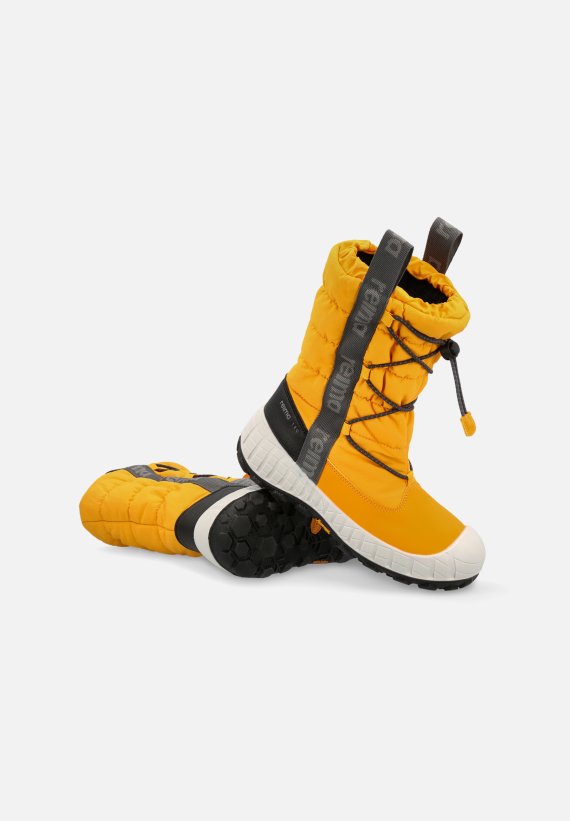 Ultimately, of course, the shoe has to be appealing and easy for children's hands to handle. The bright colors and the simple drawstring to adjust the shaft width should suit children. Particularly practical are the large loops, through which an adult finger also fits, which provide useful services when putting on the boot. At 129 euros, the shoe is not quite cheap, but the high-quality workmanship will certainly last more than just one winter.
Reliable protection from the cold to at least -30 degrees

Still a lightweight, flexible shoe

Clean, child-friendly design

Use of premium partners like PrimaLoft and Vibram

High-quality workmanship
"Developing entirely new kind of products is always an exciting and brave journey to the unknown. We're extremely happy to receive the ISPO Award - this shows our footwear product development is on a viable path. When creating Megapito, our team wanted to come up with a modern, chic, super warm boot that would be easy to dress, fully functional, safe and versatile. The boot now checks all these boxes, and another very important one, too: Megapito is a more sustainable choice than your average winter boot."
Footwear Category Manager for Reima, Rucky Zambrano
"Having warm feet outside makes all the difference for kids in winter. But in the same way, the boots have to fit. Thoughtful details in the design, the non-slip sole and the fit make all the difference with the Megapito."
Martina Wengenmeir, Jury Member ISPO Award 2022 and Editor ISPO.com