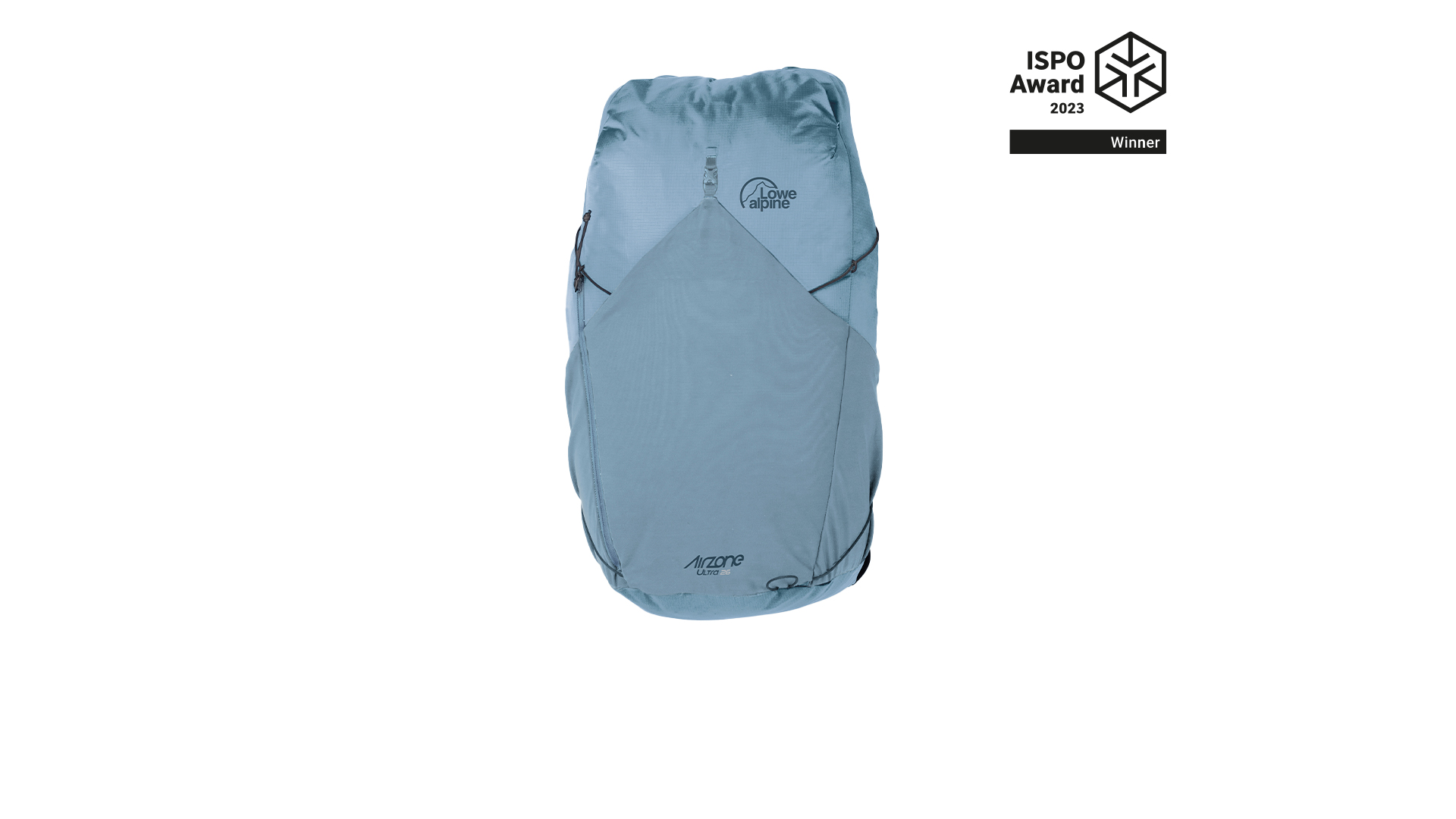 With the AirZone Ultra ND26, Lowe Alpine launches a backpack designed to provide a comfortable and supportive fit for women. The abbreviation "ND" stands for "Narrow Dimensions", which are backpacks built with different proportions to Lowe Alpine's regular models, making them ideally suited to anyone with a smaller frame. In the second round of the ISPO Award 2023, the judges thoroughly examined the backpack and decided it was worthy of the award.
Ben Meakin, Designer at Lowe Alpine, says: "We have been making women's specific packs for 34 years, providing a wealth of knowledge and expertise to draw from. It was vitally important that we engineered the AirZone Ultra with our ND Fit to provide optimal comfort and support in this new ultralight carry system."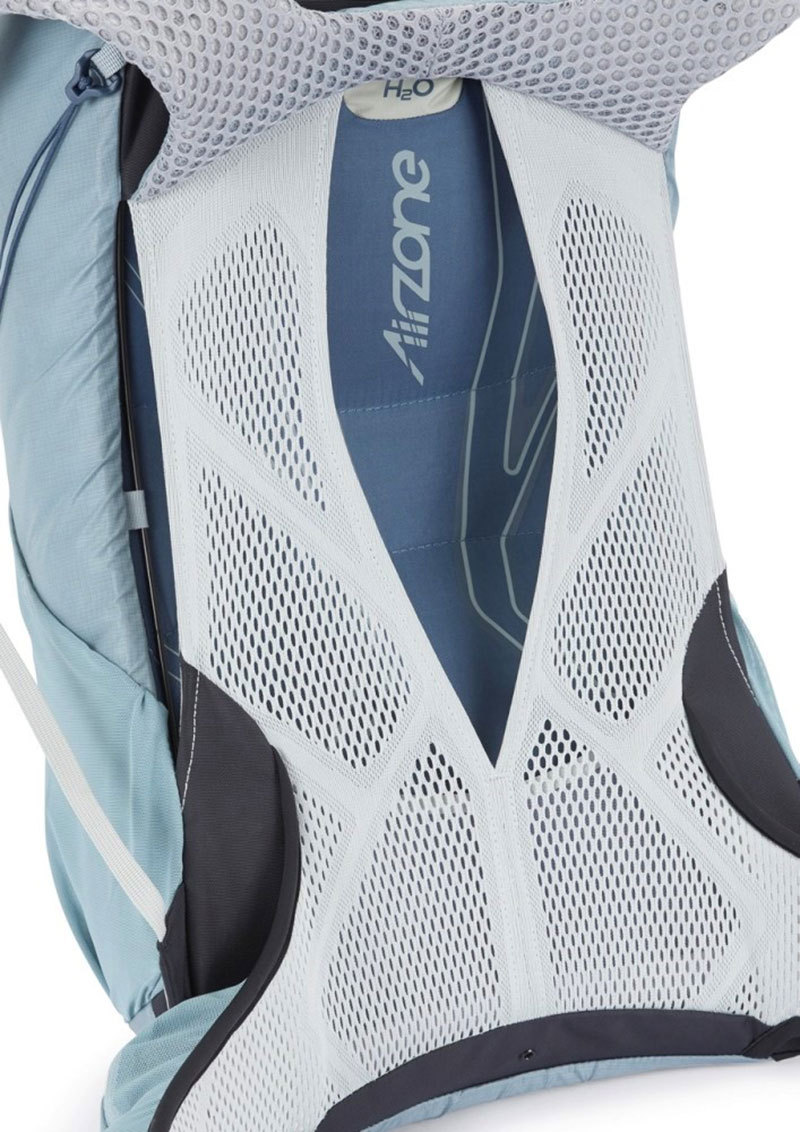 The AirZone Ultra ND26 is the lightest member of Lowe Alpine's AirZone family, and its ventilated carry system uses the patented "FormKnitTM" construction that gives stability and flex. It allows for plenty of airflow in a single-knitted design that minimizes stitch lines. The convection channel allows for excess heat to escape from the back system, making it the perfect pack when temperatures and intensity rise.
The pack features a dropped hip fin placement to accommodate a rotated pelvic structure and the back length measurement has been specifically designed for women's shorter sizing. The super quick access drawstring closure with a weather flap and large front stash provides easy access to extra storage. The pack also has an internal zipped security pocket, walking pole attachment points, and dual hip belt pockets.
"Developing the AirZone Ultra took around 12 months in total," Ben Meakin reports. "We are lucky enough to be able to start our physical development in-house; sampling and refining our initial ideas and concepts. We also worked collaboratively with our partnered factory, spending hours in the sample room honing the design and features with the pattern makers and sampling team."
Extensive testing proved that the backpack was ready to launch. "Throughout the development process, testing was key to achieving the best final product," Meakin says. "Every sample was rigorously put through its paces with several different users across the world, in varied locations and conditions. This provided vital feedback allowing us to further improve on the design and features to create a versatile pack that performs whatever the user undertakes."
The stripped-back construction of the AirZone Ultra ND26 is designed for fast-paced day hikes and ultralight overnights, with weight-saving details such as a thin spring steel frame and lightweight stash pockets. Another key feature of the backpack, which is manufactured in Vietnam in compliance with Fair Wear and social standards (Equip is a Fair Wear Leader brand), is sustainability. Its main fabric is made of 100% recycled nylon using Regen Ocean Nylon which is made from used fishing nets. It is also GRS-certified and has a fluorocarbon-free DWR.
Overall, the ISPO Award jury found that the Lowe Alpine AirZone Ultra ND26 is an excellent option for anyone looking for a lightweight and sustainable hiking pack with a comfortable ventilated carry system. The price point of €160.00 corresponds to its high-quality construction and sustainability features. The Lowe Alpine AirZone Ultra ND26 together with other models in this series will be available to consumers in Spring/Summer 2024.
"The combination of low weight, high wearing comfort and the consistent use of recycled materials is impressive. Thanks to different backpack sizes, women and men will find the perfect backpack for their specific anatomy."
ISPO Award Jury
"The main driving force and focus when developing the AirZone Ultra was to create an ultra-lightweight pinnacle ventilated pack that haloed our entire AirZone range. Carrying less weight enables you to move in the mountains and trails effortlessly with a super comfortable carry system from the moment you put the pack on, until the very last step. We believe this is one of the lightest ventilated packs on the market, showcasing the best in lightweight construction without compromising on carry comfort and features."
Ben Meakin, Designer, Lowe Alpine
Sustainable main fabric: 100% recycled nylon

Fluorocarbon free DWR

Women-specific shape

Lightweight

High comfort
Key data:
Sizes: ND 26L, ND 36L; 26L, 36L

RRP: € 160.00

Weight: 720g (ND26)

Intended Usage: Lightweight & fast hiking