The LifeStraw Peak Squeeze Bottle is a foldable drinking bottle with integrated water filter. Thanks to the innovative filter technology, you can drink water anywhere without having to worry about its cleanliness. The integrated membrane microfilter allows the refilling of water from lakes or other freely accessible fresh water sources and thus ensures clean drinking water that meets the "US EPA & NSF P231" standards. The filter system cleans 99.99% of all bacteria, parasites and microplastic particles. In addition, the membrane is impermeable to mud, sand and all particles greater than 0.2 microns. The LifeStraw Peak Series products also stand for a minimalist design. Tara Lundy, Chief Brand Officer at LifeStraw explains: "The design of the LifeStraw Peak Series was developed in collaboration with the Danish design office Søren Rose Studio. All product tests during and after the production of our products are carried out according to performance criteria based on protocols of the World Health Organization (WHO), the US EPA, NSF International and the Water Quality Association (WQA)."
The squeeze bottle is made of tear-resistant, BPA-free plastic and weighs only 110 grams filled. Thus, the reusable bottle can be worn compactly on the body during any outdoor activity without having to plan additional space for water reserves. The versatile functional possibilities of the Peak Squeeze Bottle are particularly practical, as the filter can also be screwed onto LifeStraw Peak Gravity systems. This further expands the application range of the filter system.
LifeStraw products have already proven themselves in practice under a wide variety of conditions: from use in refugee camps to the drinking water supply of people in natural disasters to the supply of athletes on outdoor expeditions.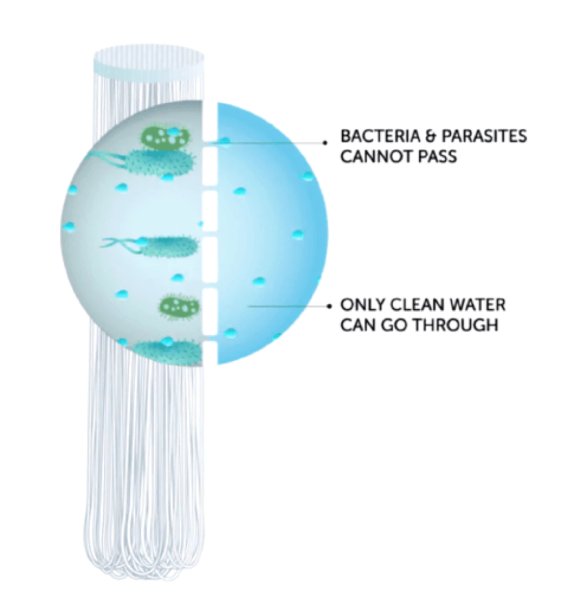 "For each LifeStraw product sold, a child in need gets access to clean water for one year. In addition, we have been a partner in the fight against the Guinea worm disease for 25 years and actively support those affected by emergencies and natural disasters with our products, which lead to water shortages all over the world." .
Tara Lundy, chief brand officer at LifeStraw
"All LifeStraw products are based on hollow fiber membrane technology. The membrane can be imagined as a bundle of straws with microscopic holes. They are so small that organisms such as bacteria, parasites and even dirt and microplastics cannot get through. Our filter is almost a state-of-the-art tea strainer," explains Tara Lundy.
To clean the water of chemicals and taste residues, LifeStraw uses a combination of various additional filter technologies. These technologies are regularly tested by independent laboratories and the company's own ISO-certified laboratory for their effectiveness in removing bacterial and protozoa in drinking water. This ensures that all LifeStraw filter systems comply with the quality and transparency protocols established by the US Environmental Protection Agency (EPO) and NSF International/ANSI. An important test criterion is the pore size of the microfilters membrane of 0.2 microns and compliance with the NSF/ANSI P231 standard to reduce 99.99% of all bacteria and parasites.
"A drinking bottle with integrated water filter is a very clever product, especially for outdoor athletes. Since you can refill the bottle at each stream without worrying about the cleanliness of drinking water, the risk of dehydration is enormously reduced." .
Andi Spies, ISPO Award Jury Member & Editor at large ISPO.com
Easy, location-independent access to clean water.

Protects against bacteria, parasites and microplastics.

Durable material that is resistant to tearing, tearing and puncture in the bottle.

Ultralight and collapsible, fits in every pocket.

The removable filter increases the volume when used with clean drinking water.

The filter can be used for other water bottles or other peak gravity systems.

Strong Flow Rate, up to 3 Liter per Minute
Specifications
Size: 10.4 x 25.4 cm 
Weight: 102 g 
Ingredients: BPA-free, FDA-tested, high quality materials
Filter Capacity: 2,000 l
Quality assurance: Meets US EPA and NSF P231 drinking water standards for the removal of bacteria and parasits