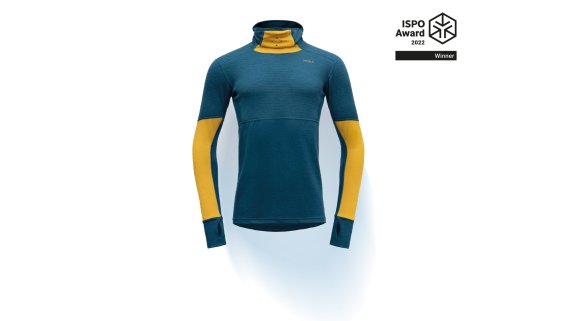 The shirt consists of a combination of three different fabric/knit structures whose respective advantages in relation to the body have been combined. These are wool terry, a 2-layer wool knit with silk and a merino wool mesh.
So, while the wool terry is soft and thick, it covers the upper part of the torso around the heart where most of the insulation is needed. The main part of the baselayer is a 2-layer wool knit, where the inner layer is merino wool and the outer layer is a blend of 90 percent merino wool and ten percent silk. This allows moisture to be transported from the inner layer to the outer layer where it can evaporate. The third structure is a mesh made of merino wool, which is used only in the sweat zones of the body: under the arms and in the lower back. This helps keep the body surface dry and wick moist air and sweat to the outside.
By using these different knitting techniques, Devold gets different properties from the wool, as each of the individual wool structures has millions of microscopic air holes that help keep the temperature even.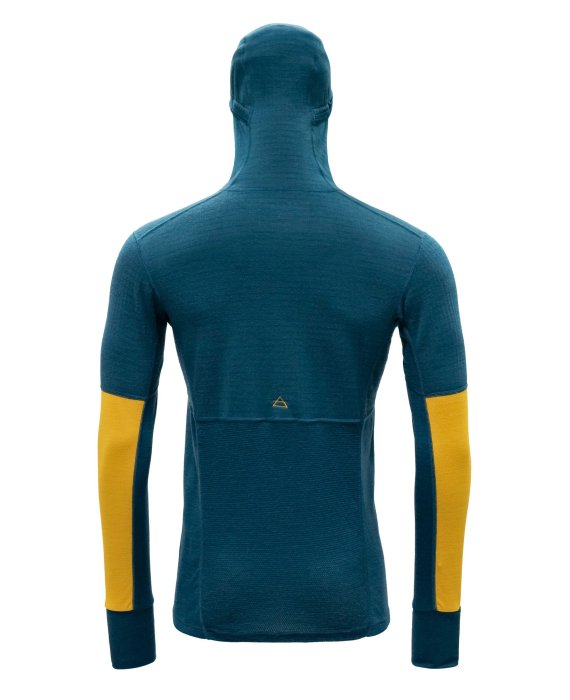 As a result, the entire baselayer is made exclusively from natural fibers and is completely biodegradable. The warm quality and the contrasting color design make the top versatile, for example, also as a midlayer.
The Devold Expedition Arctic Pro Baselayer will be offered in a women's and a men's version and will be launched in fall 2023.
"This baselayer shows how versatile merino wool can be processed. From the fine mesh to the wool-silk blend to the cuddly soft wool terry, Devold proves its enormous knitting expertise."
ISPO Award 2022 Jury
Highly warm

Moisture regulating through body mapping

Antibacterial & antistatic

Fast drying

Consists only of natural fibers, is biodegradable

Versatile, can also be used as a midlayer
"We are so happy and humble to receive this award. It means so much to us as a brand -and as a team- that people out there really see and understand all the fantastic properties the wool is capable of, just by using it in different ways. At Devold, we always strive to make our wool-garments a little bit better than the last time, as we believe there is never a final solution to the development. Thank you again for appreciating Devolds contribute to the outdoor business and this year's ISPO Award."
Christine Haraldstad-Sindum, Designer Devold