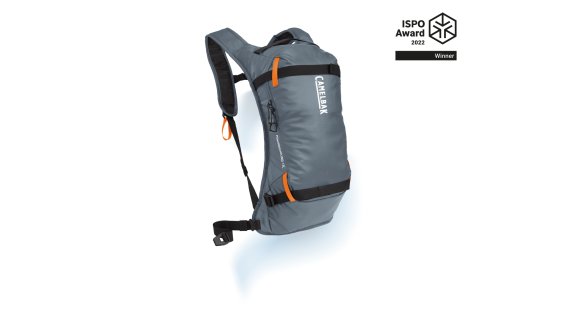 On long tours through snowy mountain landscapes, one thing in particular must not be missing - and that is sufficient liquid. Like fresh, clear water. So that body and mind don't get dehydrated while rushing through the snow on a snowboard or skis. However, a bottle or a simple drinking container is bulky and weighs relatively much. In addition, depending on the sub-zero temperatures and the duration of the tour, the water can freeze. So what to do? You take a hydration pack like the CamelBak Powderhound 12.
With ten liters of storage space and a two-liter hydration bladder (reservoir), the Powderhound is an ideal backpack and partner for tours through snowy mountain landscapes. Especially off-piste, where there are no huts or rest stops. The Powderhound has a CRUX drinking system that provides 20% more water per sip. A special mounting system makes attaching skis, board or helmet quick and easy.  With the "Lift Access Strap" and thanks to its quick-release buckle, the backpack can be unbuckled from the back and pulled forward very easily and without complications. This is very practical and facilitating, especially on lift rides. Also on the slopes. Quickly and easily the backpack can be removed. So you hardly lose time to actively enjoy the mountains and the snow.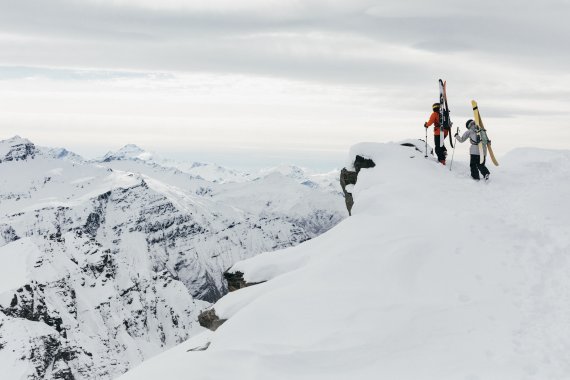 Also practical is the SnowShield material, which deflects the snow - so the equipment stays dry in any weather. And that's not all. The Therminator carrying system is an insulated drinking tube guide with zipper in the shoulder strap. This ensures that the water supply remains guaranteed even at low temperatures. The carrying system insulates the reservoir hose to prevent water from freezing. So you can quench your thirst undisturbed in ice, snow and sub-zero temperatures.
"CamelBak's Powderhound 12 was designed to meet the needs of skiers and snowboarders on the slopes," said Jeffrey Tomasi, senior product manager for bike and snow. "After all, CamelBak stands for continued innovation in hydration and carry solutions that support an active lifestyle."
An active lifestyle on a wide board or two narrow boards. There you want to save every unnecessary kilo and gram, of course, especially on long tours. And that's exactly what the Powderhound 12 from CamelBak saves and enables. It fits snugly on the body, leaves plenty of room for storage space next to the hydration bladder, to easily accommodate small items such as wallet, cell phone, keys or a small snack.
"I have been with CamelBak for over ten years. As a passionate cyclist and skier, I am of course aware of and also care about what people need out there on the slopes or when touring, so that they can really have fun on a cold winter day," says Tomasi. And so CamelBak also wants to address and reach winter sports enthusiasts directly with its ideas and products, such as the Powderhound 12. "This is always a very exciting and challenging task," Tomasi says.
A task that Tomasi and his team set themselves and successfully solve. Because with the Powderhound 12, you're on the safe side when it comes to wanting to quench your thirst quickly and directly on a long tour and not suddenly find yourself without water. "The Powderhound reliably gives you exactly what you and your body need," says Tomasi, "and in any weather." A reliable companion in ice, snow or stormy weather conditions. 
"We at CamelBak are honored that the Powderhound 12 received an ISPO Award. It was a true team effort to bring this hydration pack to market for winter sports men and women. We are very pleased, couldn't be happier to have received this recognition."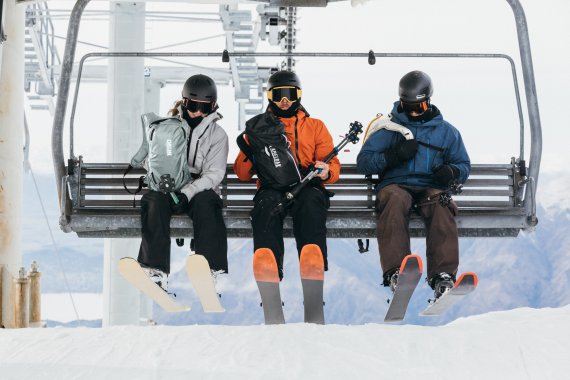 Snowshield material

Insulated Therminator system

Lift Access harness with quick release buckle

Snowboard and ski carriers (diagonal or A-frame)
"This ski and snowboard backpack offers despite its small size not only space for a 2 liter hydration bladder. Also shovel, probe and first aid pack can be stowed without problems. A minimalist daypack for piste and backcountry." ISPO Award Jury
Product Specifications:
Colors: Black:White, Gray:Orange, Blue Mist:Black.

Price: 110 Euro

Available: November 2022