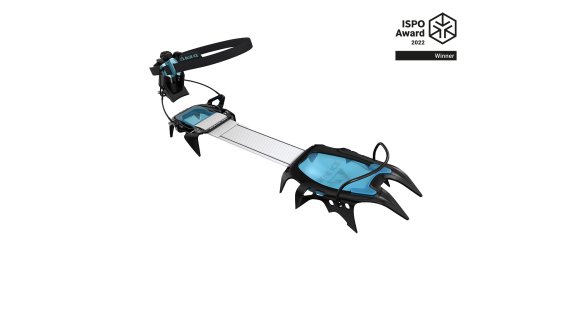 The Blue Ice Harfang Alpine crampon is one of the lightest and most compact 12-point crampons for technical alpine climbing and mountaineering as of today. Paul Oddou, Blue Ice Hardgoods Designer, sums up what is unique about their new Harfang crampon:
"Not only is it the lightest in class, but it is also easily the most compact. Could we have gone even lighter? Sure, but we did not want that to come at the expense of confidence and durability. This crampon performs well in most conditions and terrain, and is built to last."
It features a Chromoly front and rear rail, both equipped with a TPU anti-balling system, so snow won't get caught under your crampons. The front rail is asymmetrical to give maximum performance. As in the previous models of the Harfang line, Blue Ice also uses the patented wide textile strap known to minimize bulk and offer an incredibly compact packing option. Especially, when you think about the way rigid crampons in this category are normally build or at least used to be built, these pack incredibly small. They are around 30 percent lighter than the market average and can be set up as auto and semi-auto depending on the boots in use.
When heading into terrain with technical alpine conditions, say ice and mixed conditions, the Harfang Alpine is your new go-to-companion from Blue Ice. It is one of the lightest on the market, coming in at 623g with the TPU antibott system and with 571 grams even lighter, if you take it out. Compared to the Harfang, the front rail has been elongated to increase rigidity. Everything else is also more aggressive.
Instead of a three section crampon, like the other Harfang models, the front of the crampon comes with six points, including dual horizontal front points. An asymmetric design, which takes the shape of left and right boots into account, leads to the best possible performance. This way, the points could be set exactly where they need to be for more precision when climbing mixed terrain. The different points of the crampon have also been individually adapted for even better traction, better support on steeper climbs but also when traversing.
"I was surprised by the climbing capabilities of such a light and compact package. You could climb quite hard with it", says Bill Belcourt, Blue Ice Hardgoods Director and General Manager North America. His colleague Paul Oddou adds from his own experience: "They are the lightest, but without having to be babied. They also have an excellent fit—on your boot and in your pack."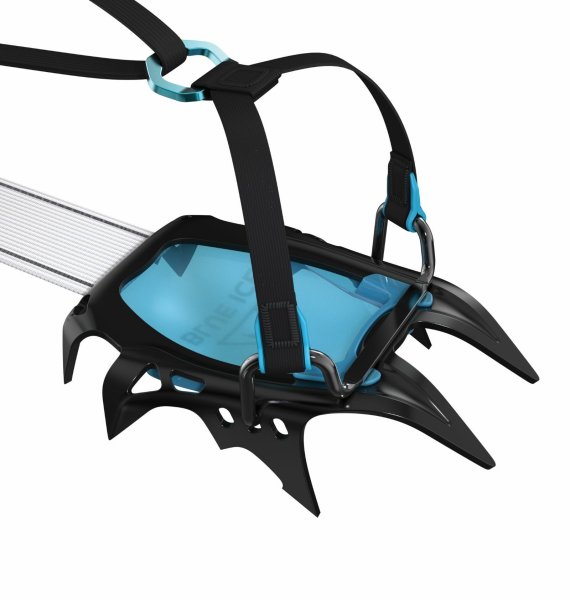 The toe bail comes with three adjustable positions to make sure that it fits a wide variety of mountaineering and ski-touring boots. They are also designed to fit any boot with heel welt and include two front bail systems: fully auto and semi-auto, which are easily interchangeable. The back piece of this crampon can also easily be changed for an aluminum version for an even lighter experience. Overall, their compact and light design along with great performance convinced the ISPO Award jury.
"Blue Ice is all about high performance at the lightest possible weight. The Harfang Alpine is the embodiment of that philosophy in a high-performance alpine crampon. Lightest in class, most compact in class combined with an asymmetric front rail (left and right) for the best fit and climbing performance." (Bill Belcourt, Blue Ice Hardgoods Director and General Manager North America)
"Low weight and high durability is a combination difficult to realize in crampons. In this case, Blue Ice has succeeded superbly. Twelve teeth of steel provide sufficient robustness and do not fall too heavy in weight. Also, they can be easily stowed in the backpack and take up very little volume." ISPO Award Jury  
Great precision when climbing thanks to 

Tiny pack size that does not get in the way even when attached to your harness

Numerous options for fine adjustment and precise fitting to the boot or ski boot

Innovative construction with textile strap

Lightweight
Product Specs:
Size: 35-47

Color: Black

Price: €160 

Available from autumn 2022