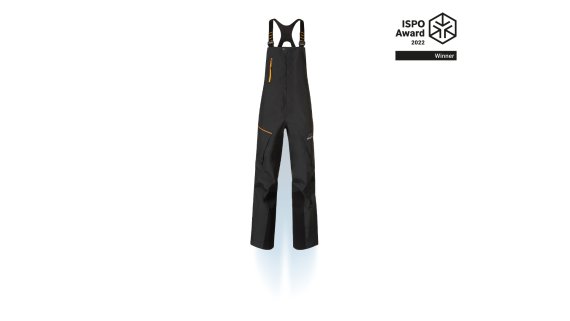 Such pants are often underestimated. It's just a pair of pants - two pockets, two legs and a zipper. Done! Not quite. Pants like these can do much more. This is impressively illustrated by the "Y MountainLine Bold 3L Shell Bib Pants" from Bergans. These pants are made for high alpine and stormy conditions in the mountains. Especially in winter, it plays to its strengths.
The Y MountainLine is a state-of-the-art collection designed to stand up to the toughest and steepest mountain adventures. The outer material of the bib pants is made of 100% recycled polyamide and is robust and durable. Combined with Bega Membrane Bold Pro technology, this material offers superior comfort and protection - and that in combination with first-class abrasion resistance. The bib pants are equipped with breathable and ergonomically shaped straps that provide full freedom of movement. These are also adjustable, equipped with a buckle closure and designed not to collide with the backpack. Plus full-length side zippers with four sliders. And in addition, a "drop seat" function. In addition, you can store cell phone, keys and other small stuff well and comfortably in the pockets of the pants.
"With the Y MountainLine Bold 3L Shell bib pants we've created a garment you can always rely on, no matter what," says Emelie Knuts. She is a product developer at Bergans. "The pants offer a clean, yet bold and technical design that delivers on the heaviest, toughest and steepest mountain adventures." So you literally form a small mountain team with your bib pants - according to the motto: Individually outstanding, together unbeatable.
Like Bergans' Y MountainLine jacket, which also won an award, the bib pants unite and combine with the concept of highly technical clothing for mountaineers, ski tourers and climbers. "We are a team consisting of a designer, two product developers and a pattern maker - with support from our fabric and trim team, as well as our brand ambassadors and professional mountain guides. They all developed and extensively tested this collection and the bib pants, respectively," Knuts explains, emphasizing, "The pants even went on an expedition to Denali during their development period. That's how we wanted to make sure they could withstand the rigors and powerful elements of a climbing expedition." At 6,190 meters, Denali in Alaska is the highest mountain in North America. It is one of the Seven Summits, the highest mountains on each of the seven continents.
The Y MountainLine Bold 3L Shell bib pants passed and survived this testing and development period with flying colors. "Our goal was to develop a product that stands out for its design and functions," says the product developer. That's how very small and fine details came about, she says. As with the suspenders, for example: There, a honeycomb pattern would ensure that they are breathable and transport moisture.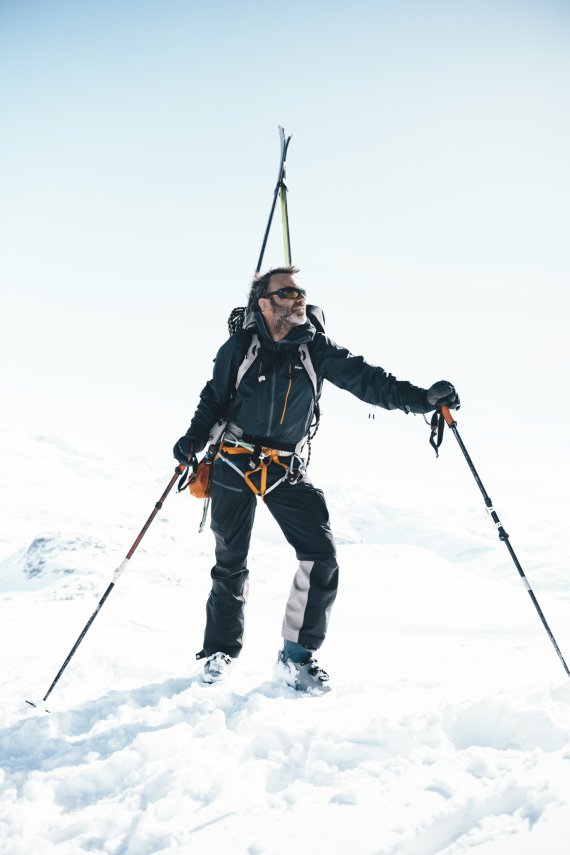 Emelie Knuts has worked at Bergans for four years. She comes from the fashion industry and brings her experience from that to the rugged, tough mountain world. That makes for a special mix. "Part of my job is to make sure that all the embellishments and functions of the garment work as they should," Knuts says. In this particular project, she says, feedback from experts and active users was an important part of the development process. That's because it revealed "potential weaknesses" in the garment that were directly evaluated and addressed, she says. And so the "Y MountainLine Bold 3L Shell Bib Pants" is not just a pair of pants. The bib pants are made for high alpine and stormy operations in the mountains.
"It's a great feeling for the whole team to get recognition for their hard work in this way. Everyone, from the fabric and pattern developers, the pattern makers, the designers and product developers, to the sales people and testers, have been instrumental in helping us create the best product possible. Our testers, who were professionals, didn't even want to give us the bib pants back. A good sign. The ISPO award gives us additional motivation to continue in the same way.pants
Bega Membrane Bold Pro

Highly durable fabric construction

100% recycled polyamide
Product Specifications:
Color: Dark Shadow Gray

Price: 500,00 Euro

Available: August 2023
"Durability and technical function are paired here. Cleverly placed Cordaura reinforcements in places that are particularly stressed when using crampons are just one example of the very well thought-out product design."