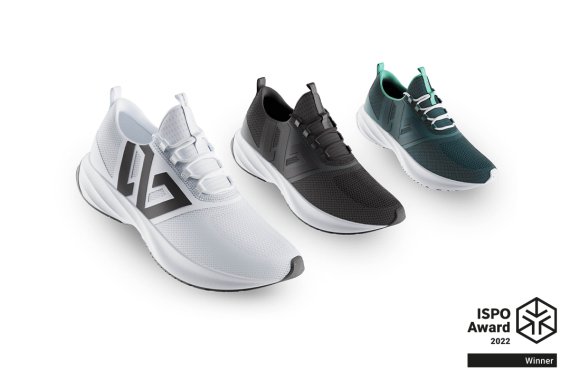 In 2020, in the middle of the pandemic, Winqs was founded in Berlin. The two initiators Jan Kratochvil and Marek Brincil worked for the same sports brand for many years and finally forged the plan to found their own, thoroughly sustainable sports brand that would do many things better than the big players. Because, they were convinced: Much more is already feasible than the industry is implementing. Both the technologies and materials are available, but the industry is stuck with the tried and true. Winqs wants nothing less than a sports revolution, namely a move away from petroleum-based plastics and strategic overproduction toward plant-based and recycled materials.
Winqs' Zerofly running shoe is made almost entirely from bio-based or recycled materials. Novel materials are used here that are truly unique in this abundance: The abrasion-resistant outsole is made of GeckoGrip™ hybrid rubber and was developed with Michelin from rubber waste from sole production. The particularly lightweight Pebax midsole is made in part from castor seeds. For the inner lining, Winqs relies on bio-based Tencel™ Lyocell and thus wood pulp. The shoe's two-layer upper also features a thin layer of 100 percent recycled polyester. 
Of course, Winqs also avoids hazardous chemicals, and all dyes and adhesives are water-based and REACH-certified.
In addition, Winqs uses only recycled paper in its plastic-free cardboard boxes. The hangtag and string are also plastic-free and made from unbleached, recycled cardboard.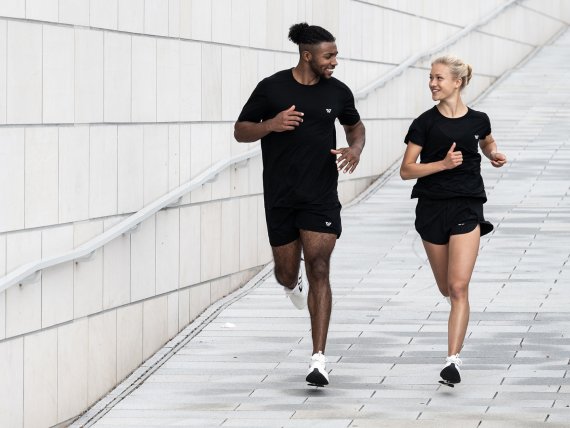 Not only does this blend meet sustainable demands, of course, it also provides all the function that athletes expect from their running shoes today. Weight, cushioning, breathability, abrasion resistance, these are all parameters that have been carefully tested and matched.
A key design feature is the 360 Wrap System™, a holistic combination of various elements that keep the foot in its optimal position and prevent slipping or pressure points. These include a comfortable heel counter, an ultra-thin icon layer and a soft slip-on lacing system. The neutral cut and roomy toe box also provide maximum comfort.
Compromises were not necessary due to the choice of materials - on the contrary, numerous plant-based fabrics are now even more efficient than plastic, which is popular for cost reasons, according to the founders. There's no other way: who needs a sustainable running shoe that performs worse than conventional products?
Ultimately, however, sustainability means much more than just replacing individual materials. What the two intend to do is to set a new benchmark in the sports industry with regard to the sustainable orientation of the entire company. For example, the company's own carbon footprint, including the life cycle of all its products, is measured, reduced and offset with the help of MyClimate.
The company also keeps an eye on the end-of-use phase and offers customers, for example, to take back used goods and recycle them accordingly with the "RePair, ReUse & ReCycle" principle. For example, Winqs has already entered into a cooperation with Sneaker Rescue so that shoes can be repaired, and as-new B-goods or leftover items are not destroyed but donated in cooperation with Oxfam stores. At the end of the usage phase, Winqs takes back all shoes and takes care of responsible disposal.
The shoe is scheduled to be launched on the market in late summer 2022. Yet Zerofly is just the beginning; Winqs is already working on an entire sports collection, including textiles, and plans to roll out internationally soon.
Well thought-out, very comprehensive sustainability concept

Use of bio-based and/or recycled materials

Focus on real performance, not a fashion shoe

Aesthetically appealing, mature product makes you want more
"We are really honored to have received the ISPO Award already that early in the history of our young brand. It's a confirmation that the Zerofly is meeting the highest standards of performance running shoes and that WINQS is to become the pioneer of a new category of eco-conscious sports brands."
Jan Kratochvil, Co-Founder Winqs Sports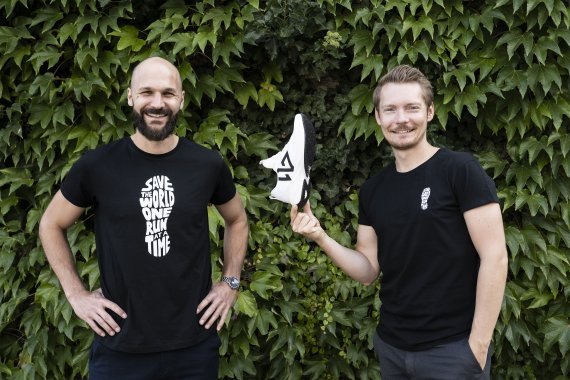 "The WINQS Zerofly is the best proof that performance and sustainability are not mutually exclusive. The skillful selection of sustainable materials, the running characteristics and the design of the Zerofly are simply a joy to wear. With this shoe, you're always one step ahead in all kinds of ways - 100% performance, 0% carbon footprint. And at an absolutely fair price - for runners and the environment."
Dominic Rasp, Jury Member ISPO Award 2022 Collaborators Club