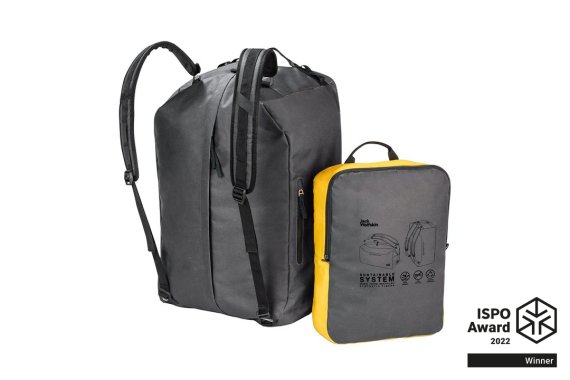 Anyone looking for luggage that is as practical as it is sustainable and timeless will find what they are looking for at Jack Wolfskin: The new Traveltopia Duffle travel bag, which will be launched in the fall/winter 2022 season, brings all of these features together in one product, earning it the coveted ISPO Award 2022.
Above all, the sustainable ideas convinced the jury of the award, including, for example, the solvent-free coating used for water-repellent finishing, the consideration of reparability and, of course, the no-frills minimalist - and thus durable - design of the bag.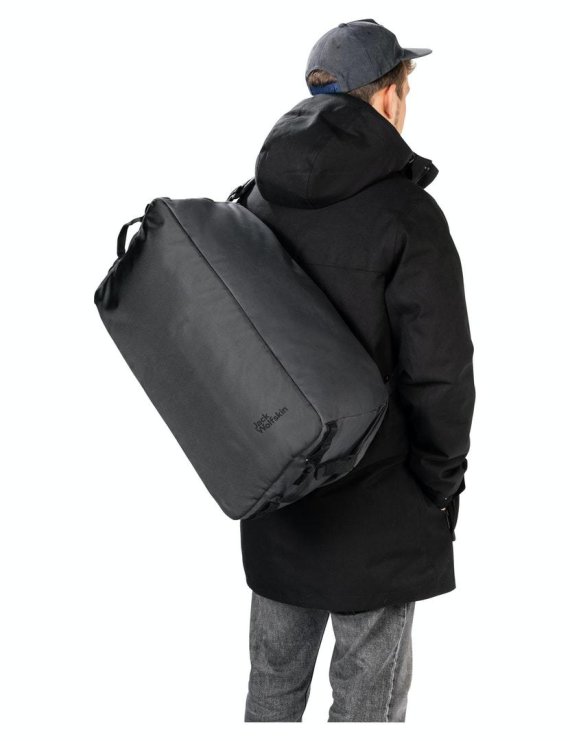 The bag is bluesign approved and made from a dense fabric of 100 percent post-consumer recycled polyester. For the waterproof finish, Jack Wolfskin uses a technology that takes its cue from nature: a PFC-, PVC- and solvent-free synthetic wax coating that mimics beeswax.
This so-called "Wax Weave" material is 10 times more waterproof than conventional alternatives and also doesn't require touch-ups like other waxes. In addition, the coating is odorless and non-sticky, which are further advantages over biological waxes available on the market.
"The Traveltopia Duffle is an aesthetically pleasing and durable luggage. The dense, 100 percent recycled polyester fabric features a synthetic coating that looks like a wax coating but eliminates its drawbacks. The extra packing bag included can be used as a laundry or shoe bag, which is also handy."
Robert Semmann, ISPO Award 2022 Collaborators Club jury member
The synthetic wax coating of the main material not only gives the bag a special feel, it also makes it more beautiful over time. As with all waxed products, the bag develops an honest patina through use. Durability becomes a design aspect here quite incidentally.
Instead of going for a flashy look, Jack Wolfskin opts for a minimalist style with clean and clear cut lines for the bag. This reduces weight and helps minimize waste during production. Ultimately, the label thus also visually creates the conditions for a long service life.
The Duffle is fully equipped with interior organization, compression options and removable shoulder straps. Delivered in an accompanying pack bag, the bag reduces the size of transport and also the storage space required in the store. It is practical for consumers as a separate pack bag for laundry or shoes, for example. The Duffle is offered in 65 and 45 liter packing sizes.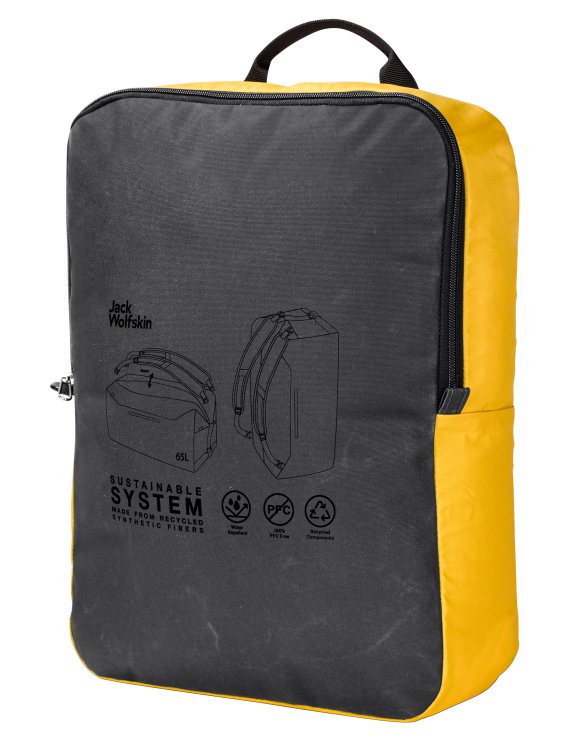 Who doesn't know the problem: Zippers in particular are subjected to a lot of wear and tear on travel bags and break easily. That's why Jack Wolfskin uses a high-quality, waterproof YKK zipper. If the handle of the slider should break off after all, the end user can easily replace it himself with a spare part from Jack Wolfskin. Here, Jack Wolfskin wants to empower the end user to be able to quickly solve the problem themselves without having to go through extensive processes. Should a more extensive repair be necessary, Jack Wolfskin offers a repair service for all products.
Another sustainable plus point: the transport packaging is also made from recycled polybags, and no silica gel is used.
Resource-friendly materials selected

Durably waterproof PFC-, PVC- and solvent-free synthetic wax coating

No refreshing necessary

Outer fabric made from 100 percent recycled polyester

Entire product is bluesign approved and certified by the Green Button

Repairable zipper and repair service

Minimalist, timeless design that saves weight
"By using a synthetic wax coating, the dirt- and water-repellent finish of the Duffles never needs to be renewed compared to conventional waxed models. Parts that are more susceptible to repair, such as zippers, have a particularly robust construction, are water-repellent and can be easily repaired - offering a long service life and carefree travel pleasure."
Magdalen Hamel, Category Manager Equipment at Jack Wolfskin