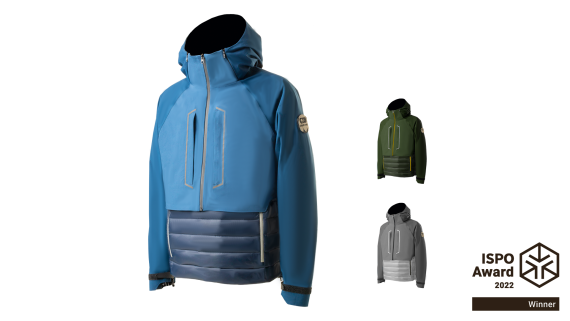 Enormous versatility, thoughtful design, material efficiency, sustainability - these are all requirements that the designers of IdéesKréatiOn from Beijing have convincingly combined in their 'composite structure camping down jacket'. With a transformative design and a modular structure, they have created a unique product that is only inadequately described by the term "jacket". In total, the garment can be transformed into eight different shapes, allowing it to be adapted to a wide variety of situations.
Not only in China has the pandemic elevated nature to a new place of longing; camping is booming worldwide. Still, people don't want to sacrifice comfort. "This product aims to become an easy-entry product to bridge the gap between city life and outdoor camping activities," says IdéesKréatiOn.
This camping jacket is likely to fascinate design fans and technology enthusiasts alike. In total, the garment can be worn in eight different variations, but without the need to expertly connect many separate pieces. Everything remains simple and practical.
The basis of the "jacket" is a short-sleeved top made of fleece with a high collar and attached chest pocket with a side zipper. The lower part of the top has been padded like a down jacket. When the collar is unfolded, a face mask appears with attachments for the ears. A long-sleeved jacket that reaches roughly to the padding can be worn over the top. If both are worn together, you can hardly tell that they are separate parts. When more warmth is needed, the padded stripe of the top can be folded inside out to transform the jacket into a knee-length, padded coat. There is also the option of taking off the outer jacket and transforming the garment into a dress. The bottom of the inner jacket can then be turned into a scarf or a kind of vest.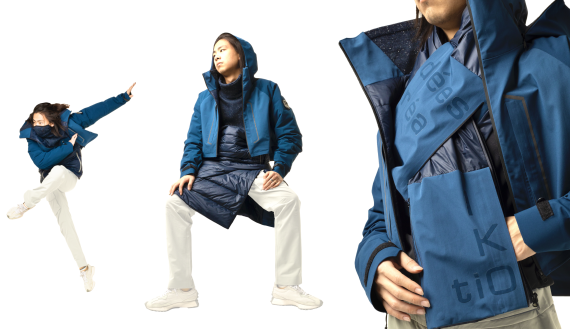 The design team focuses on sustainable materials and uses, for example, PrimaLoft® Down Blends as a filling material, a blend of water-repellent goose down and ultra-fine PrimaLoft® fibers that offers a warmth equivalent of up to 750-fillpower goose down as well as a low weight and pack size. On the one hand, the material thus meets high functional requirements. "On the other hand, PrimaLoft® Down Blends is in line with our concept of sustainability. It is the first man-made fiber in history that can be completely biodegraded and recycled," the design team continues.
But sustainability doesn't stop at the material, however, it goes beyond that: "Sustainability of apparel products shouldn't stop at the material, but run through all phases of design, manufacturing and use." Designing a product that transformatively fits different situations saves resources because less clothing needs to be purchased and less produced.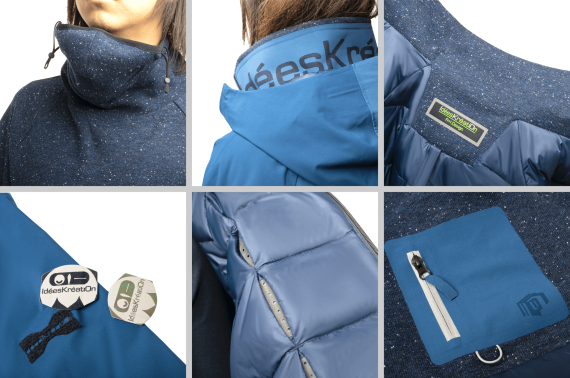 The 'Composite Structure Camping Down Jacket' is more than just a design idea. The design team works on research and the design of functional products and to spread sustainable design concepts. In doing so, the agency follows the design concept of "fit, moderate and easily operated". "Fit" emphasizes minimizing the waste of the material by accurately determining the functional needs and the most suitable materials. "Moderate" means producing at minimal cost. The design team explains: "The blind pursuit of advanced manufacturing technologies and materials not only puts pressure on labor, but also consumes many resources during the production process." Often, however, more technology is not necessary, they say. "Easily-operated" ultimately directs the focus to the consumers, their needs and their wearing experience.
Enormous range of variation

Functional garment for camping and also for urban life

Easy-entry idea: If you have this "jacket", you are equipped for everything

Sustainable, well thought-out design concept

Easy to use

Minimalistic, urban and inclusive design
"Developing a sustainable outdoor lifestyle can foster communication between people and nature and make the relationship between people and nature truly tangible. Especially in the post-pandemic era, the relationship between the health of the earth and human health needs to be considered. Therefore, a truly sustainable design should consider a sustainable concept at all stages of design, manufacturing and product use.  This product aims to become an easy-entry product to bridge the gap between city life and outdoor camping activities."
BOSIDENG and IdéesKréatiOn
"The design of the jacket is totally creative: the different layers can be styled and adjusted individually. Whether in the city or glamping, it can be used in a variety of ways and always looks fresh and different, depending on whether you detach or connect a layer."
Martina Wengenmeir, Jury Member ISPO Award 2022 and Editor ISPO.com